21. December 2019
WHAT TO DO WITH AN OLD WEDDING RING?
Many of my customers come to me with an old wedding ring and want me to redesign into a new piece of jewelry – but how to go about that elegantly?
There can be a number of reasons why you would want a wedding ring to be redesigned. Perhaps it is yours, but the marriage is no longer because you split up or your spouse passed away. The ring might also once have belonged to one of your parents and for that reason holds big sentimental value to you. No matter the reason, sometimes you want to reuse the wedding ring in a way which still honors what it symbolizes and therefore keeping the engraving intact is vital to the project.
Here are a few examples of an heirloom redesign of wedding rings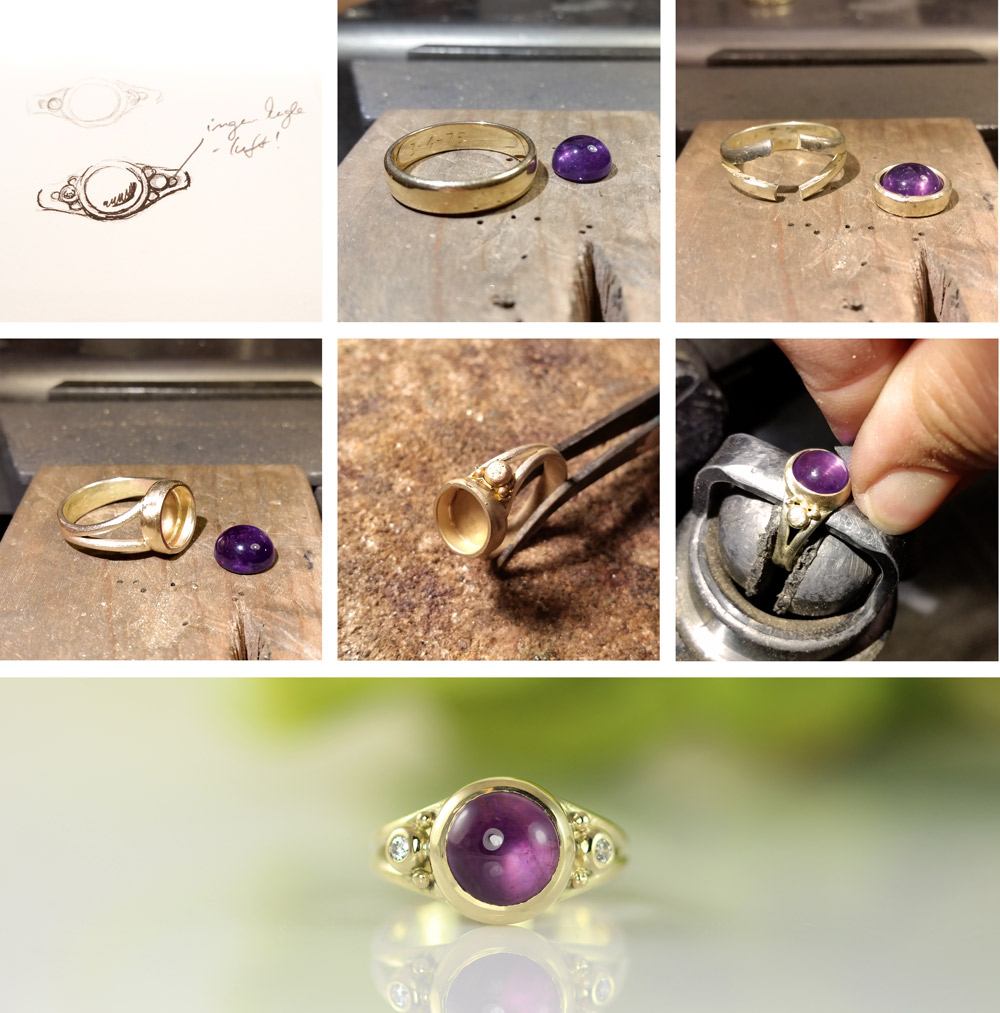 Here the classical ring was completely transformed into a sumptuous ring with several gems and even a split design, while keeping the original engraving intact.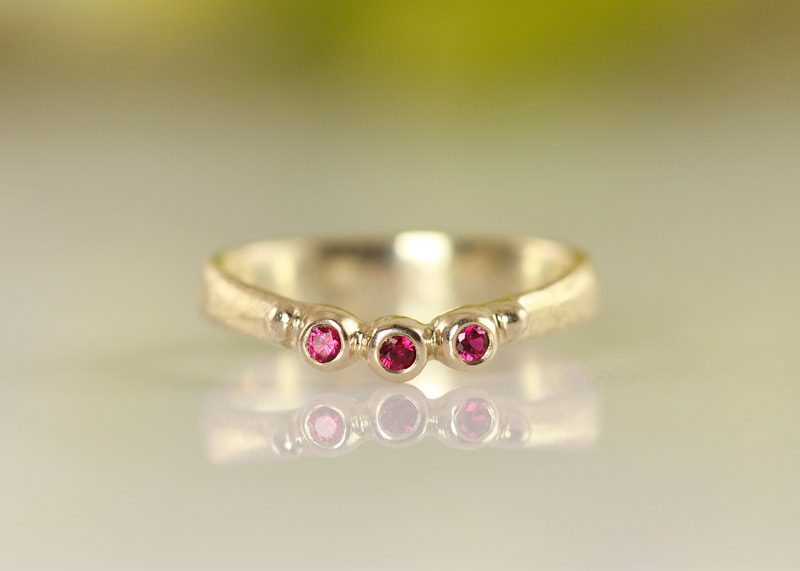 A simple and delicate solution where the basic ring has been curved a little and 3 rubies in a row set (also enlarging the ring, which might become necessary over time ;-) )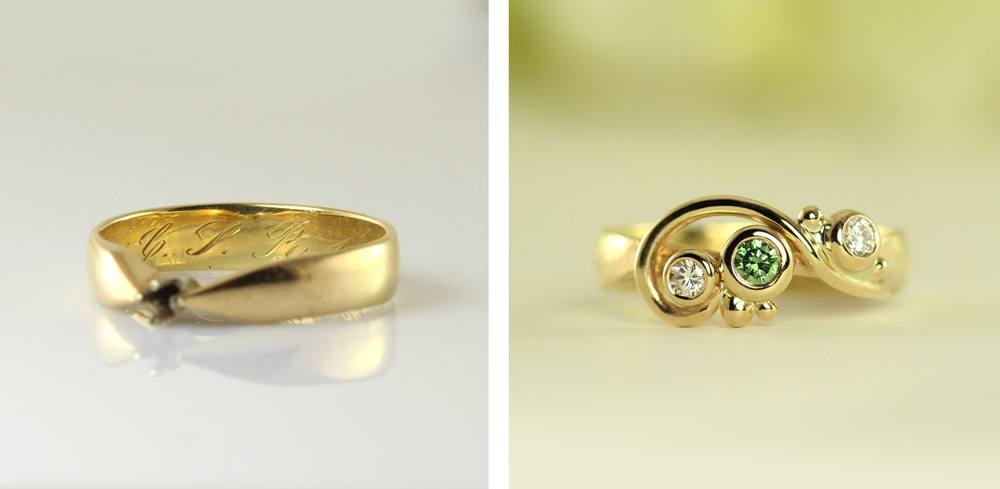 The original solitaire had lost its diamond and instead of setting a new, we used the opportunity to create something unique, featuring an asymmetrical design with a curl, bubbles and (green) diamonds. The ring is completely transformed and unrecognizable, but the engraving proves that it's still the old ring.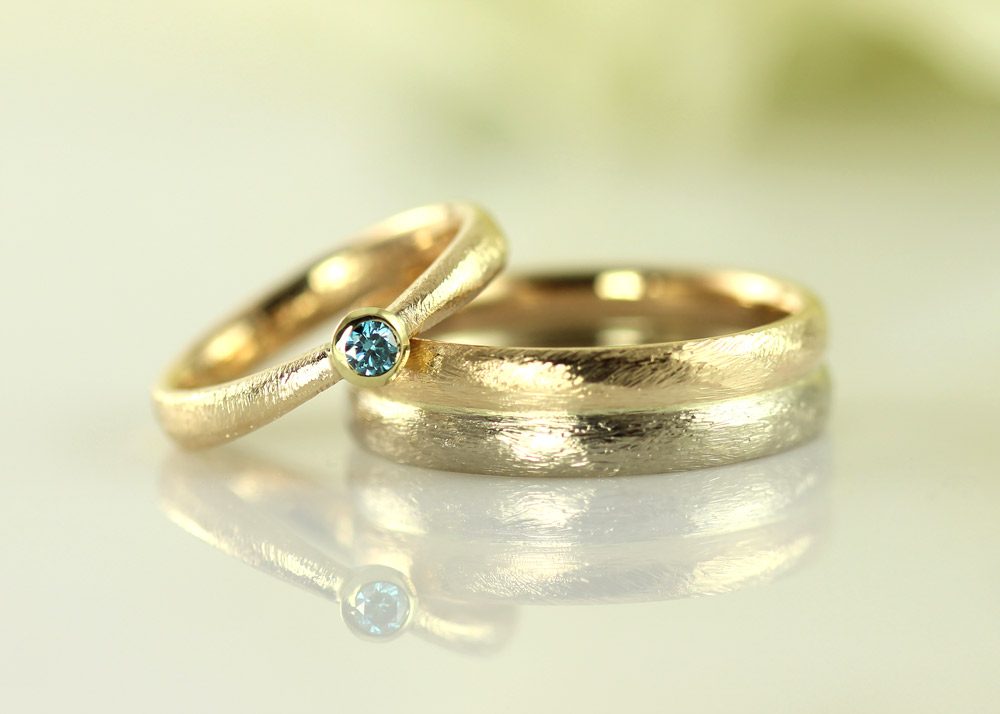 This couple chose to celebrate their silver aniversary by having their wedding rings upgraded: Hers was tapered and then a blue diamond in a cone setting was added to the ring while he wanted his ring to be wider and more masculine and hence had his original ring added to a similar ring made of white gold.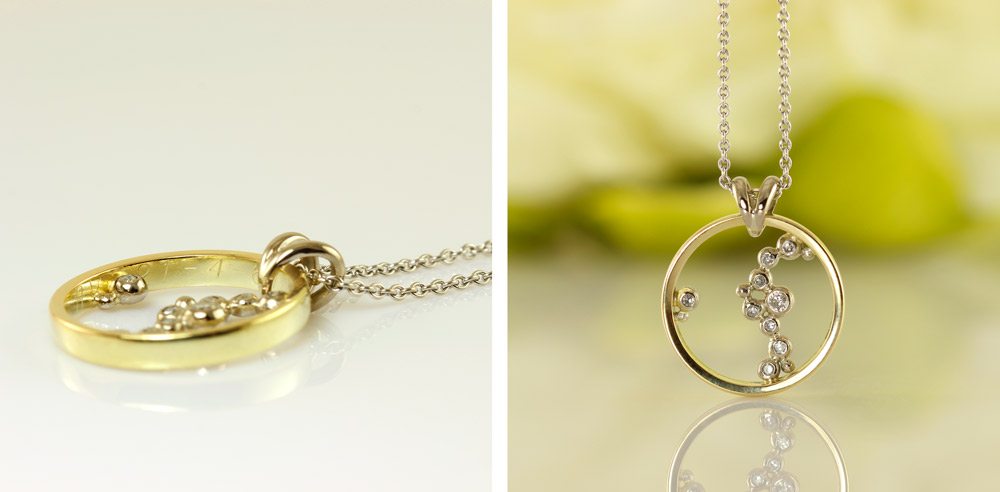 Ingenious way of rethinking how a ring can be worn. In this case it is turned into a pendant in the shape of a frame which holds a cluster of lively diamond-studded bubbles. The bubbles, however are placed in such a way that the name and date can still be read. You could fill this frame with all sorts of adornments – and even let these spill over the frame. A great idea to develop further…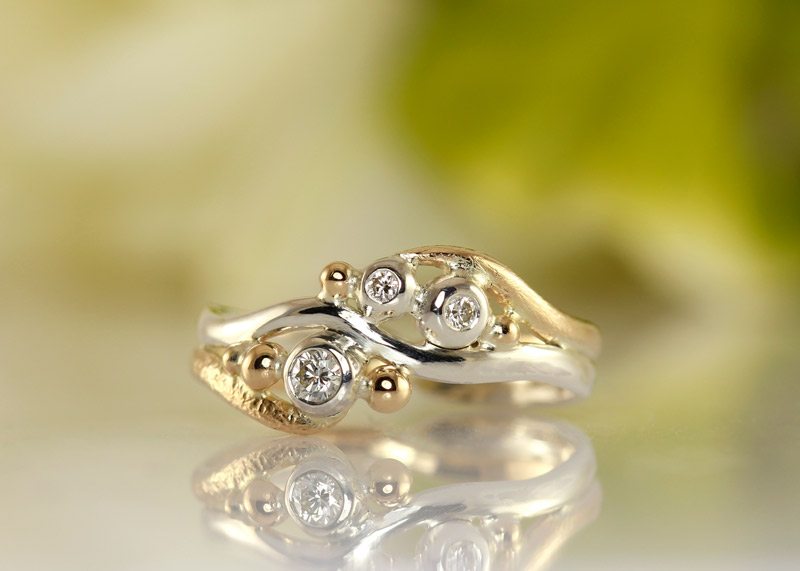 At times the engraving is very much redundant because you divorced your spouse and now want a new ring celebrating what was – and more importantly what is to come. Here is a great example where the original gold wedding ring was cut open (like the marriage) and now is wrapped around a silver ring symbolizing her. The 3 diamonds (one from the old wedding ring) stand for herself and her two sons.

You can of cause always choose to simply have the ring melted into something completely else, knowing that this particular gold came from that certain ring. In this case the old ring can become more or less anything.


Do you now feel inspired to reuse some of your old jewelry in new and imaginative ways? Let's have a chat and draw sketches together! Schedule a design meeting here:
Tags:
recyckling
,
redesign
---
---