11. September 2018
Darling Dragonling
A small jewellery dragon has proved to be one of Castens' most successful creations. And no wonder: The charming creature can be created in so many variations that everyone can enjoy wearing their unique version of the little protector.


Many Dragonlings have fluttered from my hands to be gifted: as wedding night gifts, for baptizations and confirmations and many other occasions where the giver wants the receiver to carry his or her love and feel protected by it – as fiercely as any dragon would protects its treasure. This fact has inspired a short story about a young woman who suddenly finds herself in need of protection.



This wildly popular winged wyvern started, like so many other of my designs, its existence as a lump of wax. Carving wax is a profoundly satisfying process, because the possibilities are near limitless – unlike when working straight with gold sheet or wire, where it takes a lot more (and often isn't practically possible) to create truly 3-dimensional shapes. I cut the initial Dragonling to fit around an oval bezel for a gem, unknowing, that he in future would be most loved in many other versions without the large center gem.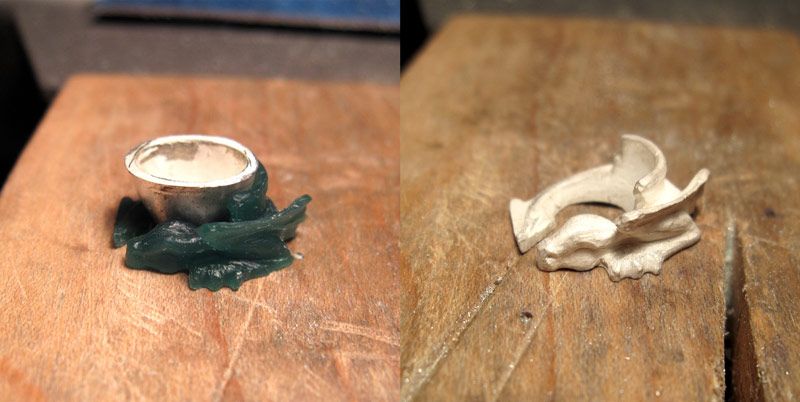 However, wax is also brittle and therefore there is a limit as to how delicately and detailed it can be cut – especially when creating more airy designs (such as the Adorabella collection). And so my Dragonling was a tad clumsy when I sent him off to the caster to be transformed into silver. After a lengthy refining process he was ready to go back to the caster to be multiplied and start his life as a companion to many of my lovely customers.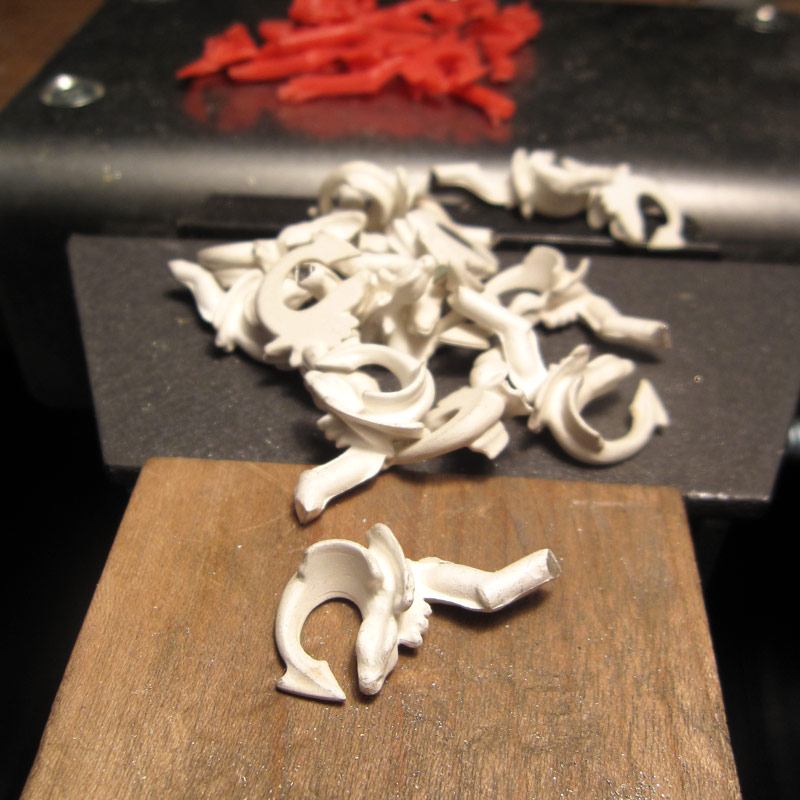 The small silver Dragongling worn as a simple pendant is one of our most popular designs - especially gifted at baptizations and confirmations.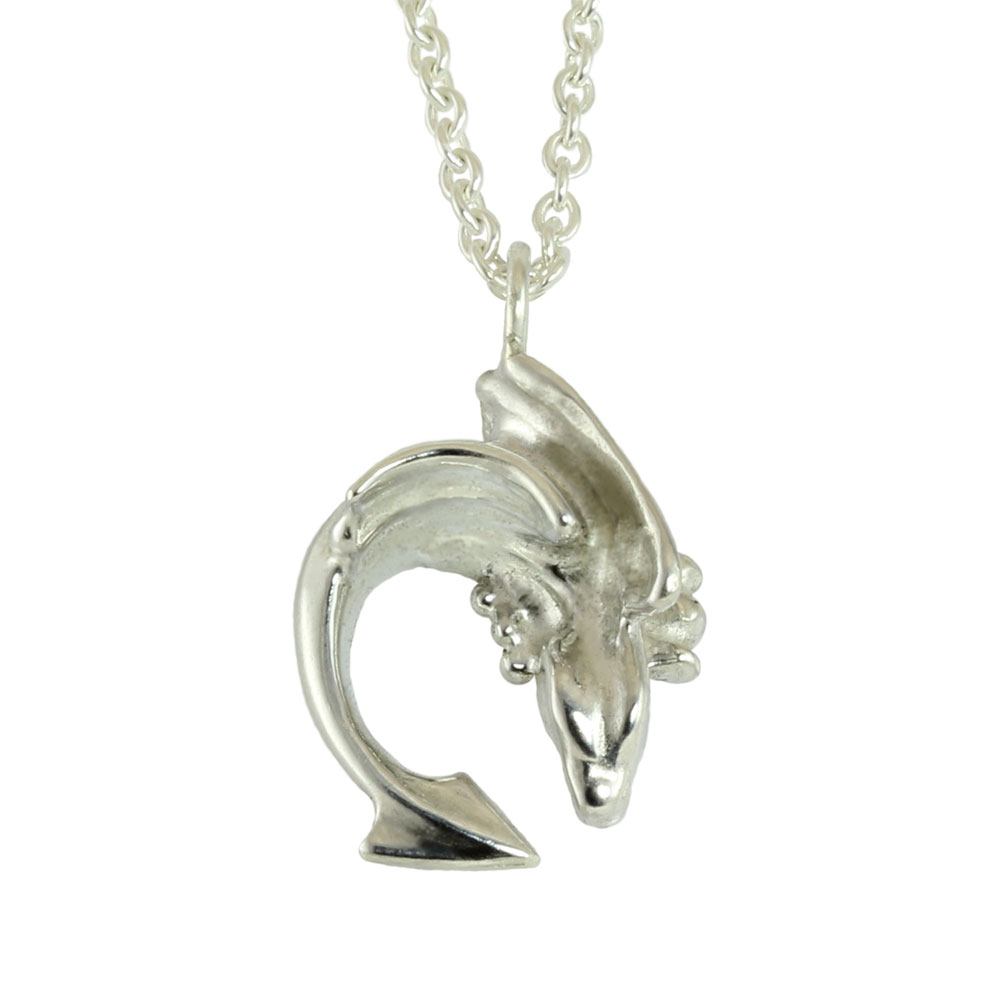 The above mentioned story is for grown up, but we actually have another story for kids too, written by Stine Bahrt.



Our customers have proven to be exceptionally creative and inventive. I have created quite a few of the simple silver pendants, but my customers have asked me to create numerous other versions which are completely individual: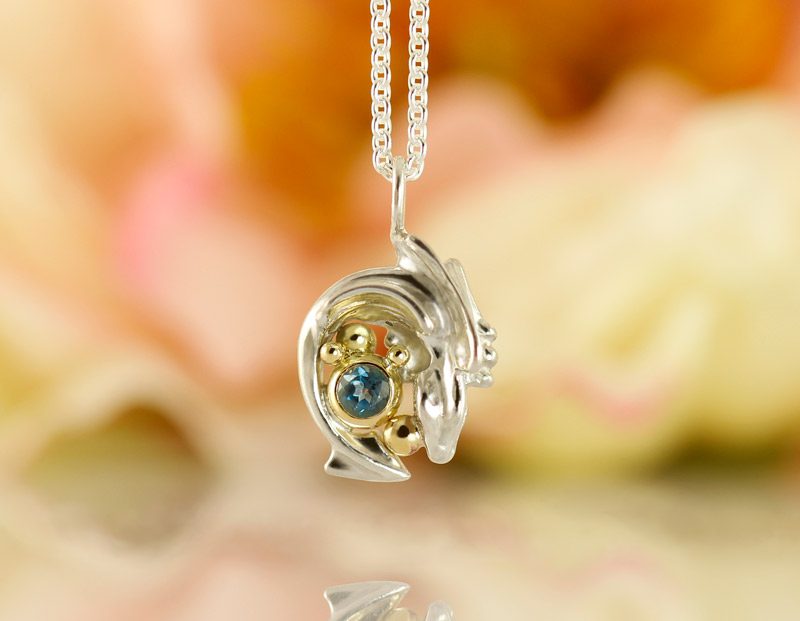 Silver Dragonling with gold treasure and London blue topaz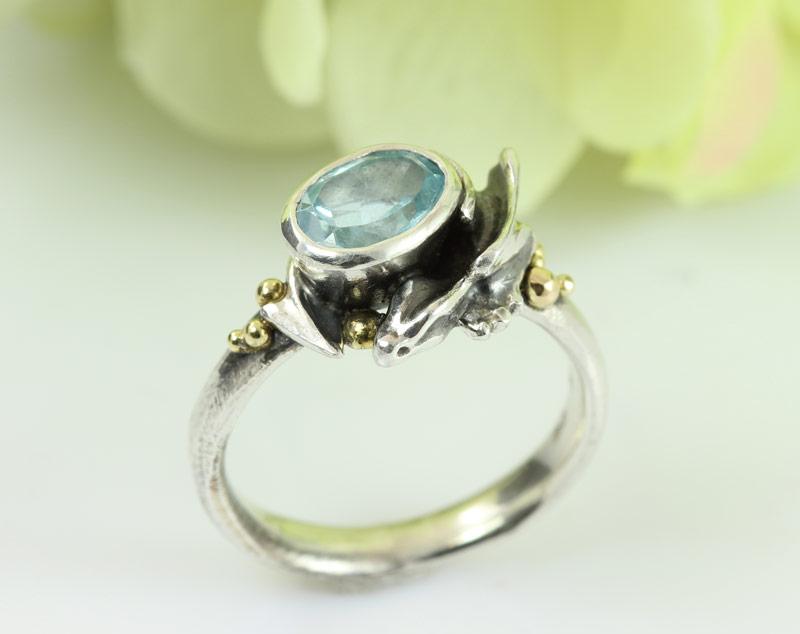 Dragonling ring with blue topaz set in the original oval bezel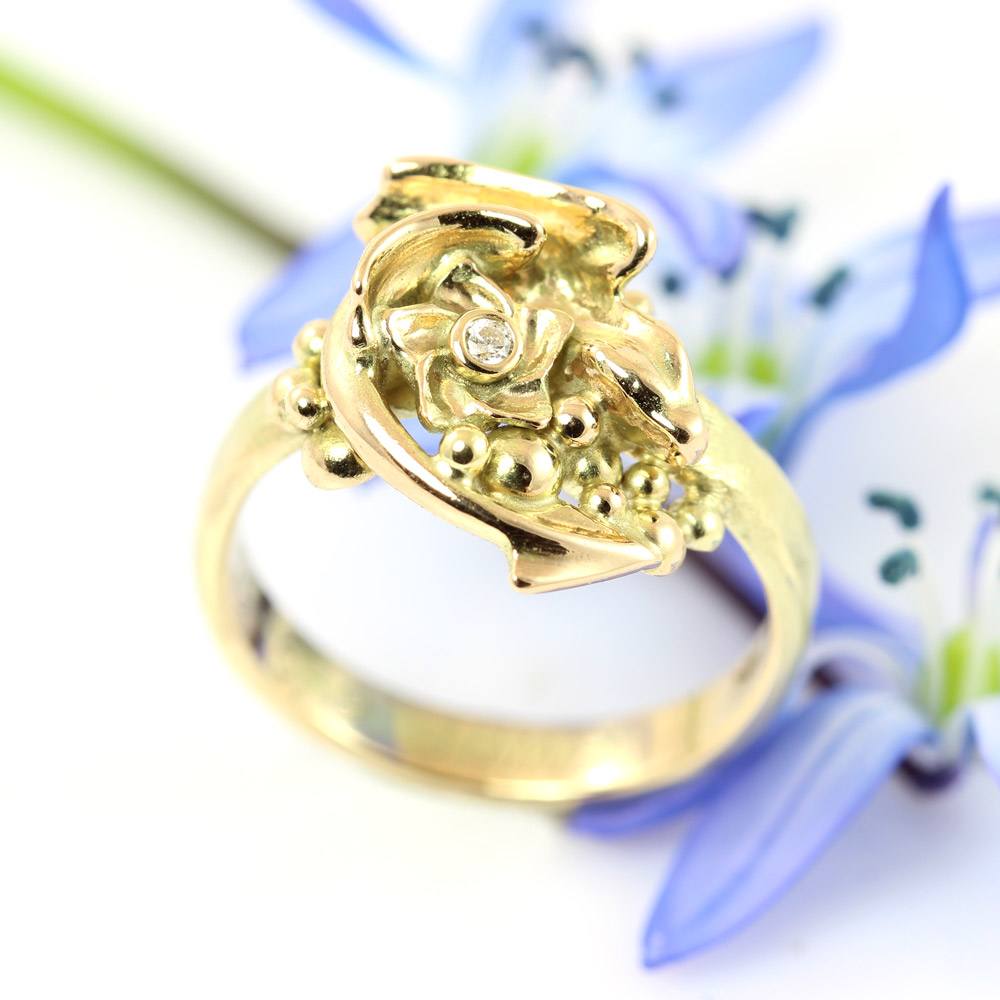 Gold dragonling with flower and diamonds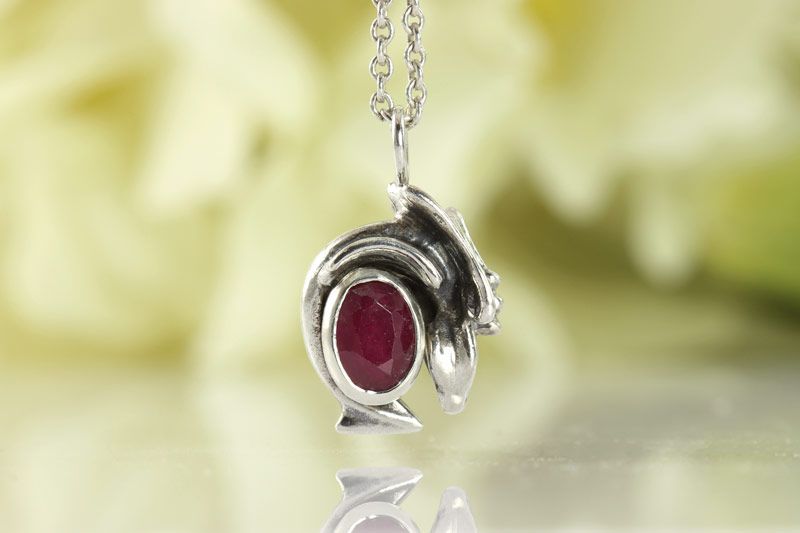 The Dragonling made for my daughter made of silver and encircling her birthstone – an oval and very dark ruby (yes of course I also gifted MY daughter with a small protector. What kind of mother would I be not to?)
Dragonling necklace with moonstone drop. Moonstones are so enchanting with their blue flash, which are almost impossible to photograph. Therefore this little video.
"Can you make me a bracelet with the Dragonling as a gift for my wife?" a customer asked me. Why of course! Here you are!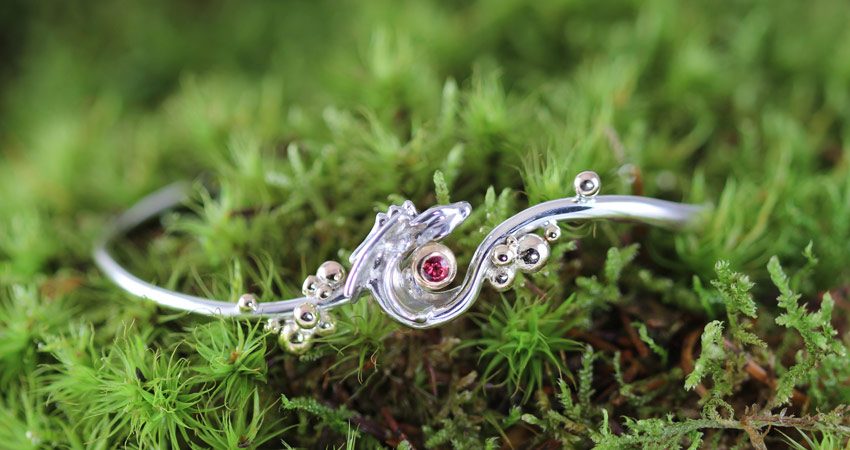 Bracelet made of silver with gold bubbles and red sapphire
It would be lovely made of gold too, wouldn't it?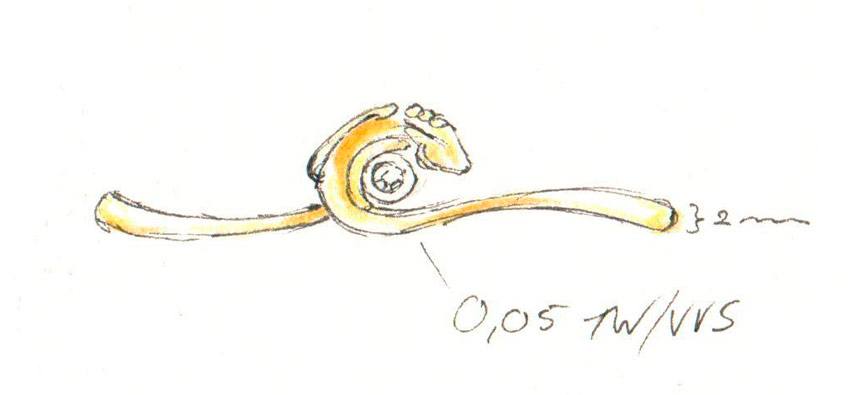 At some point a customer asked me if I could create a Dragonling-ring where the tail of the little dragon encircled the finger instead of resting on top of it. The result was very charming indeed and also rather versatile. Due to the open design of the ring, it can fit a number of rig sizes with just a little adjustment. And just like the pendant or flat version, he could protect a number of different treasures if need be.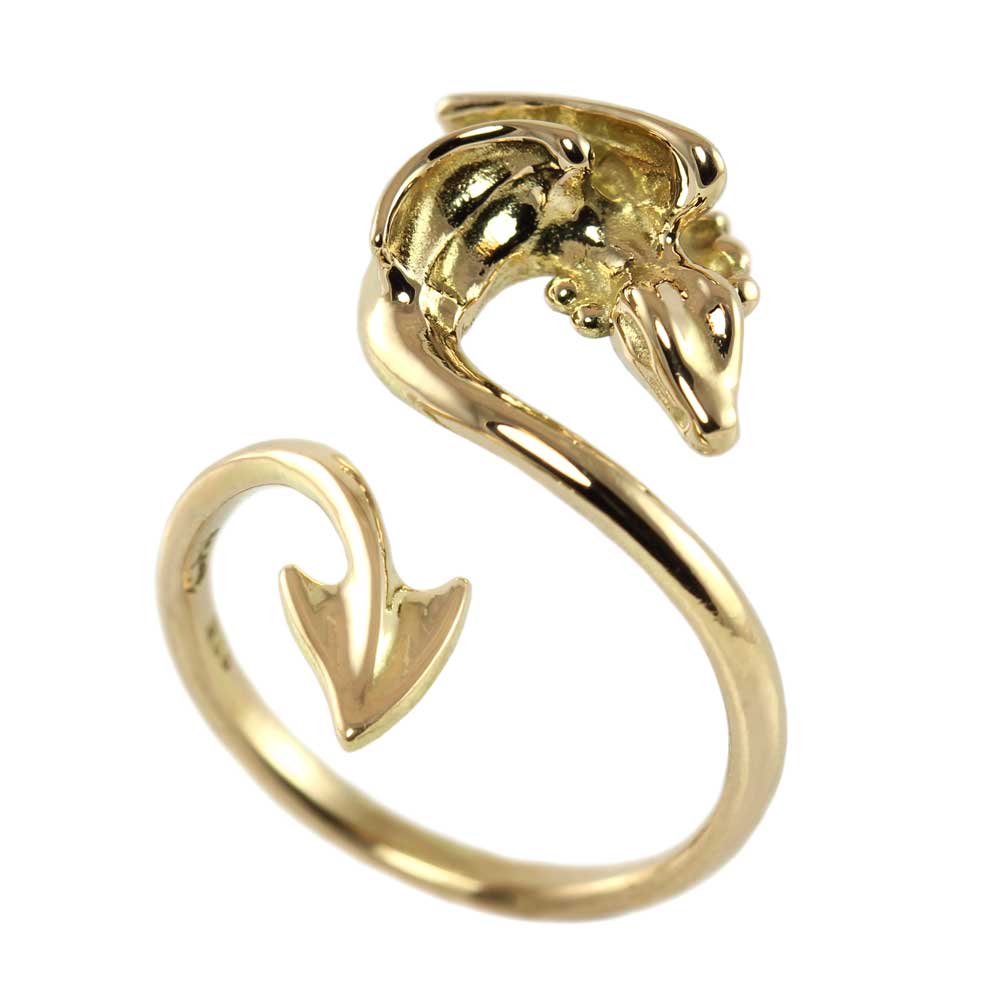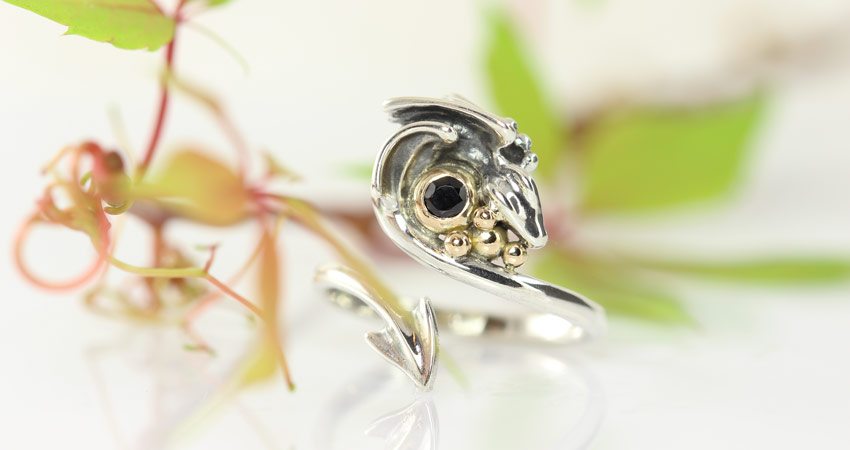 Dragonling of blackened silver with gold treasure and black diamond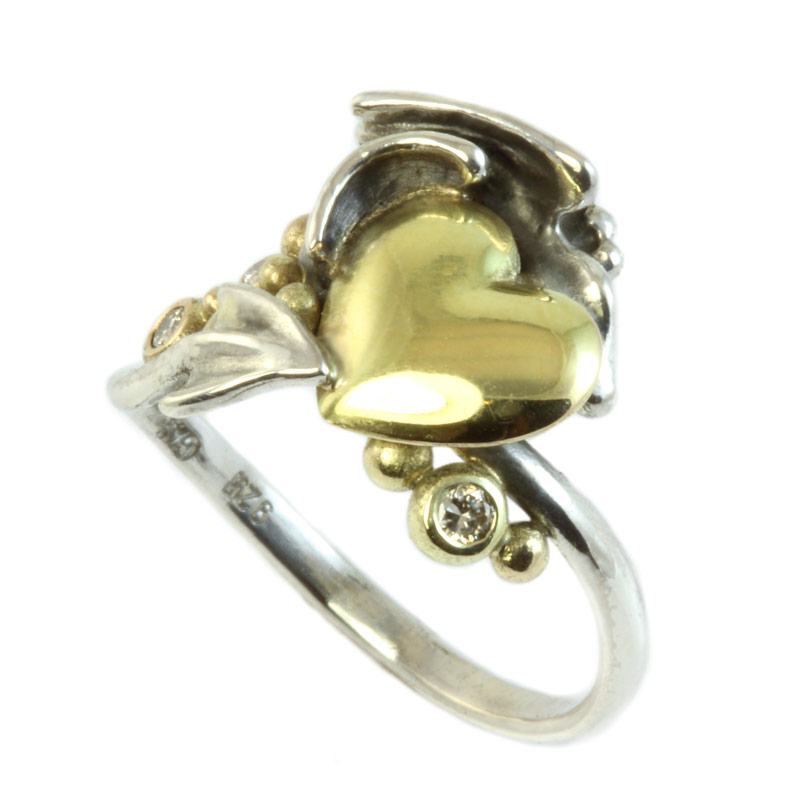 Silver Dragonling with a gold heart, given to my customer when she was baptized as a baby. Now she still wears the heart as an adult, but fiercely protected by a small dragon
Some wanted the ring to be a bit more solid and had his tail soldered in place, which also has another upside: Just like any other youngster, the Dragonling is a bit cheeky. Therefore his tail has a tendency to get stuck in knitted sweaters for instance.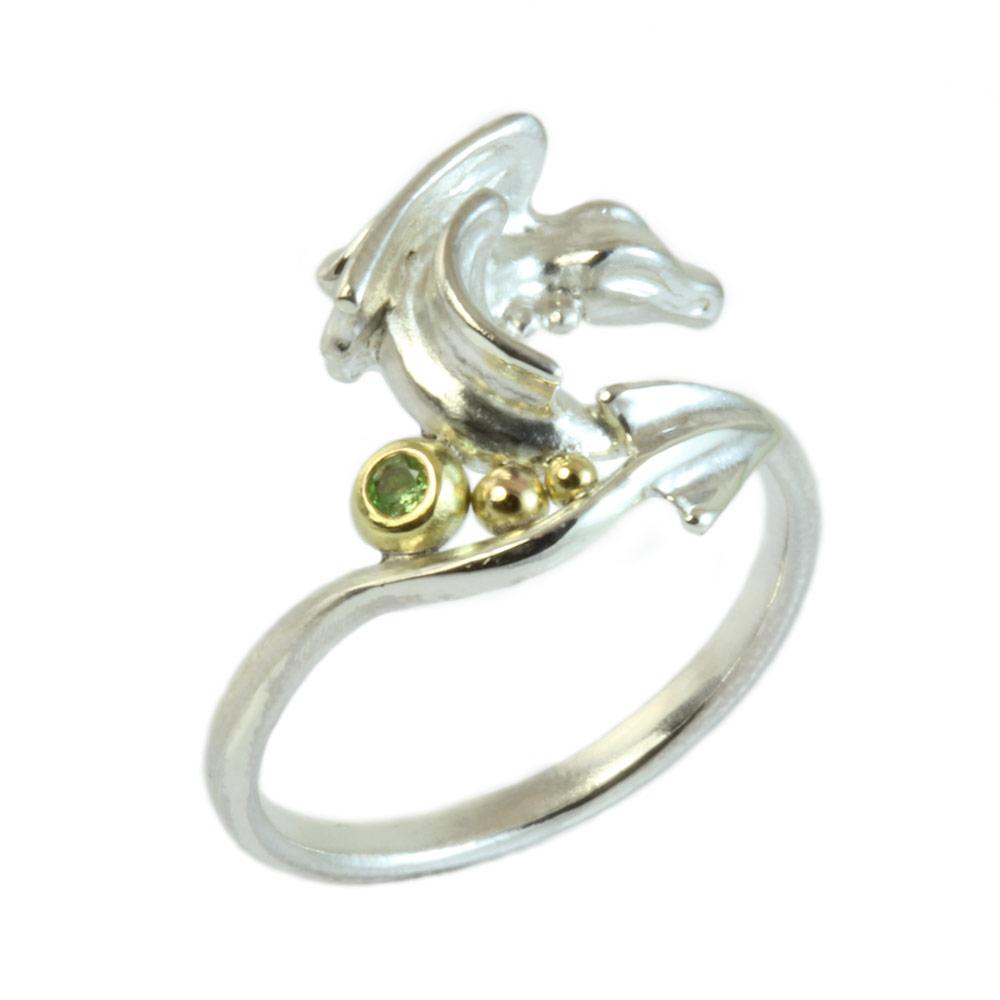 However, you easily forgive him, especially when he looks up at you with jewelled eyes (such as rubies, diamonds or dark blue sapphires). These two ying and yang pendants were created for a couple and feature green and purple diamonds for the eyes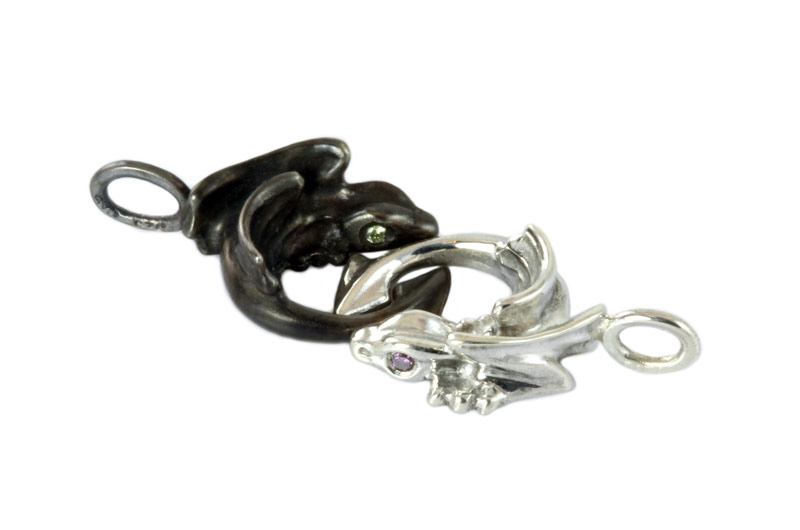 The Dragonling has even inspired a few engagement and wedding rings. This engagement ring features just the tail, displaying the more geeky character of her.

The idea of the tail has caught on and so I have also created somewhat simpler wedding rings with (almost) just the tail as decoration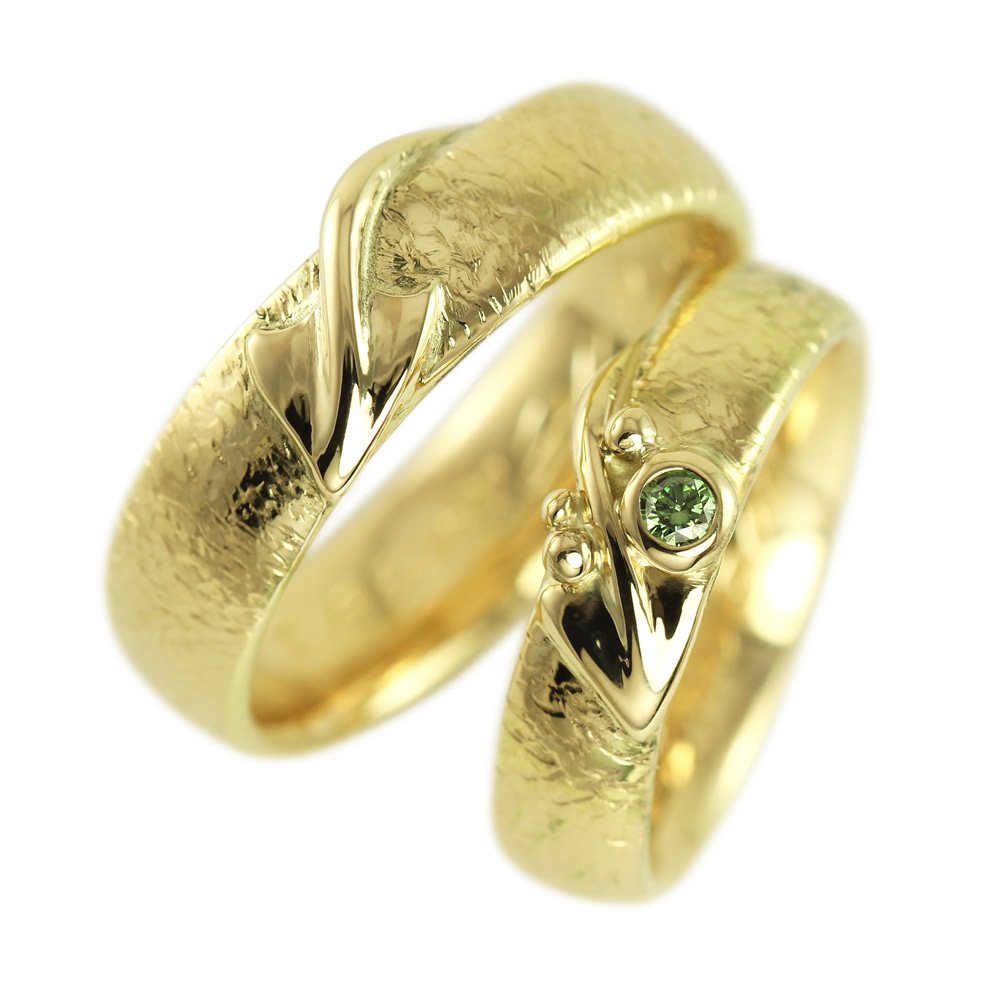 Another couple asked me to created a set consisting of two wyverns twining themselves around each other. I went back to the wax and carved brand new rings, which were cast in white gold and set with black diamonds. Even his got a small black diamond. I love catering for couples a bold as this!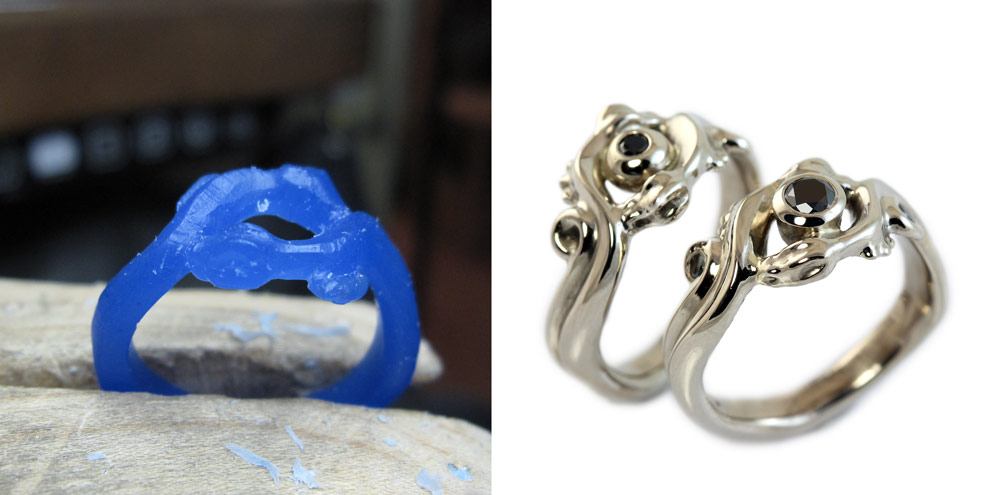 Smaug
Eventually a customer asked me to create my most stunning dragon piece yet: a large gold dragon smugly resting on his finger and cradling a large moonstone, while being surrounded by other treasures of gold and diamonds. A genuine Smaug-and-the-arkenstone-ring made for the bold and the beautiful.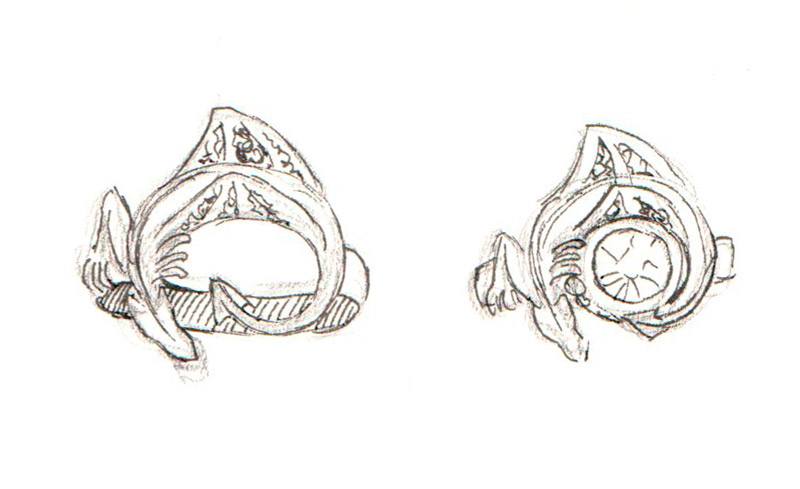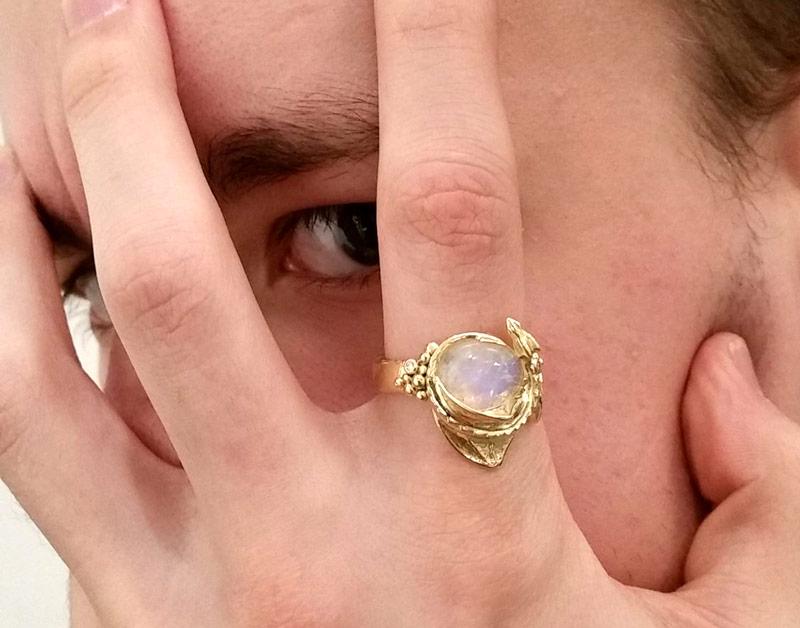 This ring too has spawned a number of variations: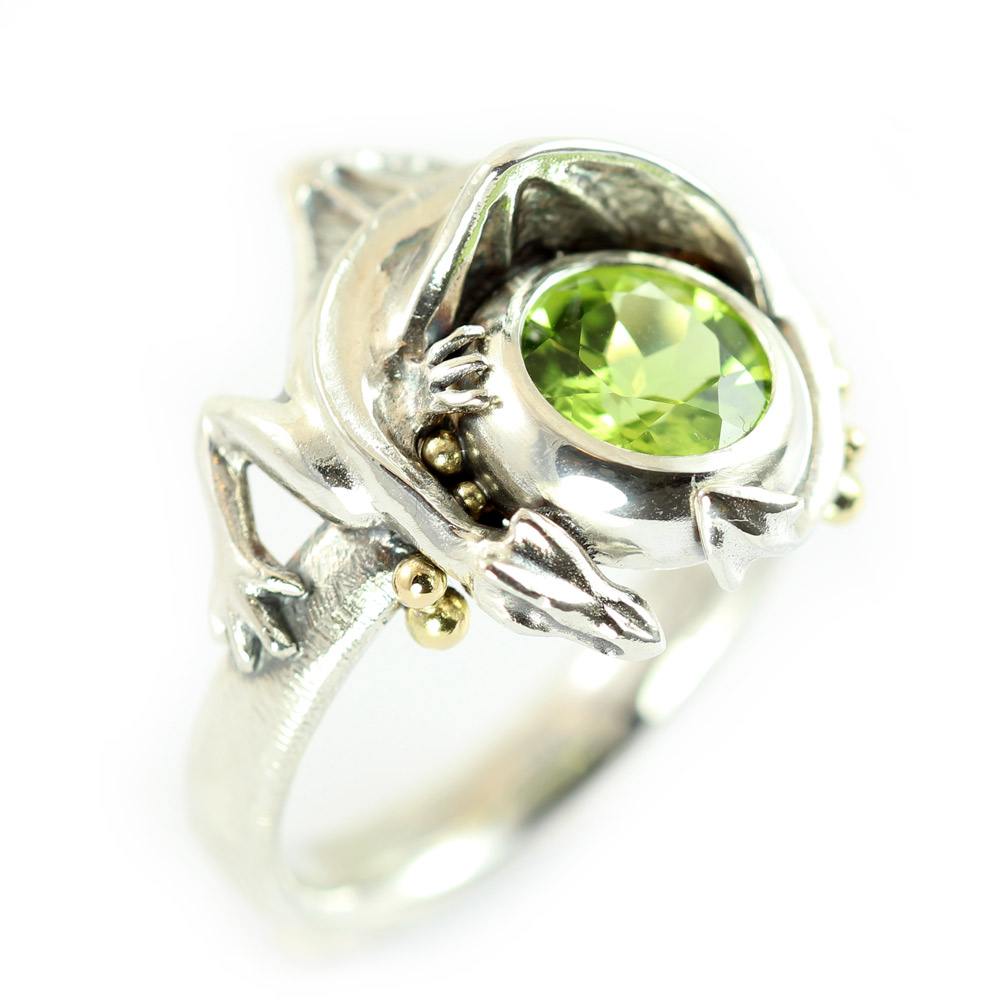 Silver Dragon with peridot and gold treasure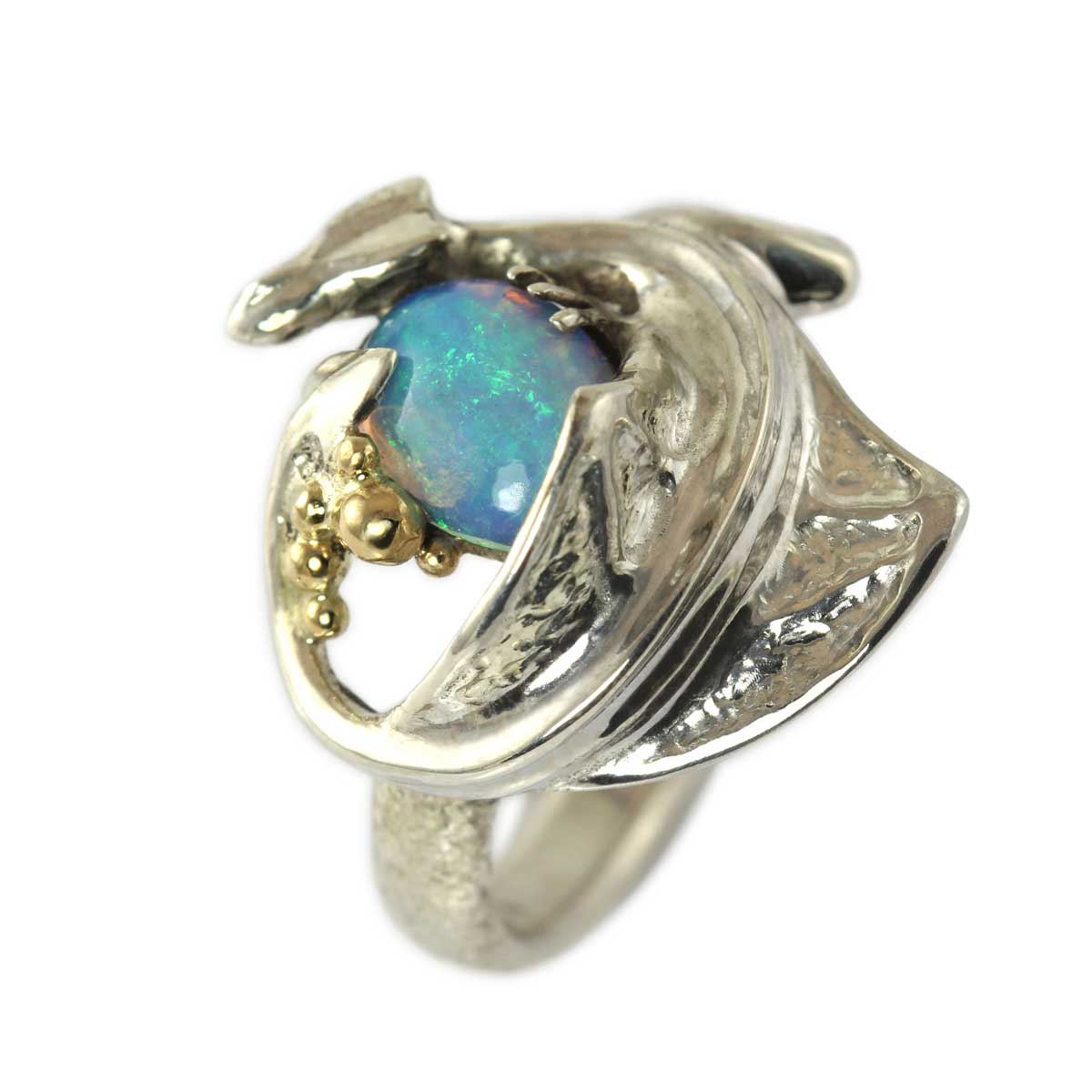 Silver dragon with opal and gold treasure
The dragons keep on developing and grow – as dragons do – and I am currently contemplating to create earrings based on the original Dragonling design. Many have asked for it and it is not fair to deny the dragon-dreamers of their desire. I guess I will be back at the bench carving wax pretty soon... Here is a set of dragon tails to get started!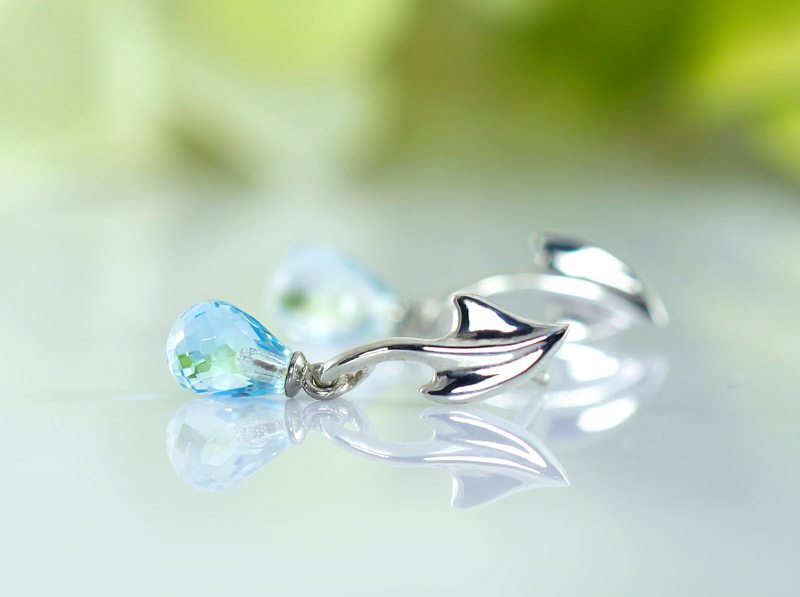 Do you feel inspired to have your very own dragon piece made?
Tags:
custom designs
,
dragons
---
---