Handcrafted jewellery
reflecting the essence of who you are
Every time I meet new clients I strive to connect with them and get to the core of what they really want. I take the time to understand them on a deeper level, using my intuition to connect with YOU and your jewellery dream. I do this because I love to design for "originals" like you - someone who:
- Prefers to wear jewellery that no one else owns
- Loves jewellery with deeper meaning or sentimental value
- Cherishes unique designs over the standard luxury brands
- Appreciates handcrafted over mass produced items
- Loves quality over quantity
I design and create bespoke custom commissions for people
who want jewellery as unique as they are themselves.
About me
My name is Karin Castens - I'm a jeweller in Copenhagen and I grew up being the creative child which resulted in a lot of artwork (and good stories) in my notebooks. As an adult I became sensible and got a Master's degree in communications and history of art - not the worst academic base for jewellery design. When not studying, I spent all my free time in my workshop creating jewellery. This is why I ended up studying even more after my degree – this time at the Institute of Precious Metals.

Since I worked within marketing and communication for years all the while creating jewellery for family and friends in my small workshop in the basement next to the boiler. But working at an office never really was my thing. I was – to be honest – bored and tried out a number of jobs before I in my late 30's took a hint and finally decided to follow my bliss: I opened my beautifull studio shop in the historical part of Copenhagen, behind the Royal Theatre. This is where I and my trusted crew create the jewellery which will make you feel as unique as your are.

My jewellery is beautiful, profound and meaningful and is inspired by a wild imagination sprinkled with a touch of fairy dust. I am an unabashed romantic and a dreamer and heavily inspired by the soft flowing lines of French Art Nouveau, especially the work of Renee Lalique.

My goal is to create a piece of jewellery for you to cherish now - and later as it becomes an heirloom, treasured for generations.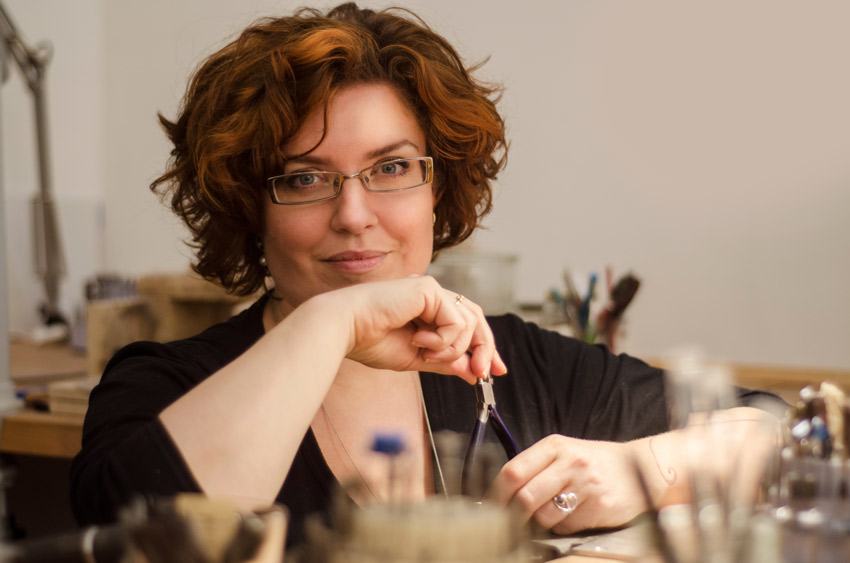 I work with customers locally - and many miles away
I live and work in Copenhagen – one of the leading design capitals of the world - and many customers visit me in my shop. However, I have created jewellery for clients as far away as Australia. So, if you would like for me to create that piece of unique jewellery which reflects who you are, book a design meeting - be it by mail, skype or physically in my shop.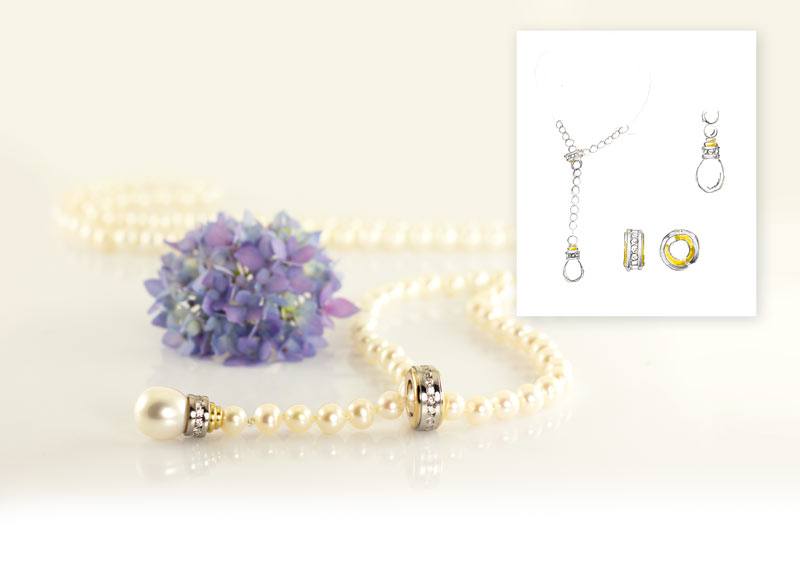 I would like to tell you about my experience with having my pearl necklace created by you. It can be summed up as simply perfect - both the process itself and the end result.
About 1½ years ago I "discovered" your store, and from the very first visit, and the first piece of jewelry you redesigned for me, I experienced something which I have not experienced with other jewellers in the city. You are engaged, you immediately understand my wishes, even if they are worded somewhat clumsily and you can draw as a star. It feels as if there is a direct channel from my words to your hand, and so I see, in immediate extension of what I have just said, my wish on your paper. It's actually a somewhat crazy experience, but by now you have created quite a few pieces for me, and each time I've had that same experience.
In the past ½ year you have also created jewellery for my sister, my girlfriends and my husband, and they all report the same: Your commitment and understanding of your customers wishes and needs is unique, as is your abilities to draw and create enchanting, beautiful and fantastic jewellery. On top of that you not only are knowledgeable within the art of working with precious metals and gems, but also within art history and its various epochs. It is a pleasure to talk to you and to be enlightened by you.
The pearl chain you just made for me ended up being perfect. It's graceful as well as simple, it's sumptuous and understated at the same time. It is pure class and great style!
Best,
Charlotte Ravn Steenstrup
Castens Crew
At Castens I always design the jewellery. However, I get help creating them by my crew: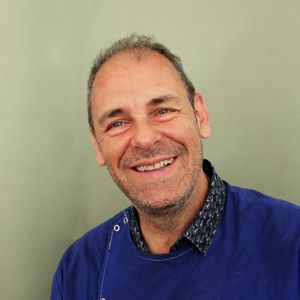 Alessandro Acciaccarelli

Journeyman at Castens who has tried everything and knows all the tricks of the trade. Alessandro was trained in Italy and also had a workshop there for 12 years. He is the first jeweler in my workshop who understood and created a piece of jewellery with the right Castens curve – on his very first attempt. This is not an easy task, mind you! One of Alessandros jobs is also to educate our apprentice and teach her some of the finer points of jewellery making which I do not know. Because no jeweler knows everything, which makes this a great example of 1+2 = 3.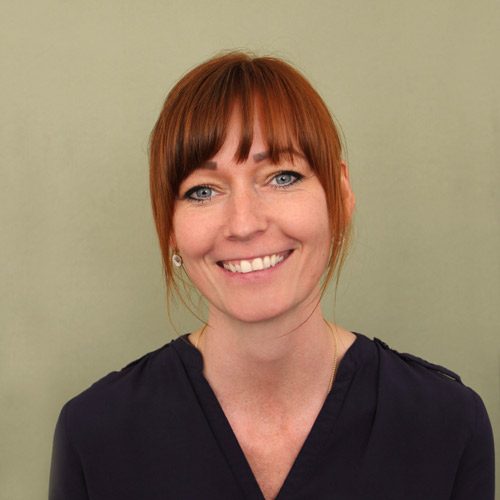 Anne-Marie Waleue

The firm rock at "the office", who has my back and hence enables me to spend more time talking to customers and designing beautifull jewellery. Anne-Marie has a bachelor within administration, is studying politics and administration at RUC and has years of experience from the jewellery business. In other words: You can safely ask her about the difference between a W/SI and a TW/VVS diamond and what metals goes into an 18 karat gold alloy. In her spare time Anne-Marie runs a small kennel, where she breeds French bulldogs like our Kuba and a very special breed of sighthounds - the azawakh.


Anders Leed

Anders already has a long and artistic career behind himself within the jewellery business. At the Academy of Fine Arts he studied with Poul Gernes, apprenticed under the silver smith Per Sax Møller and studied, like myself, at the Institute of Precious Metals. Since he worked as a jeweler at Lynggaard, designed mens' jewellery for Pilgrim and has run his own jewellery workshop. Anders is father of 3, reads 7 newspapers daily (though he attempts to cut down), plays flute and sings at a calypso orchestra. In other words: Having Anders around is quite a party!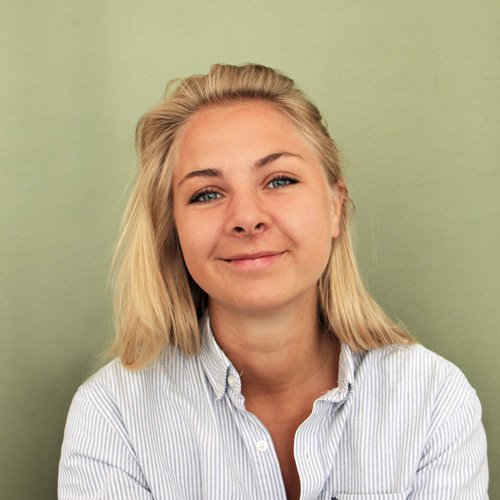 Sofie Grønkjær
Sofie is the apprentice at Castens and though she is still learning from myself and our journeymen, she is fast to grasp the concepts and find efficient ways to execute them. At the bench she often listens to podcasts with headphones and her laughter - when something secret to the rest of the workshop is funny - makes us all smile. When Sofie needs to relax, she watches The Lord of The Rings which she has seen innumerable times and which makes her a perfect fit into the enchanted realm of Castens!


Maia Ejersbo

Maia is our intern from KEA where she is studying for a bachelors' degree in Jewellery, technology & business. She has worked with jewellery for quite a while now and has studied abroad in Wales and Finland. From the latter she imported her husband with whom she now lives in their 2-romm-flat with their baby, 2 cats and a dog. Maia is wonderfully geeky and has an acute sense of the Castens curves which she works with both at the bench as well as at the computer within marketing. Whether she will get to leave us again when she has finished her internship by summer is doubtful!