Handcrafted jewellery
reflecting the essence of who you are
Every time I meet new clients I strive to connect with them and get to the core of what they really want. I take the time to understand them on a deeper level, using my intuition to connect with YOU and your jewellery dream. I do this because I love to design for "originals" like you - someone who:
- Prefers to wear jewellery that no one else owns
- Loves jewellery with deeper meaning or sentimental value
- Cherishes unique designs over the standard luxury brands
- Appreciates handcrafted over mass produced items
- Loves quality over quantity
I design and create bespoke custom commissions for people
who want to wear jewellery as unique as they are themselves.
About me
I became a goldsmith because I wanted to create as much beauty in this world as possible - beauty in the shape of meaningful jewellery which can be enjoyed in everyday life. A beautiful piece of jewellery to me is loose-hearted, playful and bohemian-like and therefore my designs are often asymmetrical, with interesting surfaces and a more than friendly nod to French art nouveau. Therefore, of course my great sources of inspiration are Renee Lalique and in Denmark Arje Griegst and Torben Hardenberg. Some consider my jewellery to be fairy tale inspired, and no wonder - especially when I use dragons as a motif on some of them!

I aspire to create my jewellery solid enough to be loved now and eventually become an heirloom - appreciated for generations. I usually claim to create jewellery for everyday princesses and other shameless romantics. That is to say, women who think that common jewellery, which is available in ordinary stores, is boring. We buy jewellery for many reasons: Engagement and marriage are the classics, while others want to celebrate something - whether it is a beloved deceased family member (where we recycle inherited gold or gems for a new piece of jewellery), a new life or perhaps a finished education.
The academic goldsmith
My way into the jewellery industry has been somewhat alternative: I am not a trained goldsmith, but have a master's degree in communication and history of art. Subsequently, I have worked with marketing and communication for quite a number of years while simultaneously working in my own little jewellers' workshop in the boiler room. Since the middle of the 90s I have sat beside the cozily humming boiler and worked with the subject, which always has been closest to my heart. Here I accomplished myself, as one of my sweet older colleagues described it, "in the difficult way", although I also studied at the Institute of Precious Metals. Incidentally, an education for trained goldsmiths, which I was nevertheless allowed to access after a 3-day entrance examination.

When the economic downturn hit the world in 2008, I - like so many others - lost my job and chose to see it as a blessing. Because I took the plunge, followed my heart's desire and switched the computer out with tools. Now I my goal was to realize my big dream of creating portable beauty in the shape jewellery! Today I run my workshop in the beautiful, high-ceilinged premises behind the Royal Theater in Copenhagen. I am a member of the Copenhagen Goldsmith's Guild and in 2018 I won a gold medal in the international design competition A'Design Award for the bridal set "Two Forever". Eventually, despite my lack of the official goldsmith education, I was approved as a goldsmith master and am now training my own apprentices.

When I don't juggle the incredibly many balls you have in the air, as a jeweller with a (work-) shop and staff, I throw myself over books (yes, of course fantasy) and the sewing machine. In fact, I am not bad at sewing: A few years ago I reached the final in the Danish adaptation of The Great British Sewing Bee!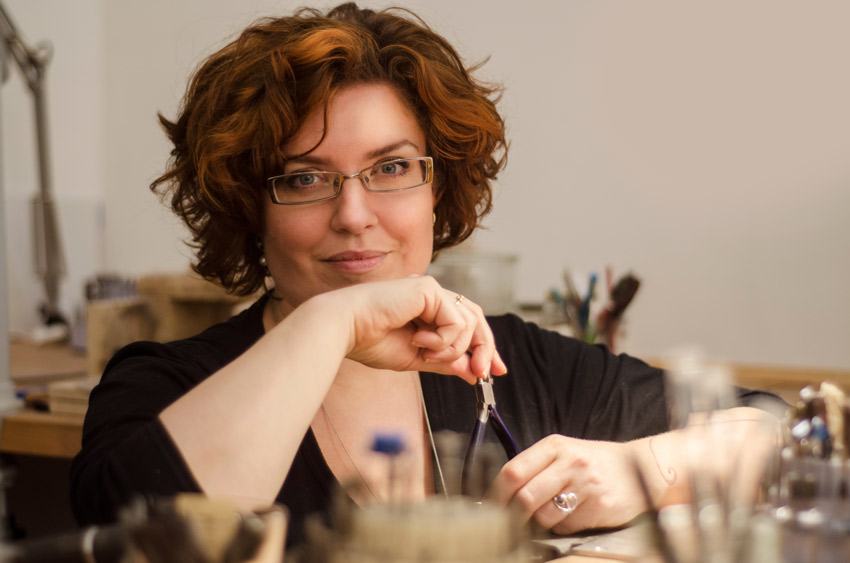 I work with customers locally - and many miles away
I live and work in Copenhagen – one of the leading design capitals of the world - and many customers visit me in my shop. However, I have created jewellery for clients as far away as Australia. So, if you would like for me to create that piece of unique jewellery which reflects who you are, book a design meeting - be it by mail, skype or physically in my shop.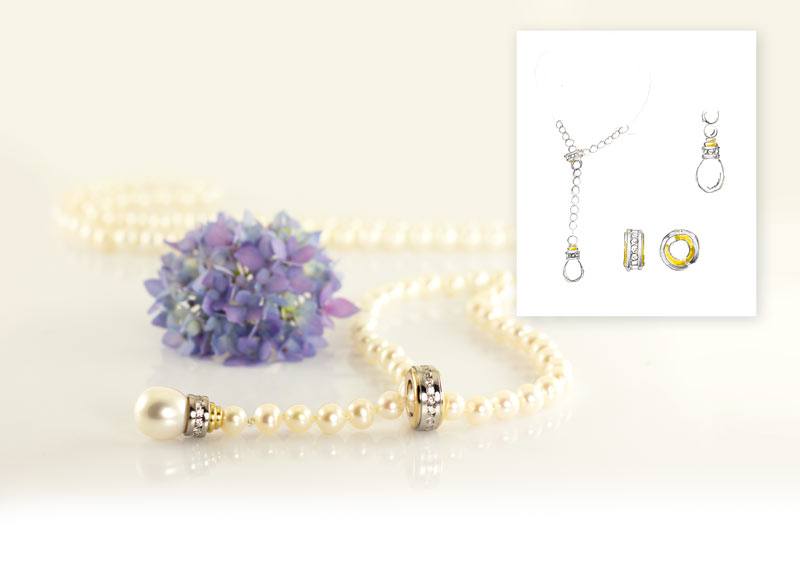 I would like to tell you about my experience with having my pearl necklace created by you. It can be summed up as simply perfect - both the process itself and the end result.
About 1½ years ago I "discovered" your store, and from the very first visit, and the first piece of jewelry you redesigned for me, I experienced something which I have not experienced with other jewellers in the city. You are engaged, you immediately understand my wishes, even if they are worded somewhat clumsily and you can draw as a star. It feels as if there is a direct channel from my words to your hand, and so I see, in immediate extension of what I have just said, my wish on your paper. It's actually a somewhat crazy experience, but by now you have created quite a few pieces for me, and each time I've had that same experience.
In the past ½ year you have also created jewellery for my sister, my girlfriends and my husband, and they all report the same: Your commitment and understanding of your customers wishes and needs is unique, as is your abilities to draw and create enchanting, beautiful and fantastic jewellery. On top of that you not only are knowledgeable within the art of working with precious metals and gems, but also within art history and its various epochs. It is a pleasure to talk to you and to be enlightened by you.
The pearl chain you just made for me ended up being perfect. It's graceful as well as simple, it's sumptuous and understated at the same time. It is pure class and great style!
Best,
Charlotte Ravn Steenstrup
Castens Crew
At Castens I always design the jewellery. However, I get help creating them by my talented colleague Alessandro: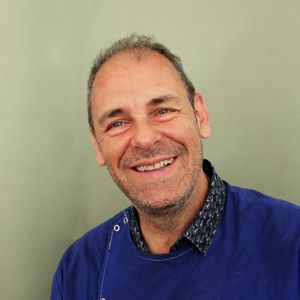 Alessandro Acciaccarelli

Journeyman at Castens who has tried everything and knows all the tricks of the trade. Alessandro was trained in Italy and also had a workshop there for 12 years. He is the first jeweler in my workshop who understood and created a piece of jewellery with the right Castens curve – on his very first attempt. This is not an easy task, mind you! One of Alessandros jobs is also to educate our apprentice and teach her some of the finer points of jewellery making which I do not know. Because no jeweler knows everything, which makes this a great example of 1+2 = 3.

All content - pictures, texts etc. on this website belongs to Castens.
Do not copy any content without our permission.