Many couples want their very own, bespoke wedding rings. A set of handcrafted rings, which shows their personal taste and you can have those rings created especially for you at Castens in Copenhagen, Denmark.

But how do we go about having those rings designed and made?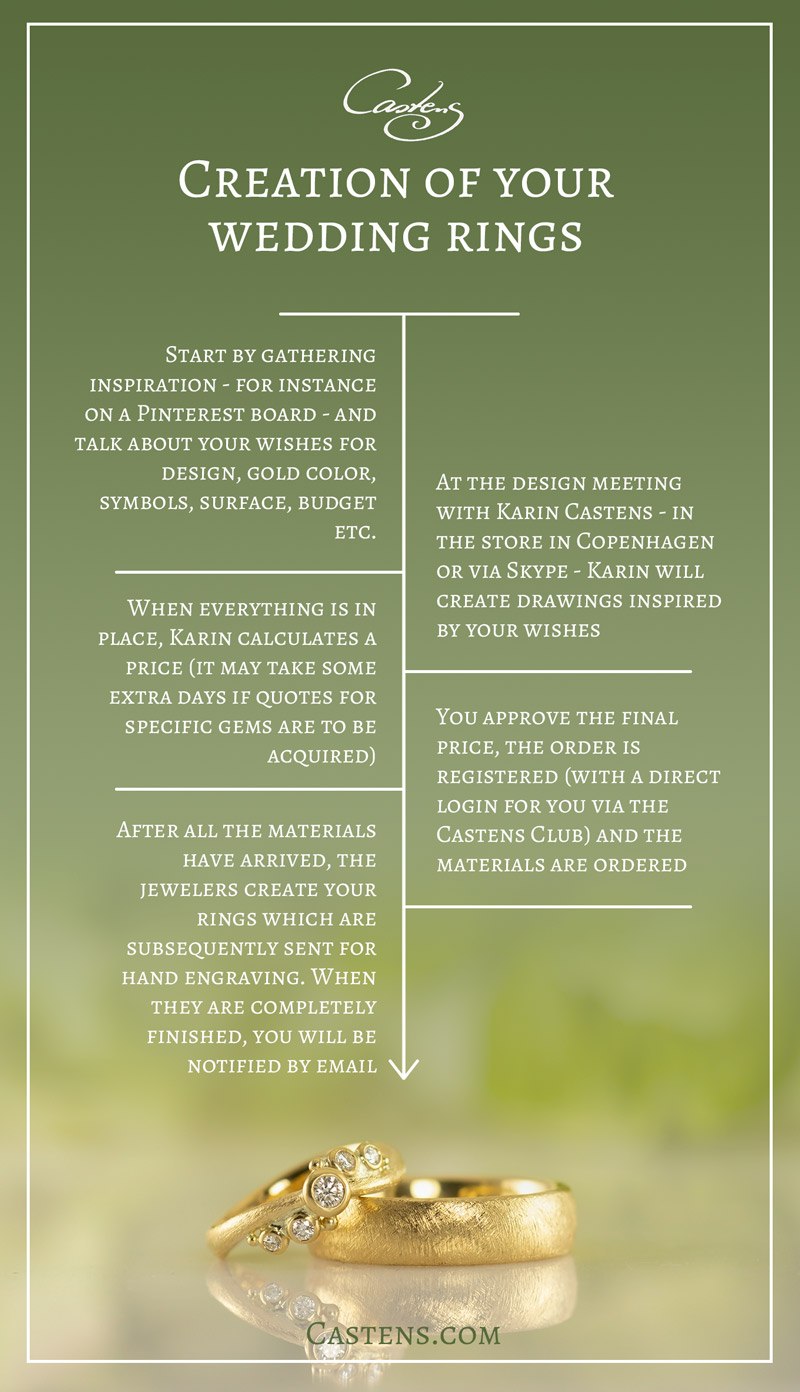 The design
When we meet over a cup of coffee in the shop (or via Skype online), our customers often have an approximate idea allready: They might for instance know, that they want a slightly rough surface, or a specific kind of gem. Often they have browsed through many rings – on our homepage or in other shops, and now they are ready to have their own unique set created.
We take a look at a selection of wedding rings in the shop and talk about your ideas. This is the starting point of the design process. You could compare it to playing with LEGO: Perhaps you want the dimensions of these rings, the overall shape of another and the details from yet another ring plus something blue. Its fun to experiment with the possibilities until your very own version emerges. The one that "feels right".

Want to get started designing your very own wedding rings now?
Find a free design guide at the end of this page.
Should the rings be identical?
It is no longer an absolute "come il faut" that the rings are almost the same – a "his and hers". Today many couples choose to get rings, which may only have the material or surface in common. Often, the groom wants a very simple ring, while the bride dreams of a ring with lots of detail. Don't worry: You can't choose "wrong" – all is allowed.
Which metal?
In regards to materials, our wedding rings are usually made of (yellow) gold or white gold - or a combination. Gold is the classic choice and comes in 14 karat as well as the warmer and more golden 18 karat. You can also choose a rose variety which in the later years has become increasingly popular.

Some couples want silver because of its cooler colour and perhaps also because it's more affordable. However, we advise to choose the somewhat darker white gold - not because wedding rings absolutely have to be expensive, but simply because gold is a harder material, which can withstand years of wear and tear. And that is after all what wedding rings should be created for.
Now we are talking about white-gold; No, it's not "white" like freshly polished silver. Almost all the white gold rings you see in the shops are rhodium-plated, which means they are covered with a thin layer of the metal rhodium (like vermeil jewellery is covered with gold). This metal is very durable, but eventually (depending on the usage and exposure), it will be worn off. To keep the bright look, you will have to have it replated with rhodium at least once every other year.

However, white gold as it is has a very beautiful, bright, almost fallow gray color, which can be treated to a very high polish – an option worth considering, if you don't want your rings to change too much by just wearing them. If you prefer the bright surface, we will of course rhodium plate it for you! I have created a video explaining this phenomenon which you can watch here:
Want a diamond in your ring?
If you want a gemstone in your ring, the classic choice is the diamond. A diamond is a brilliant (pun intended) choice, none the least because of its strong symbolic value: This gem is the most durable of them all and the only thing which can damage a diamond, is another diamond.

Hopefully, your marriage will be as strong as a diamond!
Diamonds are available in a variety of grades, which is a great advantage if you are working from a budget. You can, for instance, get a larger gem within your budget, if you choose to compromise on the quality. This slightly lower quality is often virtually invisible to the untrained eye – as long as the diamond isn't too large. Diamonds also come in a very beautiful and somewhat understated champagne color or, if you prefer the more exotic, in all colors of the rainbow. Here, a distinction is made between the natural colored diamonds, which are very expensive, and the treated, which are substantially less expensive.
You can also select a dramatic (and very affordable) black diamond or perhaps a pique diamond with visible inclusions. These particular gems are by nature unique and thus mirror the uniqueness of you and your ring.
Read more about diamonds and how to choose the right one here
Perhaps you prefer a different gem?
There are other best friends to girls than diamonds. However, we advise that you either choose a ruby or a sapphire (which are unearthed in a variety of other colors than blue), because they are almost as tough as the diamond and can therefore too withstand everyday wear and tear.
We will of cause create wedding rings for you with any gem you prefer – you just have to be prepared for it to be worn dull over the years.
Read more about diamonds and the pricing here
Wedding rings made of gold with sentimental value
Often, couples bring along inherited gold jewellery, which they would like to incorporate into their new rings. That is usually easily done and may very well lower the final price a little, not to mention that special feeling of knowing that you are wearing family heirlooms and the blessing of your loved ones within your new wedding rings. You can cover up to half of the value of the new rings with the value of the old gold.
Read more about how we work with old gold jewellery here

Which hand should the ring be placed upon?
In Denmark, this is very easy to answer; you decide yourself. You can choose to put the rings on the left hand, because it is closest to the heart, or the right hand, because this is the one we swear by. Or have the engagement ring on the left and the wedding ring on the right. Some choose to start with an engagement ring on the left hand and then just move it to the right hand, when they get married.
Many choose not to have an engagement ring at all and go straight for the wedding band, while others choose the English/American model, the bridal set. Here the engagement ring is the pretty one with the diamond and the wedding ring is a simple and narrow companion which is created to snuggle up against the engagement ring. A smart choice if you want fingers left for other beautiful rings! This way of wearing wedding rings is not very widespread in Denmark, but we create them at Castens none the less.


See some of our wedding sets here
Engraving
Most couples want their rings engraved. A name and date is the most common - and handy if you tend to forget the wedding day. Some prefer writing a personal love message or having a symbol engraved.
For straight and relatively simple wedding rings we offer engravings by machine. Typical curvy or detailed Castens rings however can only be engraved by hand, lending a firther note of personality to the bespoke rings.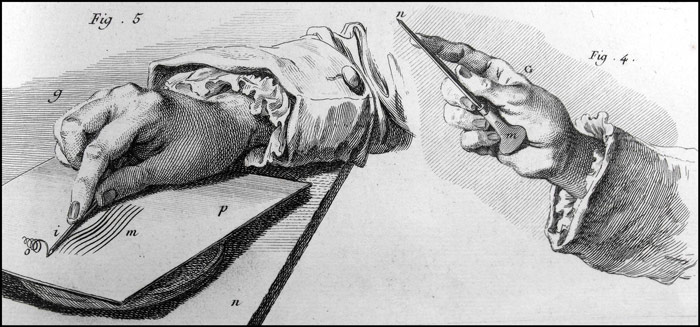 Price
Once we have setteled on a design and materials, we calculate a price. If the design is relaively simple, a price can be calculated on the spot. Otherwise we will get back to you by mail with a price offer. Once you decide to place the actual order, you put down half as a downpayment and pay the other half upon pickup.



How long time does it take?
The usual production time is 6 weeks. This way we can ensure getting hold of all neded materials and have time spared for the engraving.

See examples of handcrafted bespoke wedding ring here
Read more about how much and why it costs what it does to have jewellery crafted by hand here

Free design guide

Get a head start designing your very own wedding rings by using our design guide. The more of these various aspects you have decided upon prior to a meeting in the shop or online, the better.
I am looking forward to designing your special and personalized wedding rings with you
Love,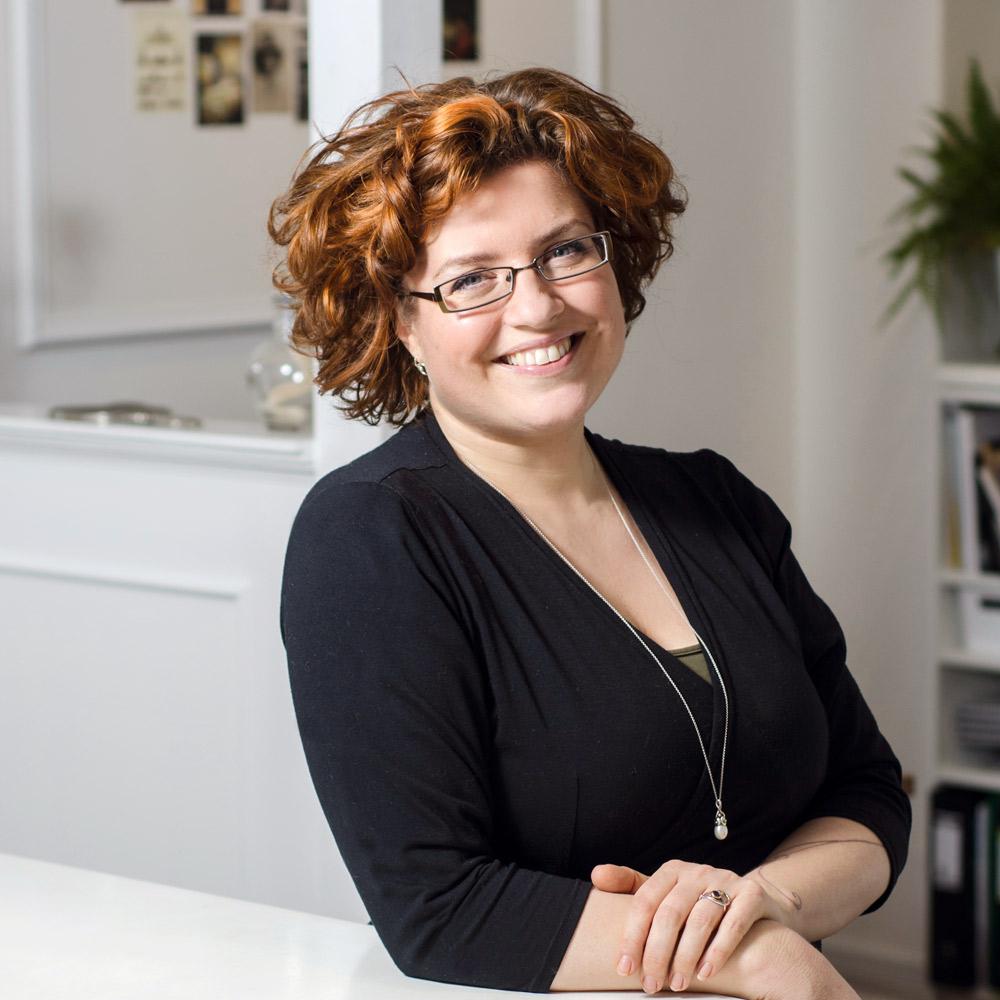 Thank you SO much for the beautiful rings

They are even more beautiful than we had imagined, in spite of large expectations. I feel touched and happy whenever I look at my finger. They fit perfectly. Both rings are beautiful symbols of our love.
Once again thank you ever so much for your time and care - we are both enchanted by your beautiful art and craft

With love,
Anjalumea and Mikkel