9. October 2018
BTS: Creation of an opal pendant
Once in a while I take the time to to create true con amore piece through the lost wax (or cire perdue) method. Such piece is always time-consuming to craft, but also oh-so-satisfying and this one started out with a gorgeous 3 carat opal from Aethiopia.
This absolutely enchanting gem deserved a unique setting and after creating countless sketches I found myself unable to decide on a design. And so I dared an experiment: What happens if I ask my followers on Facebook to vote for their favorite?
It was almost as hard for them to decide as for me, but eventually one design stood out as the winner: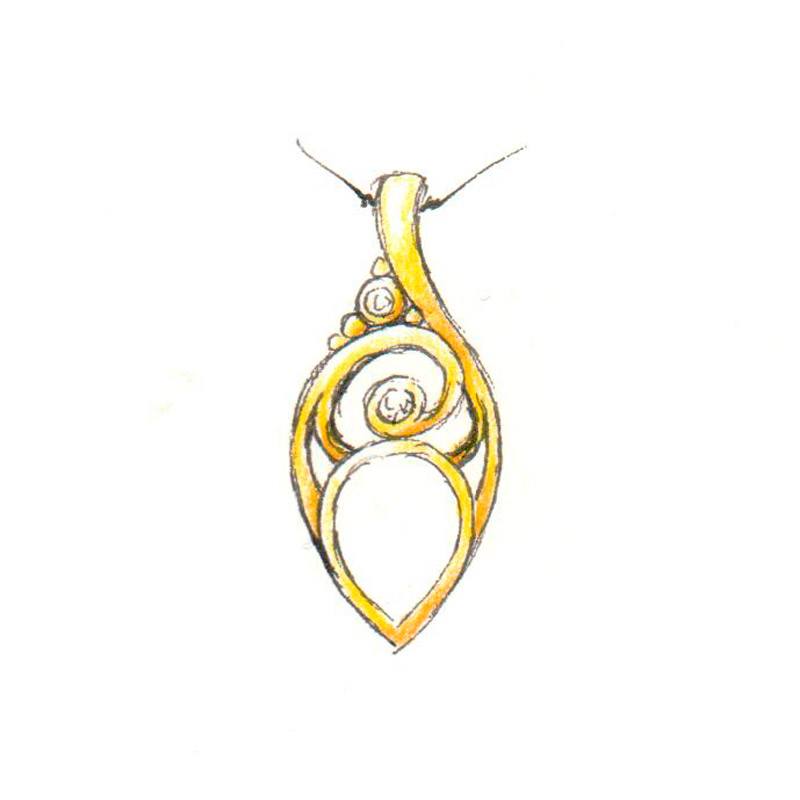 And so I set out with a piece of wax – a jeweler on a mission. As almost always my design changed a bit under way while turning from two dimensions into 3 dimensions. I decided to widen the eyelet and split it in two in order to lighten the design. I also decided not to put the bubbles with an extra setting for a gem next to said eyelet. The design was strong and beautiful as it was. Also I worked very carefully with the backside of this pendant – wanting it to be just as graceful as the front. Carving the wax with burrs and knives took two days but yet I knew that it wasn't quite finished when I handed it in for casting.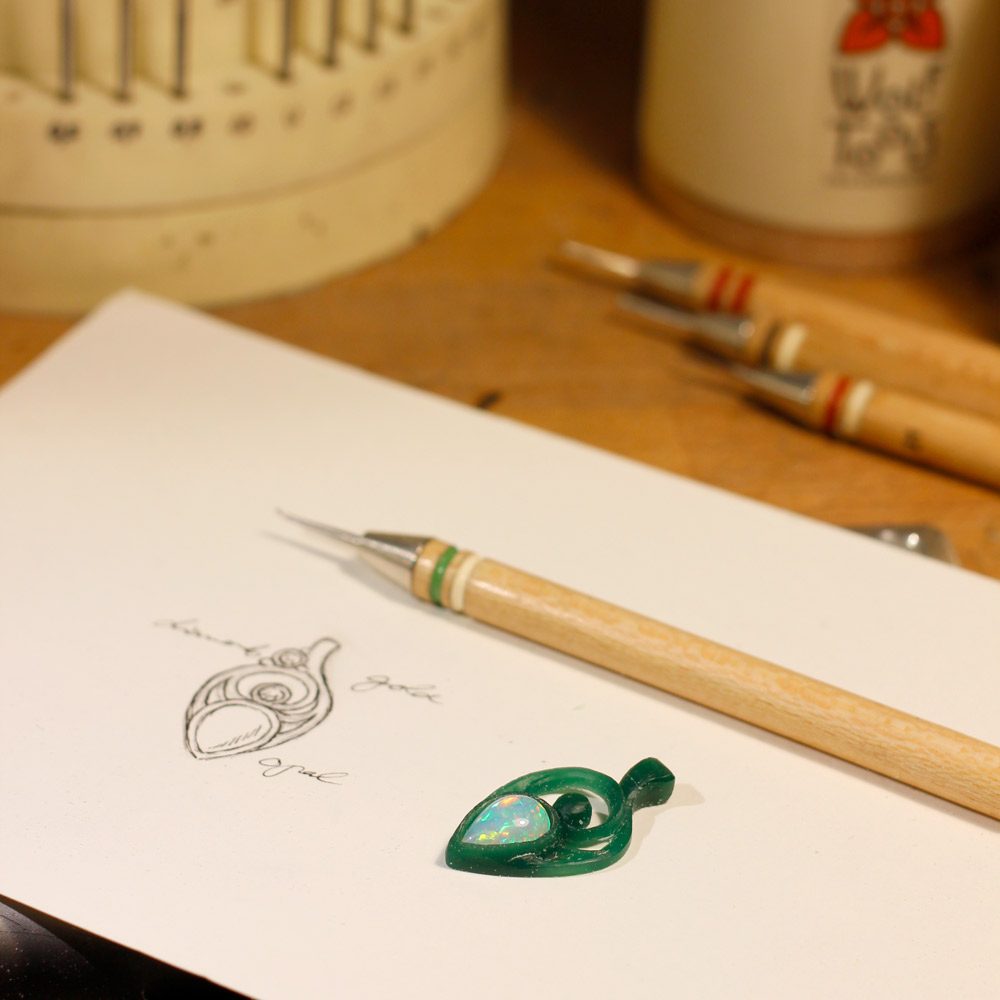 Once back into my hands - and cast in gold - this baby was very heavy! Gold does after all weigh the same as lead and so I decided to lighten the design even more. A whole gram of gold was carefully shaved off as the pendant went from pretty to stunningly beautiful, its lines curving gracefully and airy like the arches of an elven temple. Or a jewellery design by Victor Horta!
Now doubt set in again: Should I set the opal directly onto the gold, letting its warm light penetrate it with the result that it shimmered like fey wings… or should I put a piece of oxidized silver behind it, thereby deepening and enhancing the blue colors? True to my mission I decided to ask my faithful Facebook followers again and the verdict was clear: Go for the dark version.



After setting the gems this piece truly came to life. The wonder of opals is the fact that it is alive. Moved it constantly changes and mesmerizes. The opal is a one of a kind gem and so this entire piece is unique. However, I DID take a mold from it before I set the gems, enabling me to create other versions of this stunner in other material combinations and/or perhaps with the bubbles and extra gens from the original drawing as well. However, this particular piece is the first edition and hence stamped with a "1" – which of cause also will be stated in the Certificate.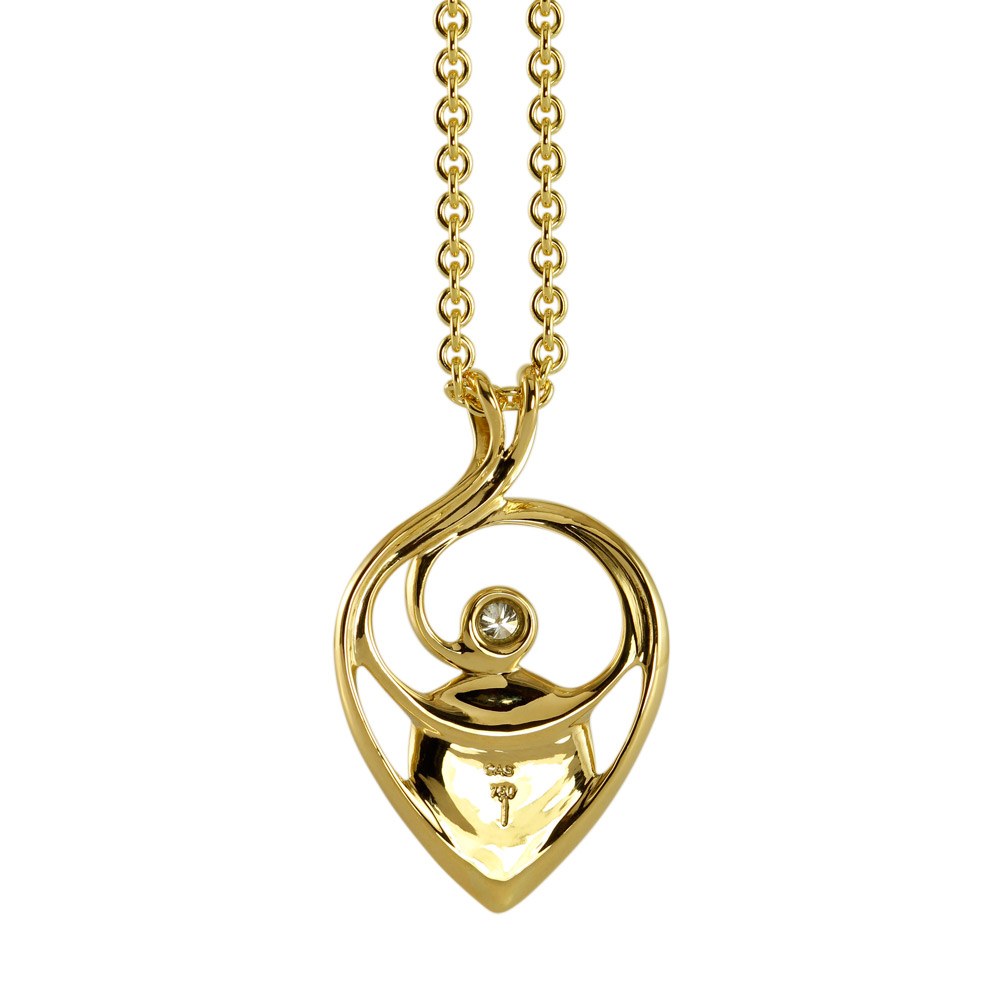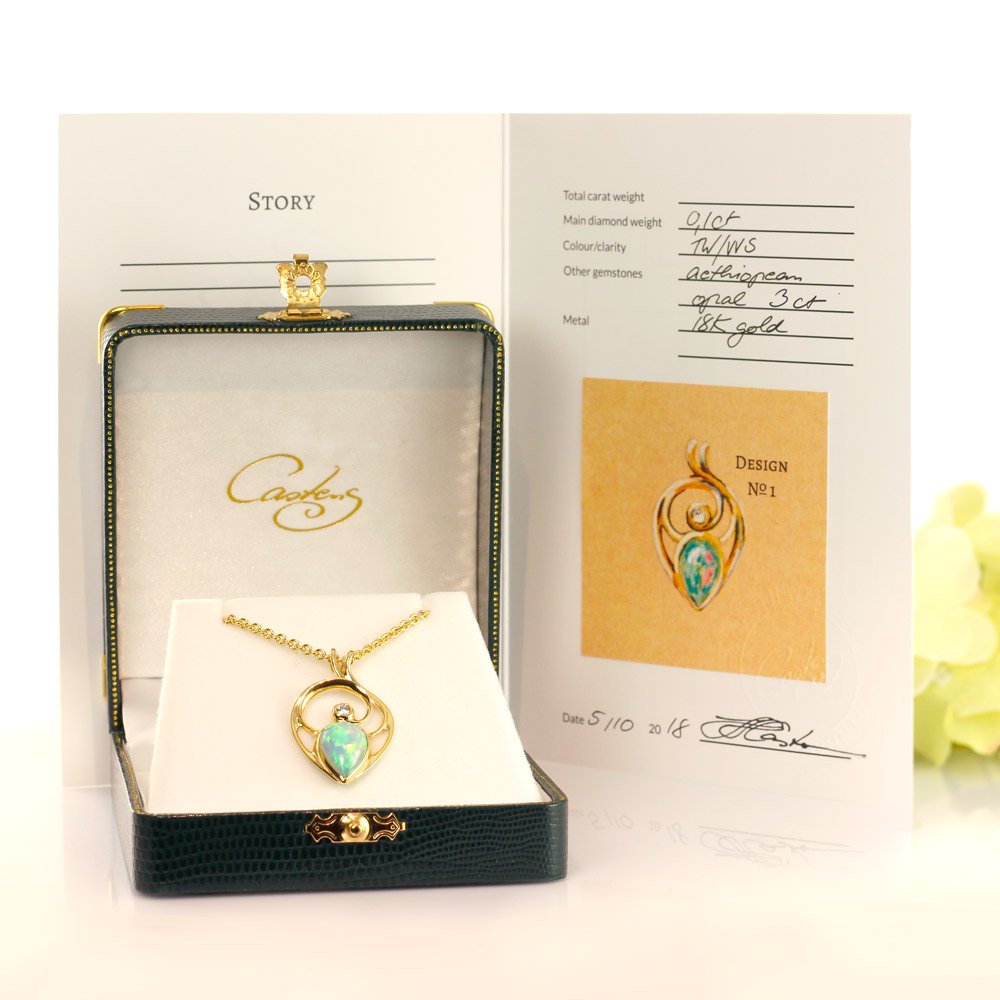 The piece is named Ilyana – I usually name grand pieces and this is no exception. Ilyana means "softness", "kindness" and "gentleness" and I think it perfectly describes the traits of this design.
Thank you to all my wonderful followers on Facebook - you hold a big deal of credit for the design of this piece of jewelry! If you also would like to contribute to such projects, I am encouraging you to become a member of the Castens Club where we will be running similar design projects in the future. Here is a video where the many hours of work has been boiled down to 2:44 minutes:


Ilyana is currently for sale - until someone very lucky snatches it up! See more pictures and the price here. If you love the design but would like another combination of materials or perhaps some bubbles, more diamonds etc, please get in touch and let's create your very own version of Ilyana!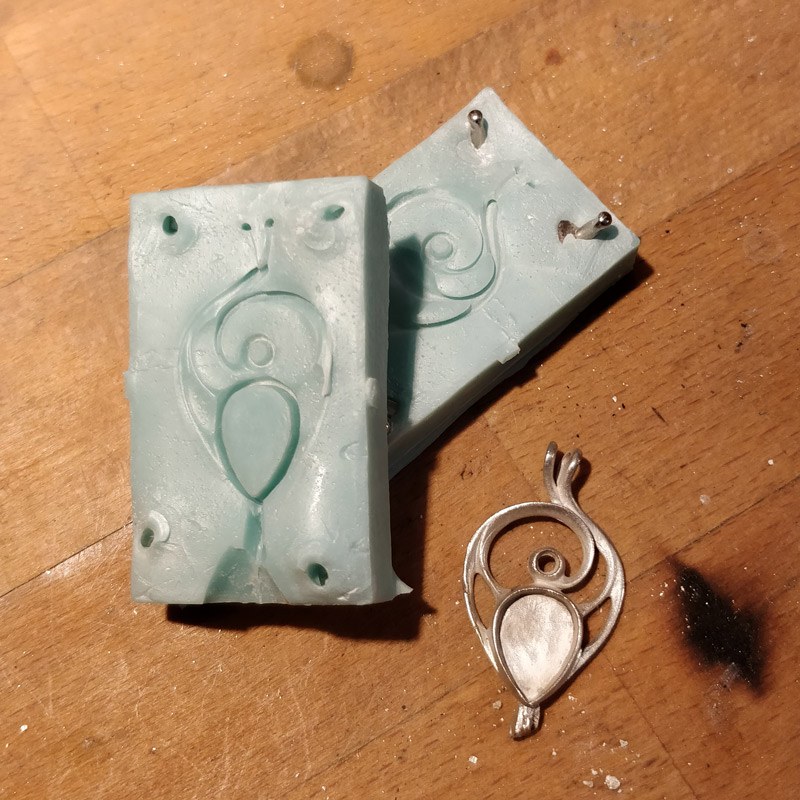 How would you like YOUR version?
Tags:
lost wax
,
OOAK
,
video
---
---