10. July 2020
How to create a perfect proposal
Proposing or being proposed to is not something you immediately forget no matter what. However, a proposal can easily, become even more romantic and memorable if you do a little bit of planning ahead.

This article is brought in collaboration with FindEnKæreste.dk (FindALove), who are Danish experts in love, dating and relationships. Visit them here
Looking for ideas and suggestions for the perfect proposal? Then read on. Whether you want to use one or more of these ideas to create an unforgettable courtship or whether you simply want to use them as inspiration is entirely up to you.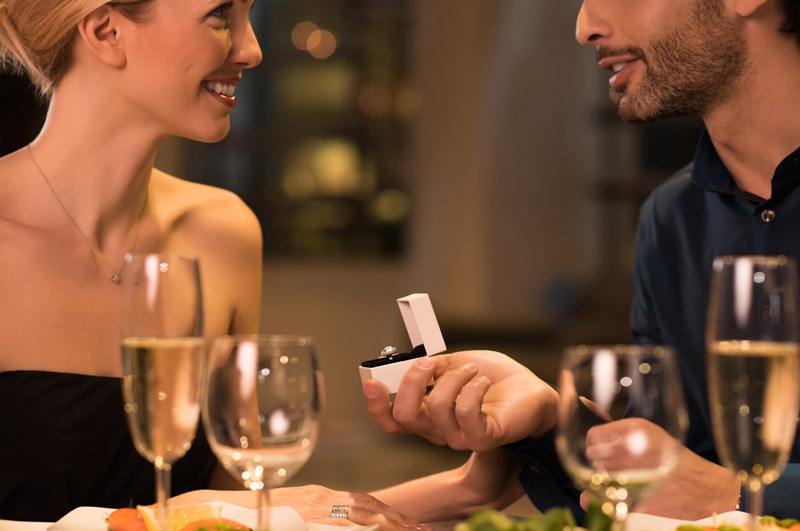 The traditional proposal
Imagine it; a romantic restaurant, candles on the tables, a good bottle of red wine, delicious food and a person on the knees in front of the partner. In the hand a small box containing a beautiful engagement ring. Them the famous phrase, "Will you marry me?" is uttered after which the romance of the moment reaches unprecedented heights.
The above is what many associate with a traditional proposal. This method has been used countless times, which is why you can be sure it works in most cases. However, it can also be a bit boring, because there is nothing unique about doing something in the traditional way.
That said, you might want to make a traditional proposal a bit more unique with little twists. For example, consider placing the ring in a glass of champagne which you get the staff to bring to you and your partner. Another nice option is to hide the ring in the dessert (but make sure it is soft like ice cream and your partner is a bit aware of what is on the spoon – you don't want to end the evening at the dentist!).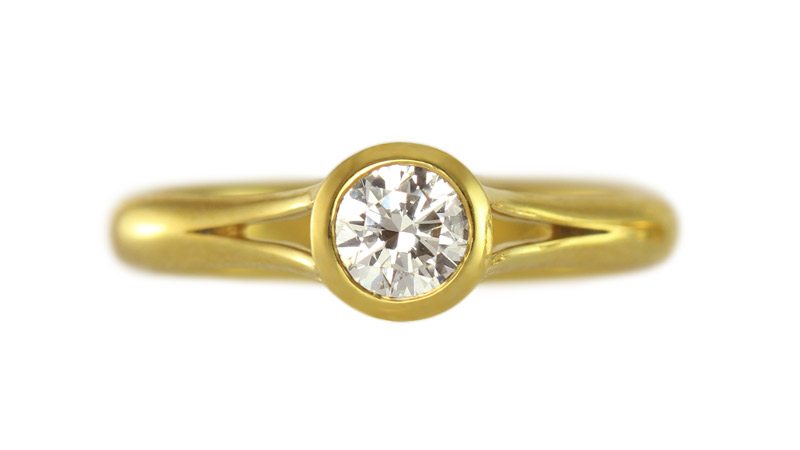 The Hiding Heart ring which conceals a cutout heart on each side of the setting and which can be paired with the companion ring "Hooked on you" in order to create a weding set. Read more about one of the most popular engagement rngs from Castens here

Before you dine in a restaurant, though, keep in mind that it's a public place where other people most likely will be present. Some like the fact that there are unrelated spectators to the proposal, while others will feel their personal space has been breached, which might be decidedly unpleasant. You know your partner best and therefore know if he / she will like a public proposal. If you have the slightest doubt as to whether it will be according to your partner's taste, do not make it public!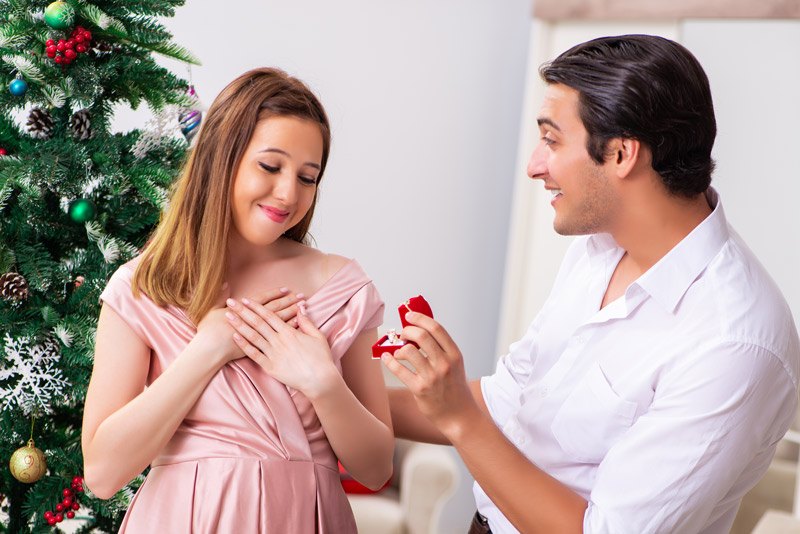 Propose on a special day
Proposing does not necessarily have to be a large and complicated thing, because just by planning WHEN to get on your knee you can make your proposal something special. If you propose on Valentine's Day, Christmas Eve, New Year's Eve, your anniversary, your partner's birthday or similar, the proposal will already be unique. A rule of thumb is, that the more personal the day you choose is for the two of you, the greater a positive effect it will have on the romantic vibes. As an added bonus, it will also be easier to remember the date of the proposal in the future if you do it on a special anniversary.
Find ideas on how you can propose specifically around Christamas here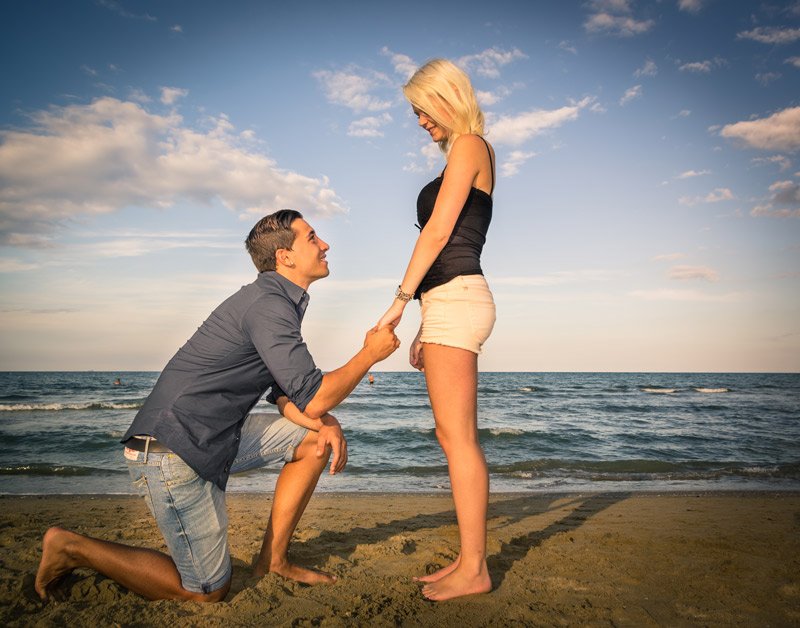 Kneeling down while on vacation
Most love to travel. When traveling, the mood is usually great, since both of you are relaxed and happy. A vacation is therefore the perfect opportunity to propose. It is hard to imagine a better time to propose or be proposed to than at the water's edge on a gorgeous beach with the sunset in the background. However, you do not necessarily need to be on a warm sunlit vacation, because it can be just as romantic on a city break or a ski vacation. What really matters is that you are away from home and therefore do not worry about the hustle and bustle of everyday life.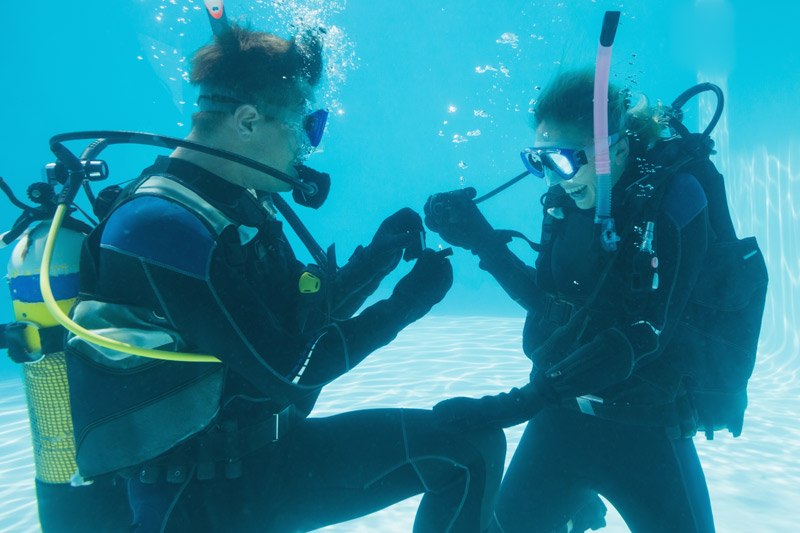 An adrenaline-filled courtship
There are many forms of romance, and what makes one person flushed in delight may make the other want to vomit. Some prefer super sweet romantic vibes – while others cannot tolerate it. If your significant other is among those who are allergic to romance, you may want to consider to propose a little differently. Although you want to tone down blatant romance, a proposal can still be memorable, and you can even choose to make it daring and challenging. There are many ways! For example, you could declare your love for your partner after a parachute jump, kneel few miles above the ground in a hot air balloon, or have a ring ready after a bungee jump.
By the way: Adrenaline should reportedly improve attraction, and therefore your chances of a yes, if true, will be bigger if you've just done something crazy together.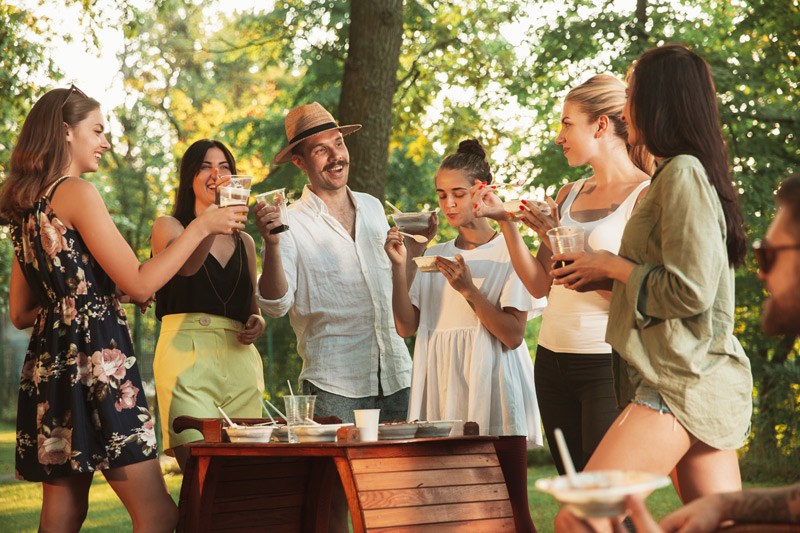 Make it an event
Proposing is a great event in itself, and great events are often best enjoyed with family and friends surrounding you. Often, a proposal is an event between two people in private - but it doesn't necessarily have to be. Instead of waiting for a moment when you are alone, you can choose to invite friends and family over, without your future spouse knowing. The surprise your partner gets when the many guests show up unannounced is one thing. Even more surprised, he / she will be when you later ask in front of all the happy guests for your partner's hand in marriage.
After a (hopefully) successful proposal, you can party and celebrate the engagement with those in attendance.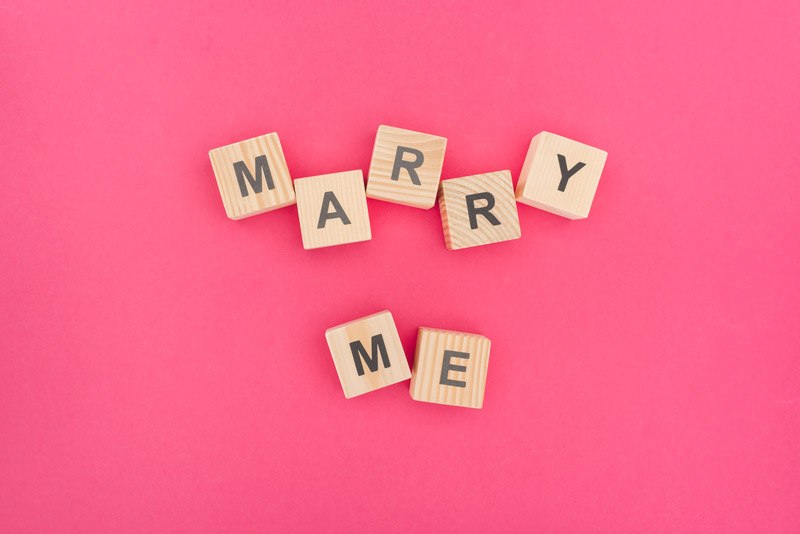 Propose in a creative way
If you are creative, you can set aside a couple of hours to design and create something unique which you can use to propose. Maybe you already have a few ideas yourself - or you can find inspiration in the following:
Create a treasure hunt with a map, leading to the box with the ring.
Cut out a puzzle, which collectively forms the words: "Will you marry me?"
Bake a cake and ask the question in icing.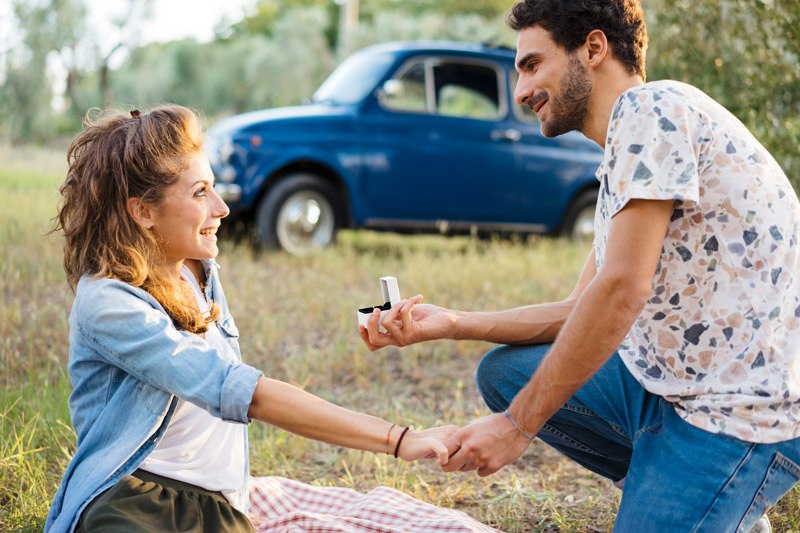 Your first date 2.0
Hopefully you both have good memories from your first date. This very special day was the first step towards where you are today, and is therefore something very special for you as a couple. If your first date was at a particular restaurant or cafe, in a particular movie theater, park or forest, you can choose to propose at this specific spot. There is something really romantic about starting a new chapter of your relationship where it all began!
If you want to go all-in on 'first date 2.0', you can plan an entire day visiting different places where you have shared memories. It may be the location of the first kiss, the first time you met, the first dinner you ate together etc. After your sightseeing, you can do something special on the last stop on the route, where you fall on your knee and vie for your chosen one.




Don't plan your proposal (too much)
Romance can be planned – but only to a certain limit. Often it is in the spontaneous and unexpected moments that love and romance are truly found. If you spend too much time planning the courtship down to the last detail, you risk it all becoming too mechanical, set up and rehearsed – especially if you are very nervous.
An alternative to planning the perfect marriage may therefore be NOT to plan anything, but instead being prepared to kneel as soon as the right opportunity arises. If you decide that you do not want to plan your proposal, you can always make sure to bring the ring along, enabling you to be ready to ask the big question when the perfect moment occurs. Here it is an advantage if the box is as small as possible, not to provoke questions about what you have in your pocket ;-)
If you are a little anxious about proposing, this solution may also be great since it means you will not feel pressured to execute at a certain time. Instead, you can go with the flow, and propose when you determine that the time is just right.


Variationer over the wildly popular Embrace design. Read more about this beloved design and how you can have your very own custom made version created just for you (and her) here

Choose the right ring
A proposal usually includes a ring and many choose to have one custom made for that very special person. That way you can show how well you know him/her (many extra points to be had!) and how much that very special someone means to you. Read more about how to choose the right ring here.
Find inspiration for unique engagement rings here.
Have fun and good luck!
Tags:
Engagement
,
Proposal
---
---