29. April 2017
The wedding morning gift
One of the few things in planning a wedding which involved the groom as well is deciding on a wedding morning (or night) gift. Here is a guide to this important gift as well as the background behind the tradition.
Spring and summer is the favourite time for couples to tie the knot, meant to last a lifetime. Therefore we create a lot of custom made wedding rings at this time of the year, but another sort of jewellery is also often created alongside the rings: "The wedding morning gift" or "wedding night gift", depending on when the couple prefers the exchange. Many spouses to be are faced by the challenge of finding the perfect wedding gift. The best gifts are as personal as in any way possible. It is meant to show that you know the person you are marrying so well, that you are able to guess what will make her or him happy. In other words: If you don't do this allready, pay close attention to what thrills her.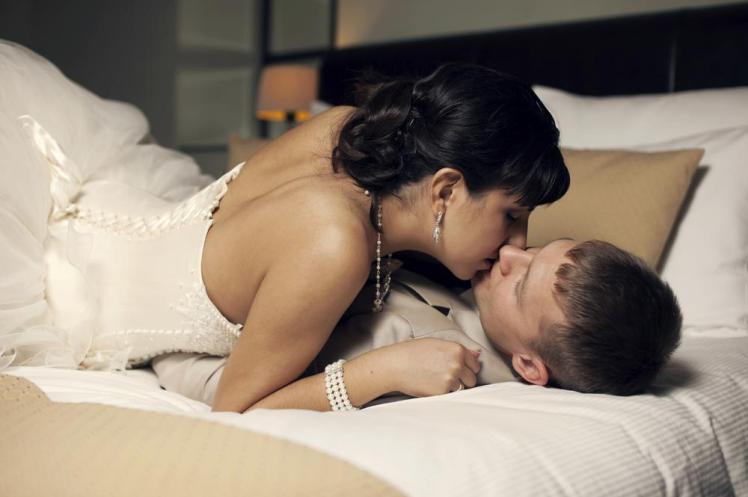 The classical wedding morning gift is jewellery, but seldom a ring. Rings are usually catered for by now, wheras a necklace, bracelet or earrings make brilliant wedding gifts. If you gift it to her on the morning of the wedding, choosing something with pearls or a blue gem will probaly earn extra points. Again: pay attention to what she wears and prefers as for choice of metal, dimensions and shapes. If in doubt, make an ally of the family and friends of your future spouse. This has the added benefit of earning respect and goodwill, which might come in handy later ;-)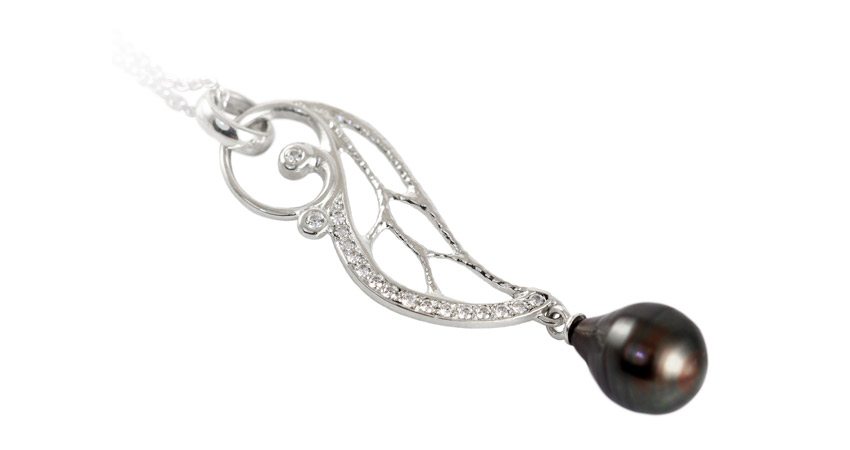 Delicate and airy pendant from the large ADORABELLA series. This version is made of white gold with diamonds and a Tahiti pearl at 10.900 DKK
Here in Denmark this gift is traditionally given to her on the morning after the wedding night – when "the deed" is done and they are married in each and every way. This we simply call the "morning gift". (In later years it has also become custom that the groom receives a gift too). The morning gift often consists of jewellery and used to be so costly, that it could sustain the new bride in case of a childless widowhood – a dower. However, these days the gift is usually not quite as expensive as to enable a livelihood for years to come. None the less, beautiful jewellery custom made for the love of your life can of cause still represent a decent value if you choose to splurge.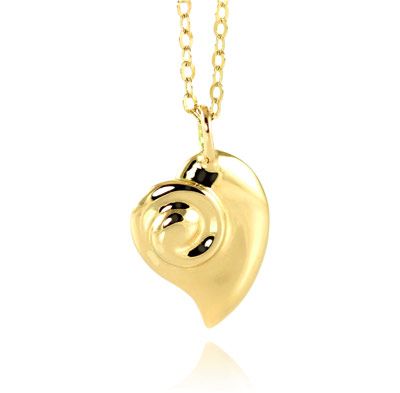 The classic: The heart! Our version has (of cause) a curly and is therefore called CURLY HEART. It comes in silver, white or yellow gold and possibly set with a small gem inside the curl. Here is a 14k gold pendant at 3.400 DKK
In other cultures, we see these gifts being exchanged on the wedding night or – and this is my personal favourite – on the morning of the wedding itself. This morning is like no other! It is the beginning of the end, which marks another new beginning and many brides and grooms find themselves nervous and uneasy, because everything is so very different than "normal".
Even if the couple has lived together for years and possibly already have children, many choose to observe the age old tradition of not spending the last night before the wedding together. And so they find themselves on the morning of the wedding without the very person who is going to be by their side for the rest of their lives. Suddenly all is about the clothing, the venue and the guests. Has everyone arrived? Is the food under way? How about the flowers? And the one who you would normally turn to in order to make sense of it all is absent. This is when the wedding morning gift is such a... gift.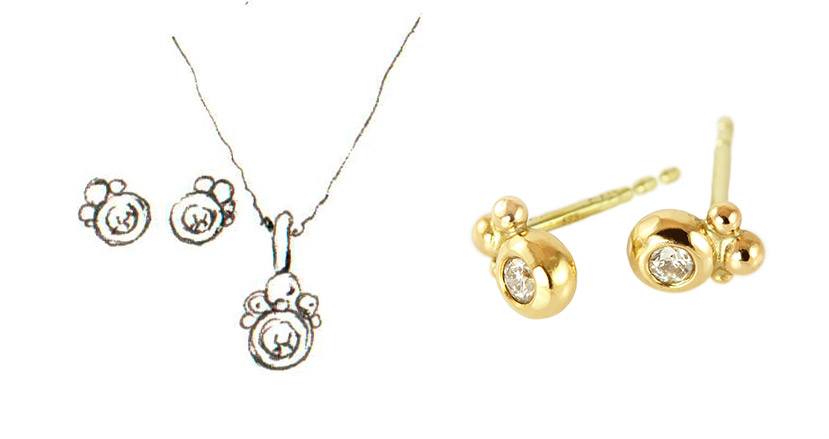 The PETITE series is perfect for future everyday jewellery with a touch of luxury. We create both earrings, pendants and rings in silver, white or yellow gold. Here is a version of 14k yellow gold with a total of 0,08 TW/VVS diamonds at 4.400 DKK
Because a wedding is NOT mainly about the guests and the party, but about those two people who have taken that monumental leap of faith and decided to promise to stay together for the long haul. Therefore, a very personal gift from one to the other, given "in absentia" is such a sweet and thoughtful thing. It says "I love you. Trust me. All will be well and I can't wait for our life together to begin". Such a gift given on the everything-but-normal morning of the wedding will bring the focus back to what really matters: The person whom you have decided is so wonderful, that you want to spend the rest of your life with him or her.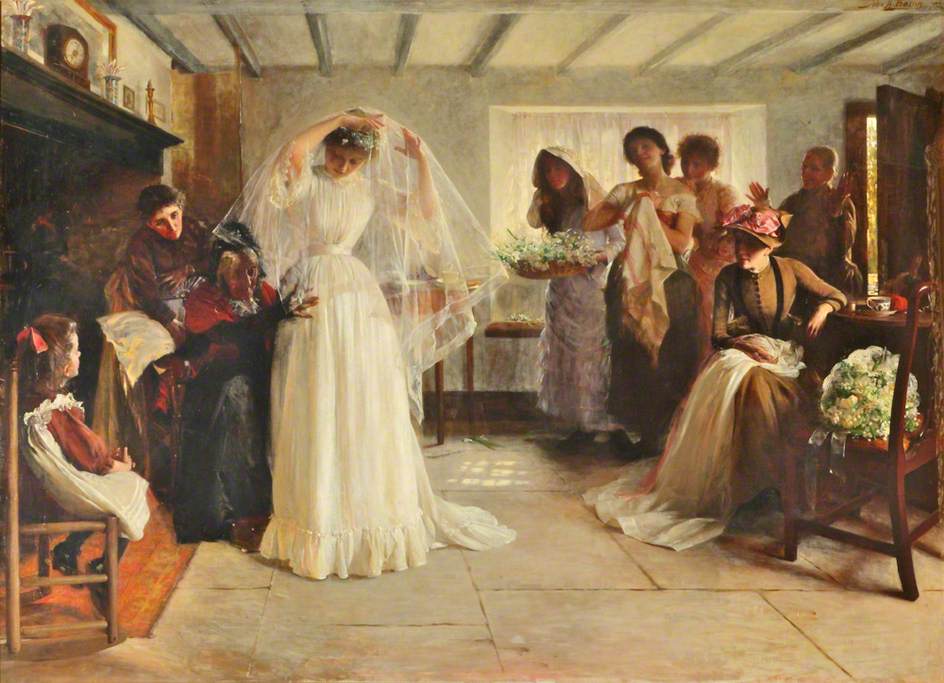 Dowry versus dower
Where does this tradition with the wedding gift between the future spouses come from? Getting married is today a matter of the heart, but in older times (and this is still the case in quite a few cultures), it was mostly a social institution, created for a number of reasons, but especially in order to secure a more or less safe future. Therefore, an exchange of property has traditionally been part of the bargain which a wedding often was:
A DOWRY is property in any shape or form transferred from the parents of the bride to the family of the groom. This is a very old custom worldwide and is still wide spread especially in patriarchal cultures. A DOWER is an equally old custom, stemming from the "bridal price" paid from the groom (or his family) to the family of the bride. However, the dower changed into being property given directly to the bride as a life insurance in case of childless widowhood, which could mean the difference between survival and starvation for her, because she lost the right to inherit her deceased husband.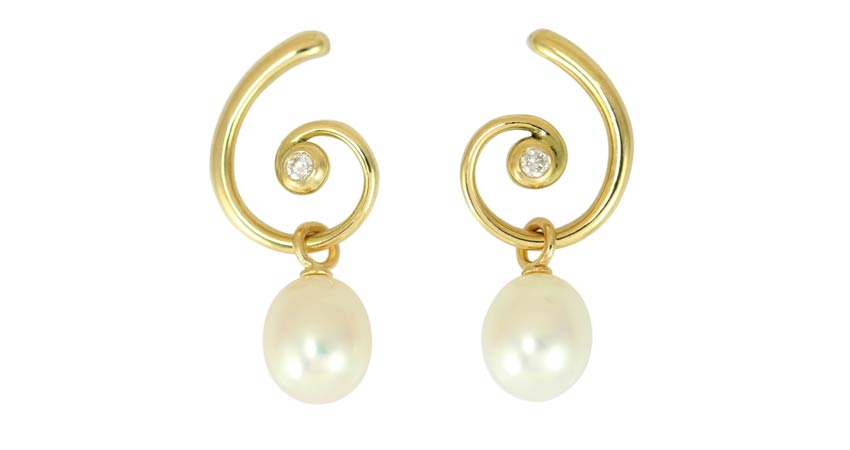 Earrings from the FAUN collection, which comes in silver, yellow and white gold. These earrings are made of 18k yellow gold with a total of 0,1 ct TW/VVS diamonds at 6.800 DKK. They are decorated with drops of pearls at 1.600 DKK. The collection also features a necklace and a ring as well as a number of other drops, which can be suspended from either piece of jewellery - a brilliant futue gift to supplement the original!
In my shop I create a lot of wedding gifts because what can be more personalized than a piece of jewellery, which she or he will be able to wear often, against the skin, and which has been created specifically with the loved one in mind? Here are some examples of wedding gift jewellery which I have created for "my" couples. Often I have previously created the wedding or engagement ring and the giver afterwards decided to go for a design which reflected or complimented the initial pieces:
Airy names
This couple had me create a rather contemporary set of wedding rings made of heavily structured white gold and with the name of the other sawed out. A small diamond provides some feminine twinkle.
The groom bade me create matching earrings for her morning gift, also made of white gold with the same surface and adorned with small diamonds just like her ring.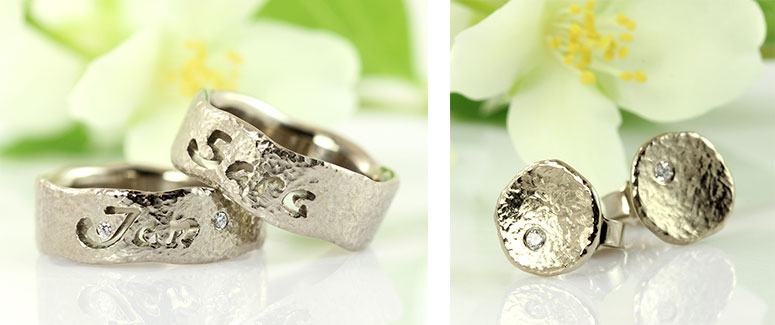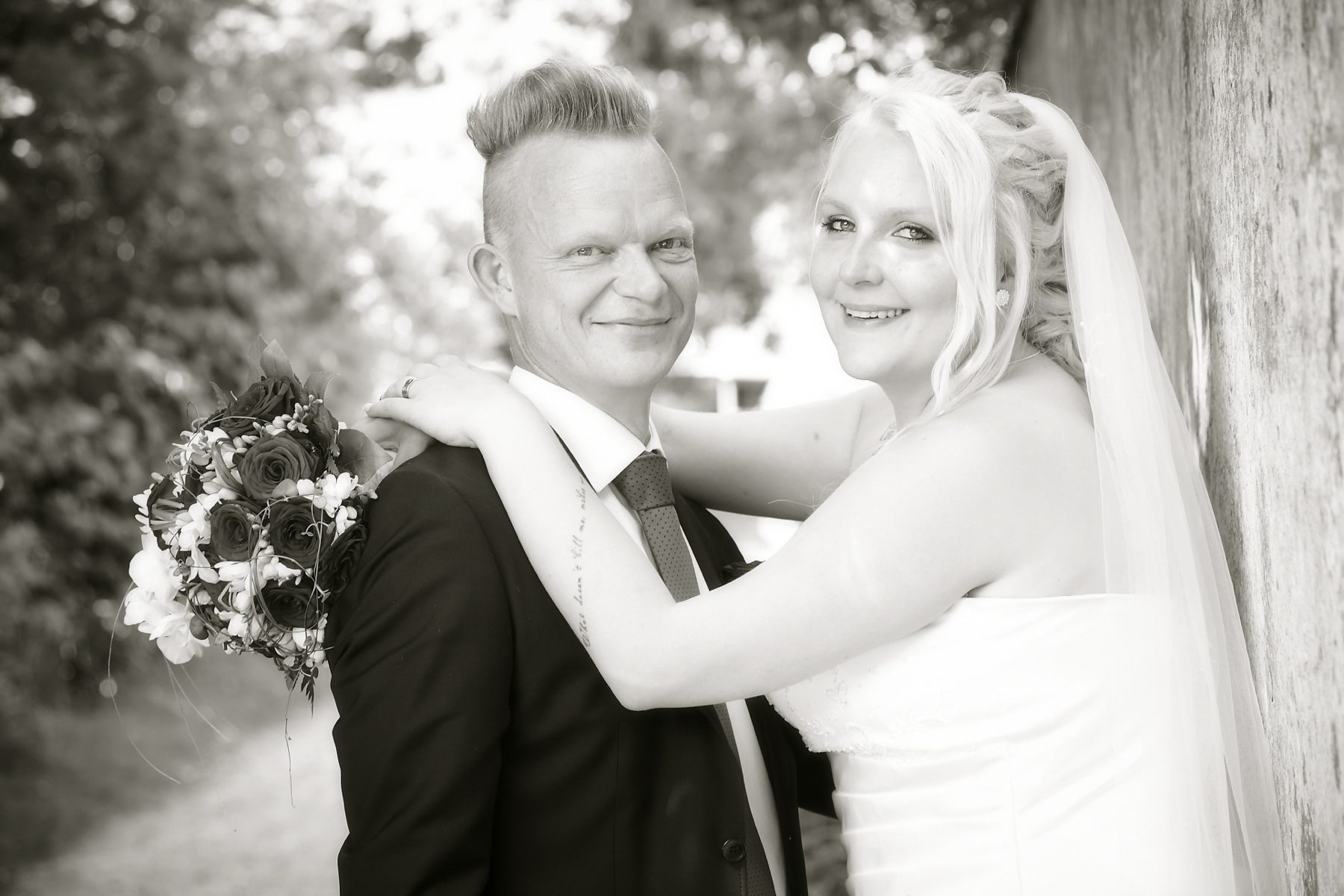 Dragonling
The Dragonling has become a Castens classic – the small dragon will treasure your spouse and keep him/her safe when you are not around. Mostly he is given as a necklace, but I have also created rings and bracelets featuring the small dragon, made of silver and/or gold. Give him a treasure of gems to hoard or perhaps glittering eyes of diamonds, rubies or sapphires to watch over your love.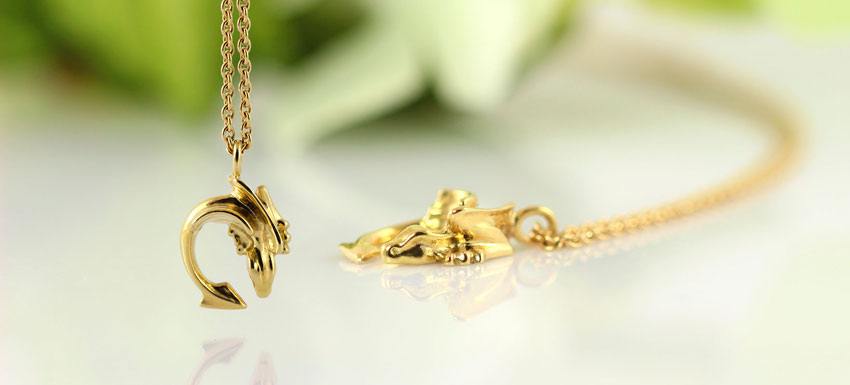 Hunter and the Huntress
This British couple had me create a set of gorgeous wedding rings featuring a large, oval diamond, which look like they have been taken from a fairytale. He then asked me to create a crest for them which depicted a wolf and a lioness with entwined tails, where after she asked me to create a tie pin for him, featuring the wolf. It was all very secret and great fun to know both his and her gift for each other while keeping a straight face when talking to either one.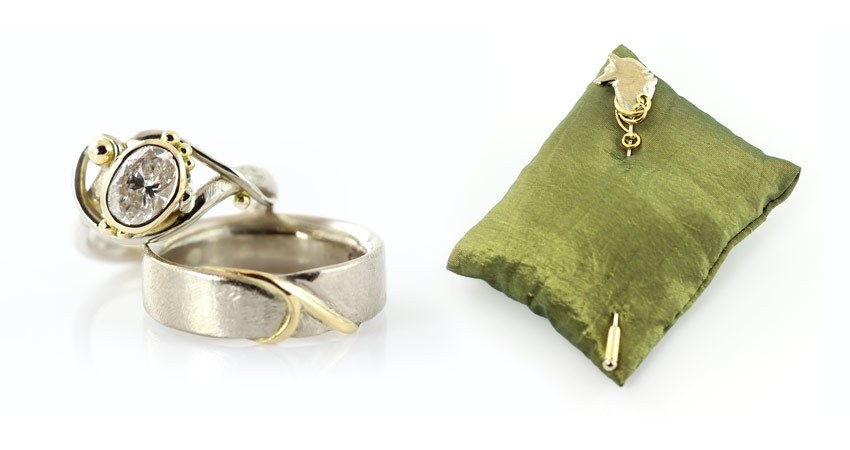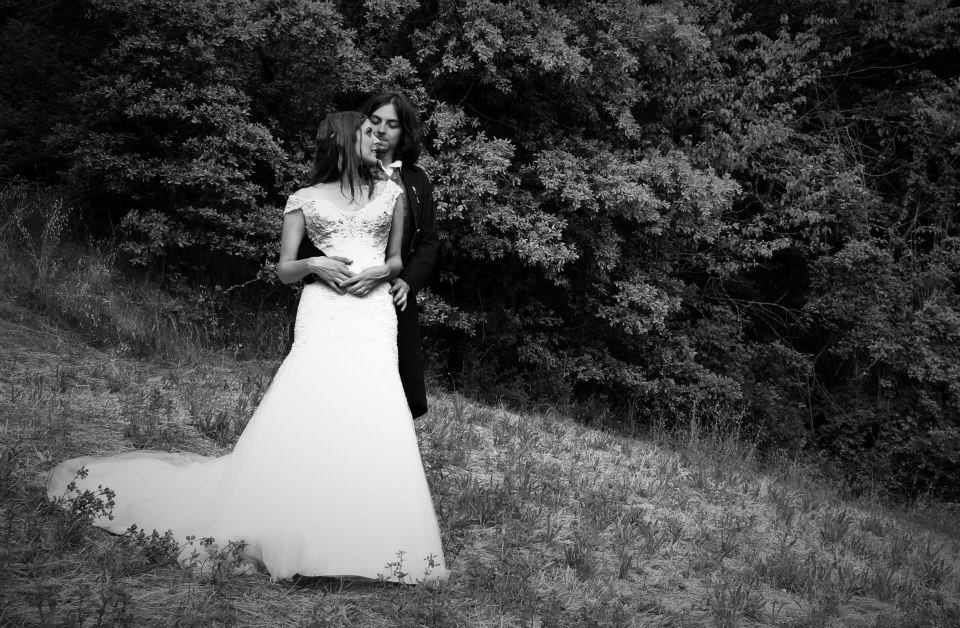 Sprout
This ornament depicts the moment when the sprout within the seed is swelling with anticipation and growth on the brink of breaking the confinements of the shell and become something new and much larger than the small germ would anticipate - A lovely symbol of hope and celebration of the new life together. The Sprout comes in silver or gold with or without a gem set in the middle. The smallest version is delicate and feminine in a chain, while the larger ones look masculine in a heavier chain or leather cord. Also comes in the shape of a bracelet.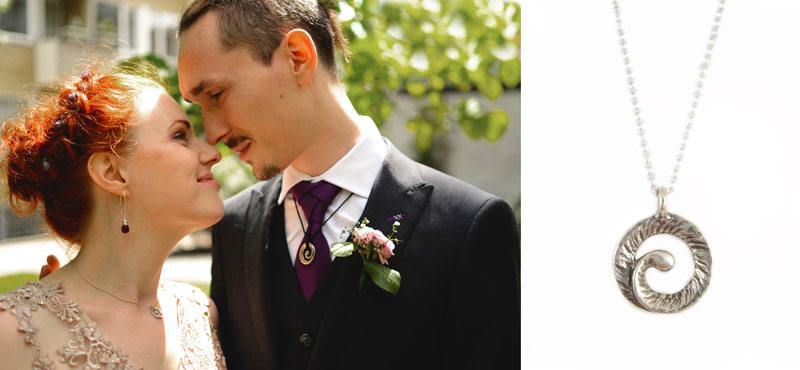 Eternity sign
This couple decided to go with the infinity sign as the overall decorative motif of their wedding rings, which was why he wanted me to create a lovely golden pendant featuring diamonds and a smooth pearl. As a final little twist to the story, they eventually asked me to create a mini-version of her pendant in silver for their first child, when she was baptized a year later.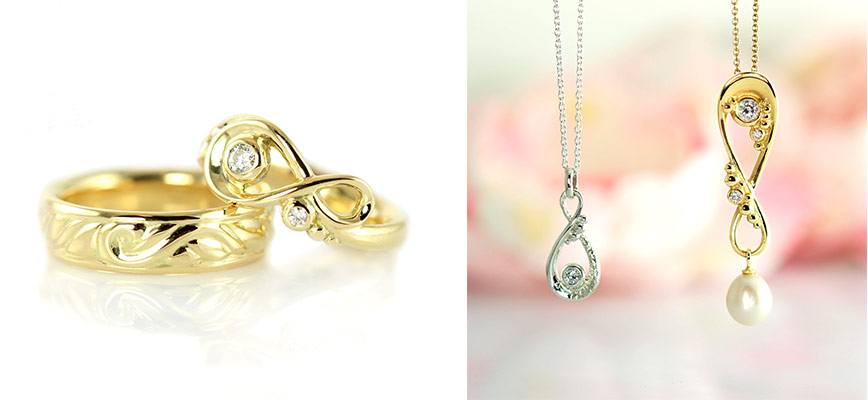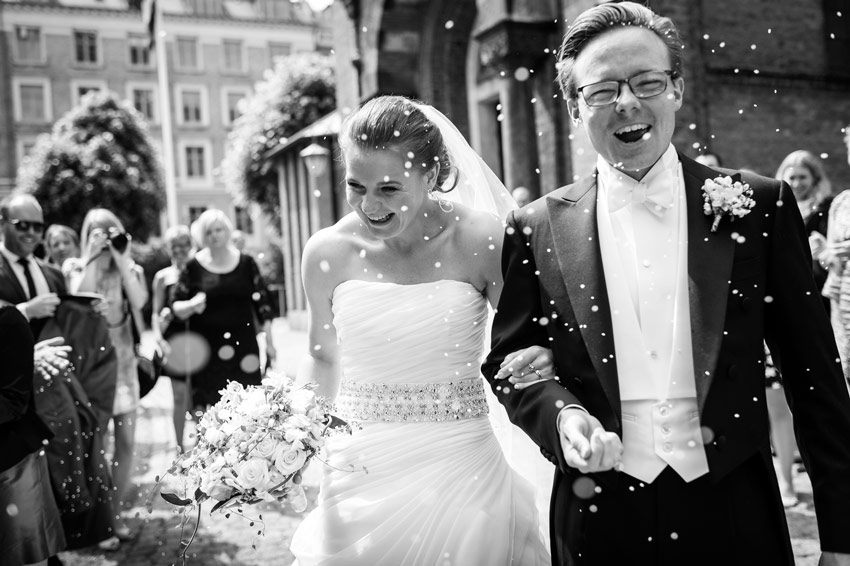 Give your future spouse a gift he or she will remember for ever: a life insurance (if you want to observe the tradition of the dower) and a piece of jewellery created just for her/him. Because nothing says "I love you" like time and funds spent on researching the taste of the other and having something made which is just as unique as your future spouse!
PS: Just like any other piece of jewellery from my workshop, you will have to order your special piece in advance: Unless I happen to have just the one you are looking for in my shop, plan for 3-4 weeks of delivery time.
Gem
Gem
Tags:
OOAK
,
wedding
,
wedding gift
---
---