14. January 2020
From academia to the workbench – an autodidact jeweller can create jewellery too
10 years ago, on my 37th birthday and in the middle of the last recession, I opened a jewellery shop. In spite of having an academic background and no official training as a jeweller, I chose to throw all caution into the wind and follow my heart to become a goldsmith - which almost didn't happen after all, when I was offered the perfect job.


When I was 19 in the beginning of the 90's, I studied for a year at the art School of Engelsholm – situated in a renaissance castle with towers (I lived in one of them), moats, and crest-holding stone lions. Here I received education in drawing and designing/sewing clothes, when all were prompted to switch their usual class with another for one week. I ended up in the jewellery workshop and that was it. Or so I thought. I spent every evening of the rest of that stay in the jewellery workshop and though the heavens opened, pillars of light cascaded to the ground and a choir of angles resonated through the skies because I was so SURE that I had found my calling… I didn't become a jeweller. I tried to find an apprenticeship, but when that failed, I turned to the university instead.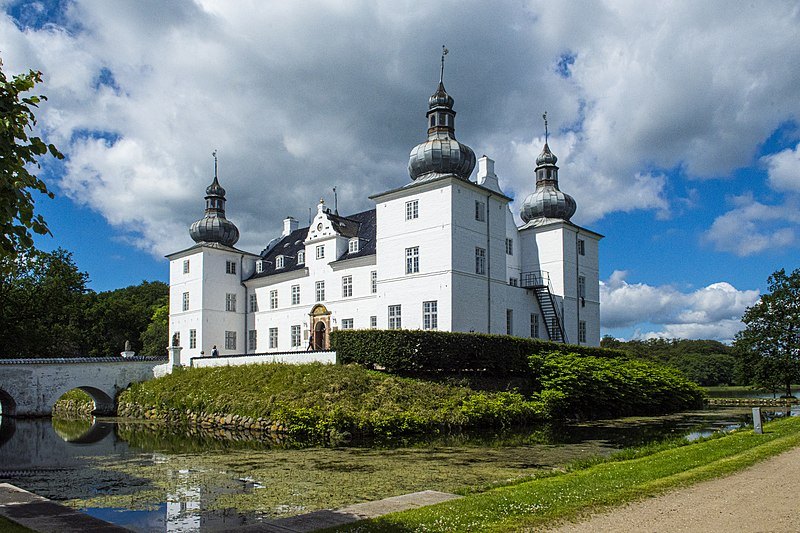 Academic studies alternated with fire and metal
And so I actually hold a master's degree in communication and history of art! While studying, I worked in a small improvised workshop in the boiler room of my building, improving my skills as a jeweller, when not pouring over the books. Therefore, when I was done with my academic studies, I turned to the Institute of Precious Metals to pursue the jewellery craft once again. I was very inspired by Lalique and Arje Griegst and created quite a few sculptural pieces made of carved ebony or mother of pearl. My ambitions were large – my skills not so much (yet).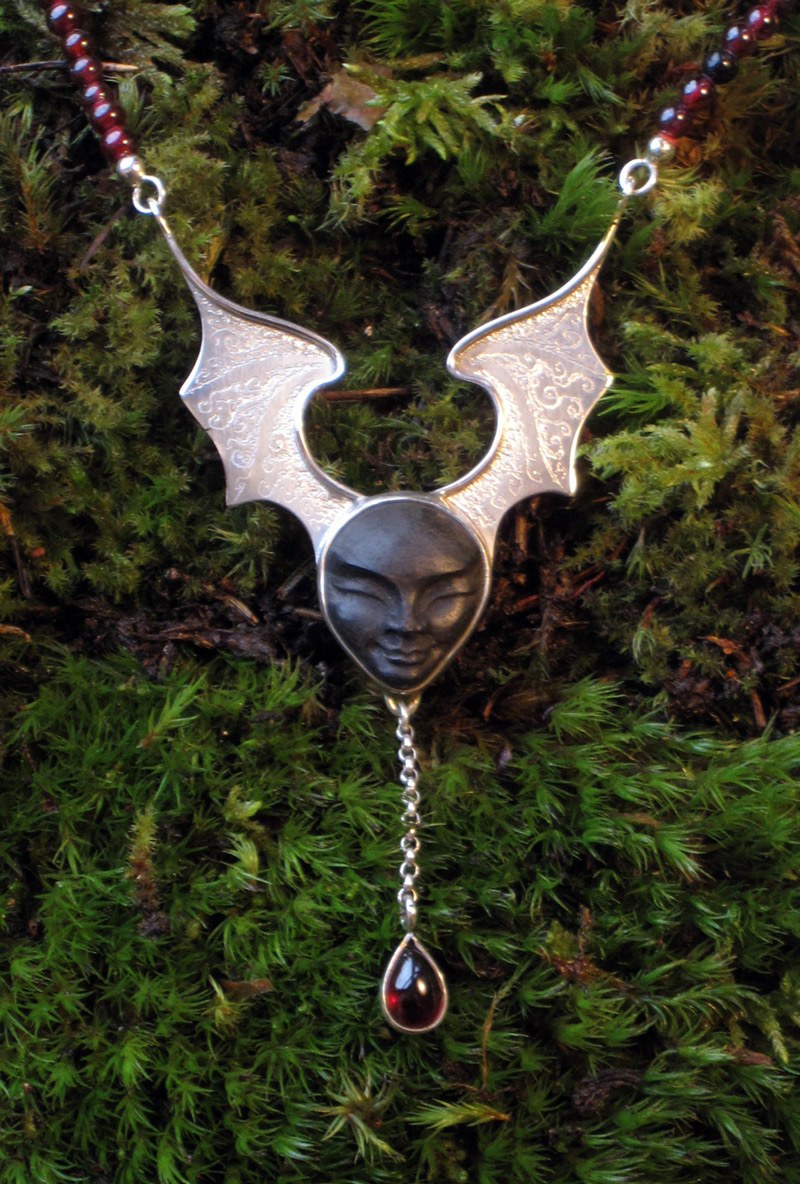 But… in spite of wanting to become a jeweller, I still ended up with a 9 to 5 job - because I still couldn't find a place to apprentice and didn't have the guts to go my own way, yet. So for the next years I created content for homepages, wrote newsletters and arranged company events, up until the last recession which found me fired – like so many others. And like so many others, this gave me pause to think: What do I REALLY want? What makes me happy? What is MY special ability which I can enrich the world with? Again working with jewellery was the obvious answer, which I of cause knew but hadn't dared to act on for real – until now.

Universe to Karin: Are you SURE?
So, I took a deep breath and decided to start my own Jewellery company with support from my family and wonderful boyfriend. And just then – when the decision was FINALLY made (almost 20 years after having held the tools in my hands for the first time) – I was offered a dream job: In a prestigious company, in biking distance from home, with a good and steady salary and lots of employee perks. It was as if the Universe was testing my resolve: "Are you SURE you want this?" I had to think hard, but not long. After a restless night I turned down the offer and went in search for a workshop and a part time job to cover my bills, feeling extremely courageous (and hoping not to have made the mistake of my life).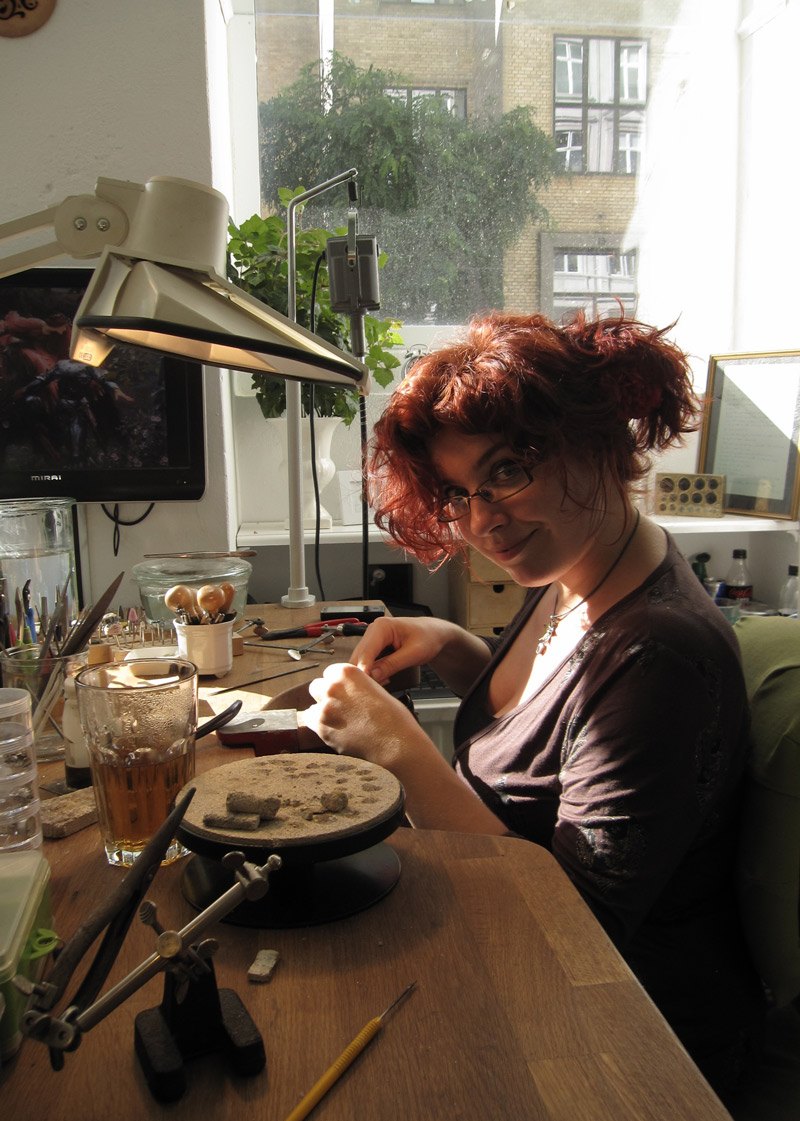 I was so lucky to find both: A small basement room in a workshop commune not far from the Kings Garden and a well-paid part time job within communications. And just to award my courage, I was given the opportunity to purchase the entire content of a recently deceased jewellers' workshop for a fraction of its value. For a year I "played shop" before stumbling upon the beautiful high ceilinged locals which is now my studio-shop. I painted it green, created display cabinets out of gilded picture frames found at flea markets and precisely 10 years ago I officially opened the doors to what was then "Galleri Castens", because I also commissioned other would-be Jewellery artists.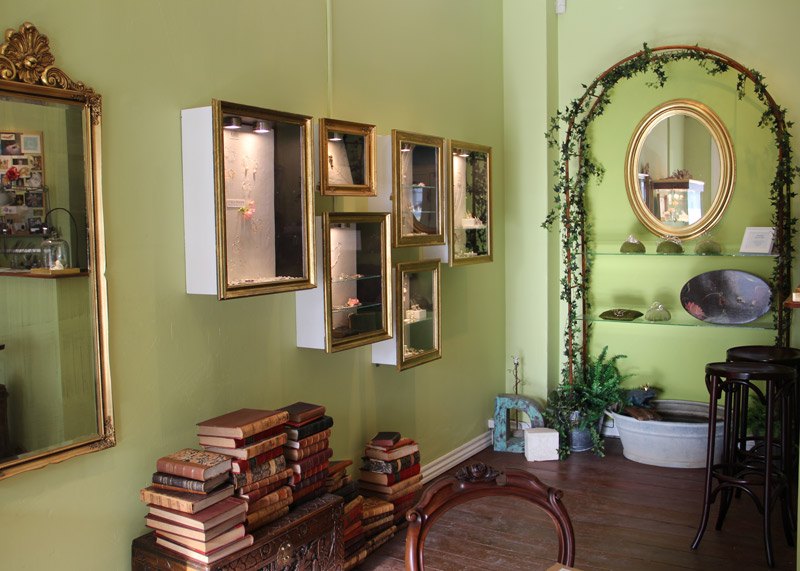 A bumpy ride lay ahead
I would love to tell you that it was a huge success from the get go. However, I had no local network, no customers other than friends and family (thank you all for supporting me by buying my pieces and helping me in so many other ways!) and was completely unknown in the business. But slowly and steadily I worked to create a name for myself, being the creator of fairy-tale inspired Jewellery. In a country where streamlined minimalism is coveted, and especially at a time when small, simple and unpresuming was the design ideal (a natural consequence of the recession), my jewellery stood out – and wasn't particularly easy to sell to "the masses". And that was a good thing, because I was in no way equipped to produce even semi-large quantities of jewellery back then!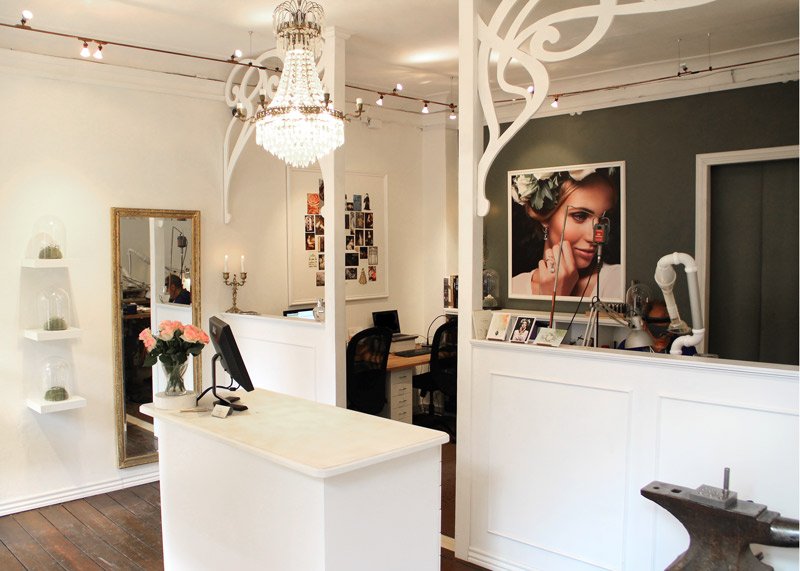 But I learned a lot and after 5 years I chose to shift gears and become just a little bit more business savvy (meaning also be able to pay myself wages and not just break even). I rebuilt my workshop into the bright and airy look with my signature curls which you experience today, thanked my commissioners for being with me on the first leg of my journey, waved goodbye to them and changed Galleri Castens to just CASTENS – complete with new homepage castens.com and all. I had come far! Most importantly: In spite of never having officially learned the trade myself and being scorned for that reason by at least some of my peers, I am now a master myself and have been approved to educate my own apprentice into becoming a jeweller.
In order to cope with the rising demand (and perhaps also to quell my ever-present impostor syndrome) I took on employees: A jeweller, an apprentice, an admin, temps and trainees. At the same time I started working with casts, which enables me to create copies of a certain design. These can then can be altered and adapted to each individual customer, still creating a customized piece of Jewellery.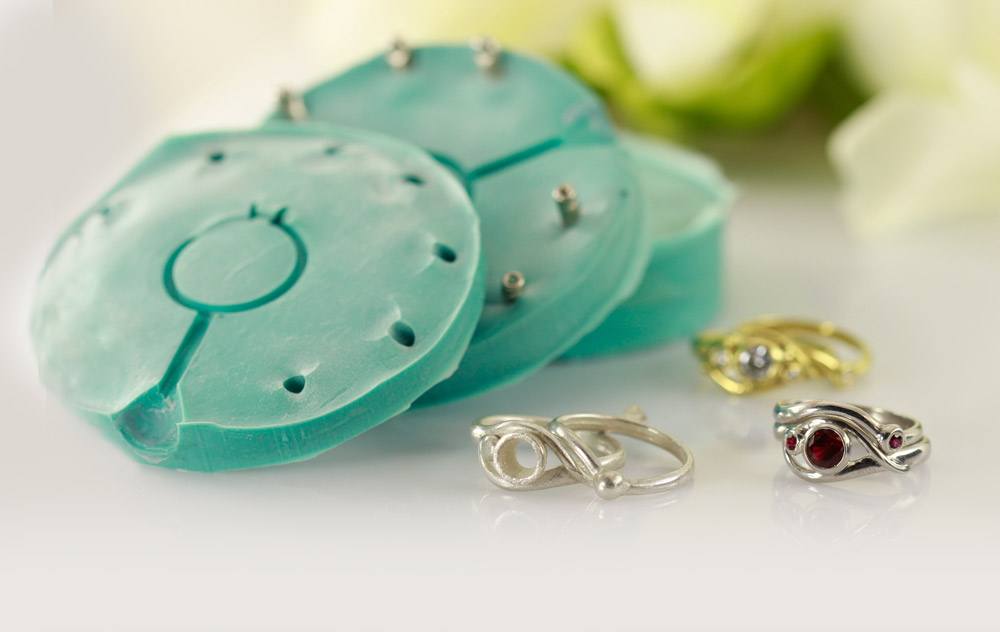 Of cause I also still create one of a kind pieces built from scratch, but offering a design which already exists and can be altered, proved to be very popular, because it DOES require a bit of guts and imagination to have something created from scratch / a drawing without being able to see some version of it first.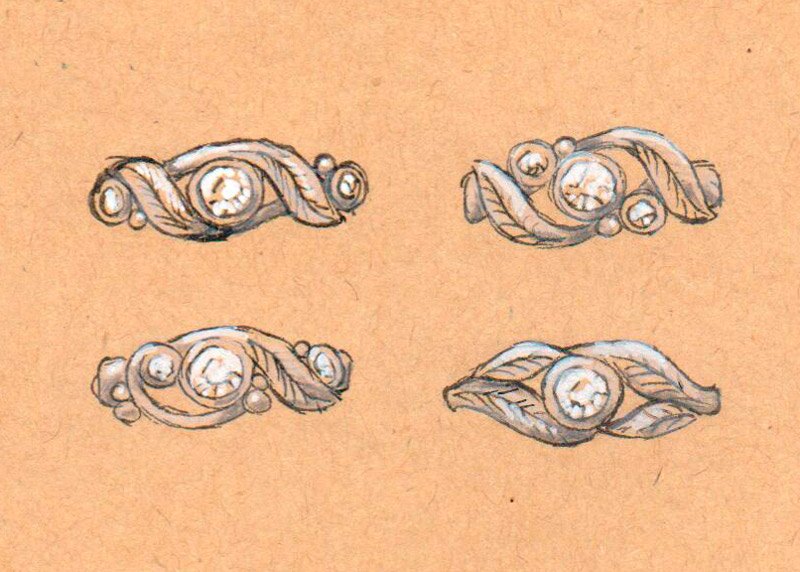 When too much good became too much bad
However, the whole thing grew a tad too large too fast and eventually I found myself in a situation where I was merely talking to customers and creating prototypes of new designs while spending the majority of my time in front of a computer and handling my employees. There is a reason why people are hired in order to lead others – it takes time and skills and I had to realize that I neither. I just wanted to create beautiful jewellery! Last summer, I was so exhausted that I considered giving up and returning to a fairly ordinary employee job without the same responsibilities, but after a few weeks of serious debate with myself, it became clear: I AM at the right place and I AM already doing the right thing – I just needed to change a few things.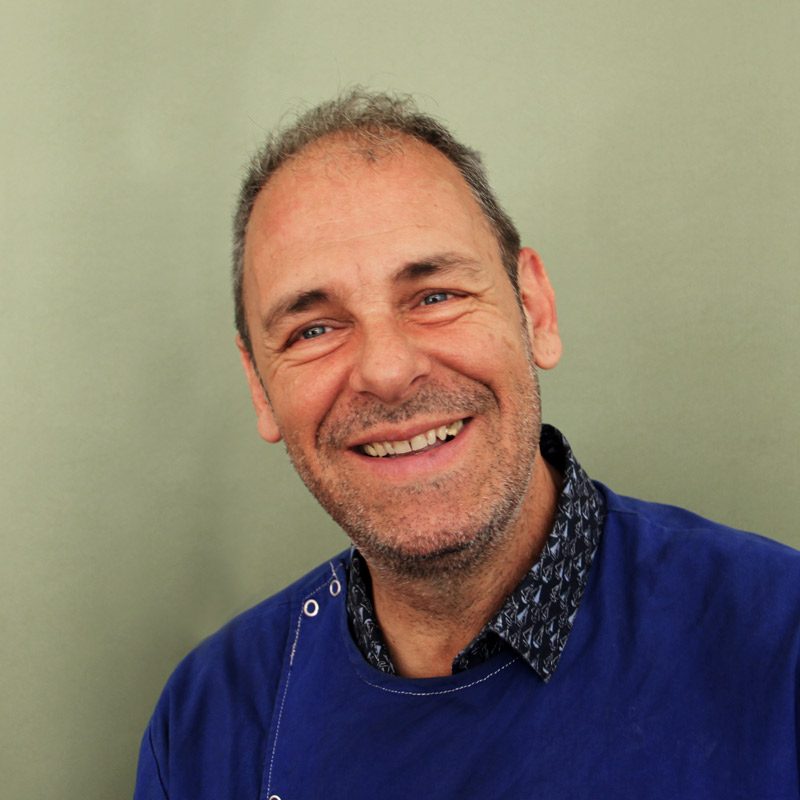 And so this summer I decided to be brave once again and dial back to a bare minimum: In the workshop you will now only find myself and my part time jeweller Alessandro, who helps me create the pieces. This has given me some much needed peace to work, which I have cherished immensely. I will probably eventually take on a part time admin again at some point, but for now I enjoy being alone in my little queendom, able to listen to music while slipping into flow as I create my fairy-tale jewellery for customers who love the romantic quirkiness just as much as I do.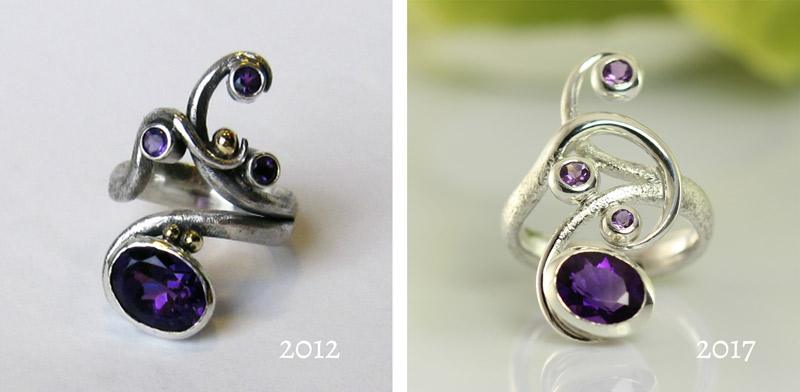 The future will certainly be interesting! In May I am going to participate in my very first curated jewellery exhibition arranged by Nina Hald at the museum Fjord og Bælt. And so I now find myself back at the happy times carving in the boiler room of my basement, so many years ago. The difference is, that my skills have improved vastly in the meantime, which means that I now can create the jewellery for my customers which I then only dreamt about bringing into life.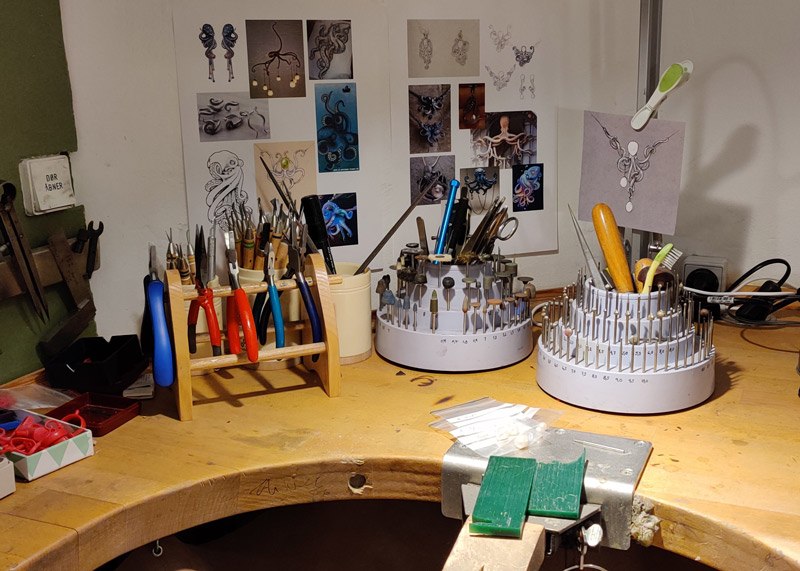 My story certainly is one of "Back and Forth", but I always returned to my true calling until I was finally brave enough to follow my heart and become the jeweller I am today. My passion is to create beautiful and fairy-tale-inspired jewellery, which is comfortable to wear and makes you happy every time you see it. I am glad that I didn't give up on the long and bumpy road to where I am now – able to do just that!
So: Never give up on your dream! It might be a long time in the making and take another shape than you thought, but if you keep on dreaming, you will find it eventually.
---
---