13. September 2017
Can you trust a jeweller?
Currently the tabloids here are having a field day picking apart an issue from a Danish reality Show (Familien fra Bryggen). It's all about a 1 carat diamond ring created by Mai Manniches company JEWLSCPH which failed to live up to the expectations of the customer (Cengiz Mads Salvarli). The whole thing has left me a bit worried, because it might create doubt about the honesty of the Danish jewellers and especially the price of a 1 carat diamond. Obviously I can never guarantee what my generally very honest and sensible colleagues do, but I CAN say a bit about how we at our shop work with our lovely customers.



When a customer wants to order a bespoke piece of jewellery, let's say a 1 carat diamond engagement ring, it is my most important task to establish what would make this exact customer happy. We are all different and what is paramount to one is insignificant to the other. Therefore we firstly talk about the looks of the ring – a thoroughly personal issue, which often inspires me to suggest versions, which could cater even better for the taste of the intended receiver. We draw and talk until we have found the right design to be created in our workshop. And then we talk about the diamond.
What does a 1 carat diamond cost?
My customers are rarely completely indifferent when it comes to the price of the ring, and everyone has a threshold. Therefore I always ask about the budget and which criteria are important to that exact customer. Here is a simplified overview of what a 1 carat diamond in various qualities typically would cost:
It is entirely possible to get a diamond for below 10.000 DKK (1,600 USD). In that case it is black and dramatic.
A champagne coloured or perhaps piqué (meaning with many visible imperfections) can be had for below 30.000 DKK (4,800 USD)
If you want it "white" (meaning colourless) and "clean" (meaning with so few and small inclusions that you can just see them with the naked eyes), the price for such a W/SI2 starts around 78.000 DKK (12,500 USD)
A beautiful diamond with a TW/VVS classification would be just below 115.000 DKK (19.000 USD)
And then there are also the very rare super-high-end River/IF diamonds – they are a bit more pricey…

Champagne diamonds with classifications from C2 to C5



No two diamonds are the same
Diamonds are just as unique as we humans. Yes, we have developed a classification system, which we use to grade them by, but every single diamond combines the various criteria differently because they have been created by Mother Nature. This means that if you ask for a 1 carat diamond with the approximate quality of TW/VS, you might still be presented to a variety of diamonds – for instance a Wesselton colour, an SI clarity but a fantastic cut (which could mean a world of difference). Because the individual customer always decides, which diamond is the most beautiful to him.
Read more about diamonds and how the 4 C's help grading them here
The left ring (whitegold) contains a 1 carat diamond of Wesselton Si2 quality. The other ring is with a green sapphire - the possibilities are many when you get a custommade ring.


How to buy a diamond
When ordering a piece of jewellery with a decent sized diamond at Castens, the steps are always as follows: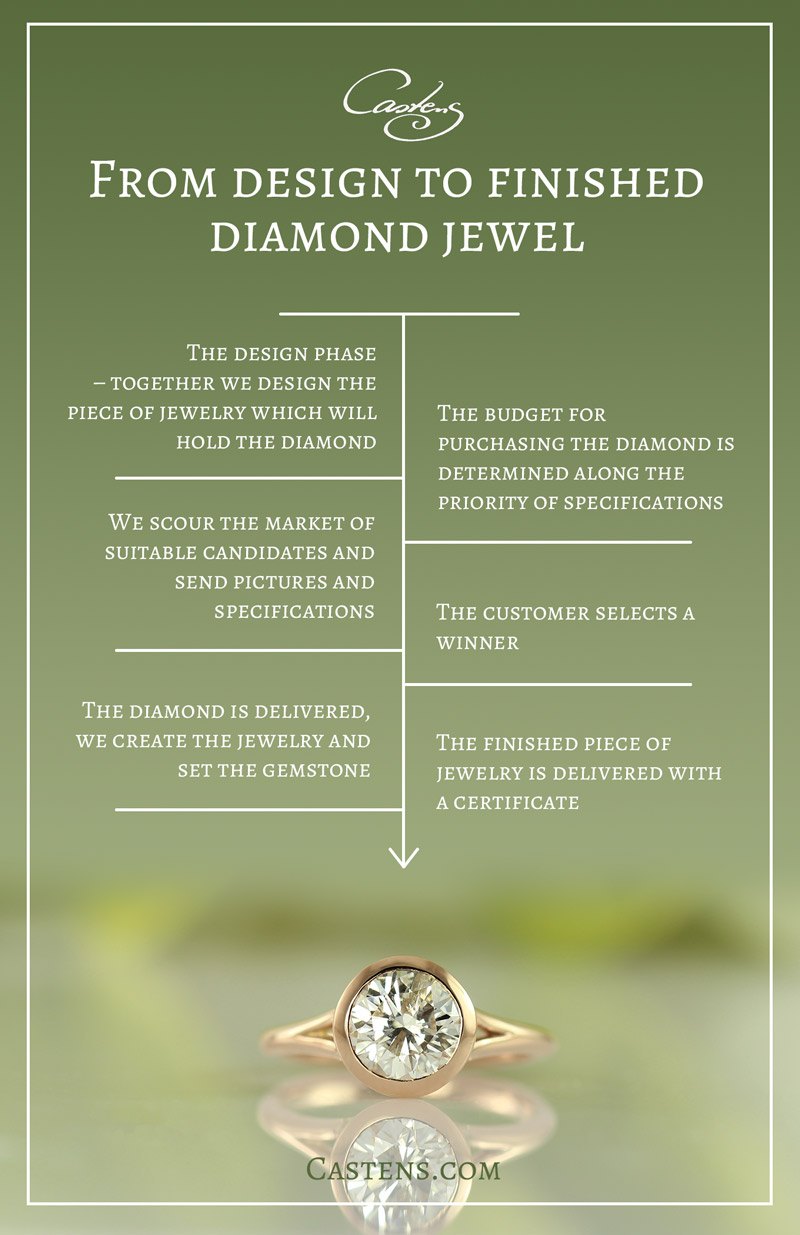 Get the big diamond a bit cheaper
A one carat diamond is not cheap, but you can get a gem which looks the same to the untrained eye for less if you are willing to let go of the fabled 1. We humans like round numbers: It's just more fun to say "it's a 1 carat diamond". This is however also the reason why they are so coveted and hence relatively pricey. If you choose a 0,9 carat diamond ( which measures 6 mm instead of 6,5 mm) the price changes dramatically! Here is an example:

1 carat TW/VVS – 113.000 kr (18.000 USD)
0,9 carat TW/VVS – 91.000 kr (14.000 USD)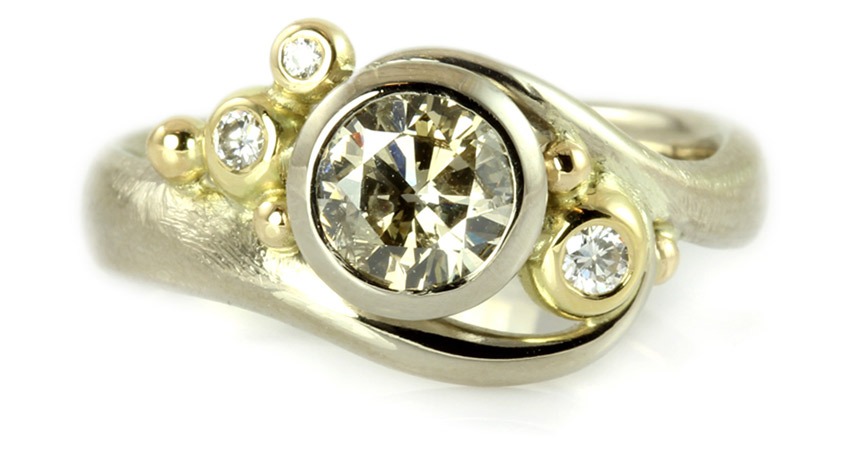 Custommade engagement ring non rhodium plated with a 1 carat diamond. This diamond is champagne/greyish coloured with visible inclusions. This diamond would cost approximately 15.000Kr. ( 2400 USD). The challenges with pictures are that you are not able to get the full experience with glow and personality of the stone which can be much more interesting than a flawless white diamond.
Having a stunning diamond ring custom made is an experience for life and we will do our best in order for you to feel secure, comfortable and supported all the way. Do you feel inspired to have a piece of diamond jewellery designed just for you? Feel free to send an inquiery by mail: design@castens.com or book a 30 min noncommittal design meeting (possibly via Skype) here:
Book design meeting


PS: Prices are based on market prices 11/9 2017
If you want to know more about how to trust in your jeweller when it comes to the karat (with K) of the gold, we have written another article here.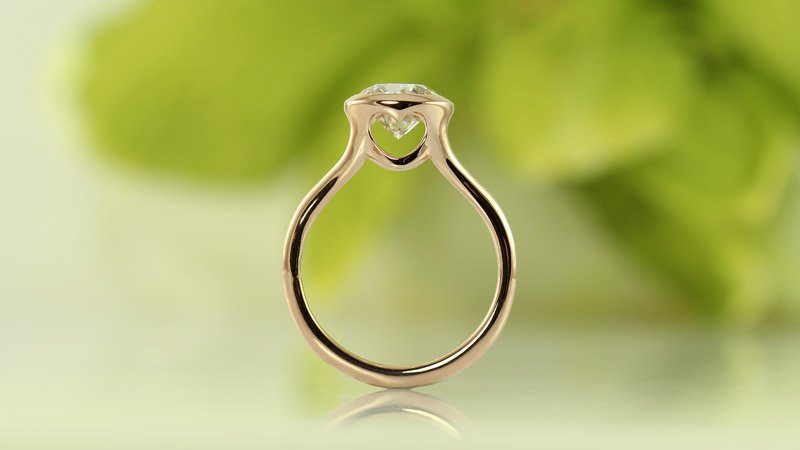 If 1 carat is nice, then 2 carat must be doubly as nice? This is a rose gold version of the romantic Hiding Heart ring, which has been especially adjusted in order to be able to hold a W/SI2 diamond of 2 carats. Btw: The very first picture of this article shows another Hiding Heart ring made of white gold and featuring a 0,5 carat diamond

Tags:
Price
,
Diamonds
,
Engagement ring
,
Jeweller
---
---