Is your engagement ring a beautiful solitaire and now you are looking for a special wedding ring which fits up against it? Or perhaps you would just like to adorn the solitaire ring you own and love?
If you want a companion ring which doesn't move independently, look no further: The Hooked on You interlinks with the solitaire by hooking up and around the setting of the ring and locking itself into place when you wear it.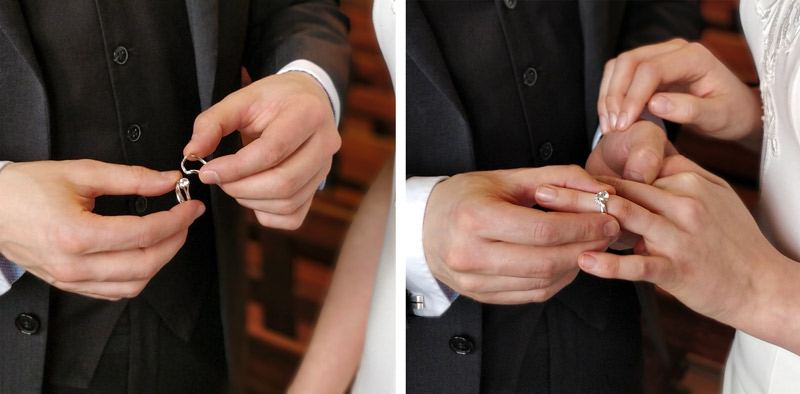 The solution is simple, but effective and very beautiful with its softly flowing line, breaking up the sternness of the solitaire. Hooked on You is part of our CUSTOMIZED program, meaning that you have a lot of choices, enabling you to create your exact and very personal favorite version, which will then be created for you in the workshop in Copenhagen.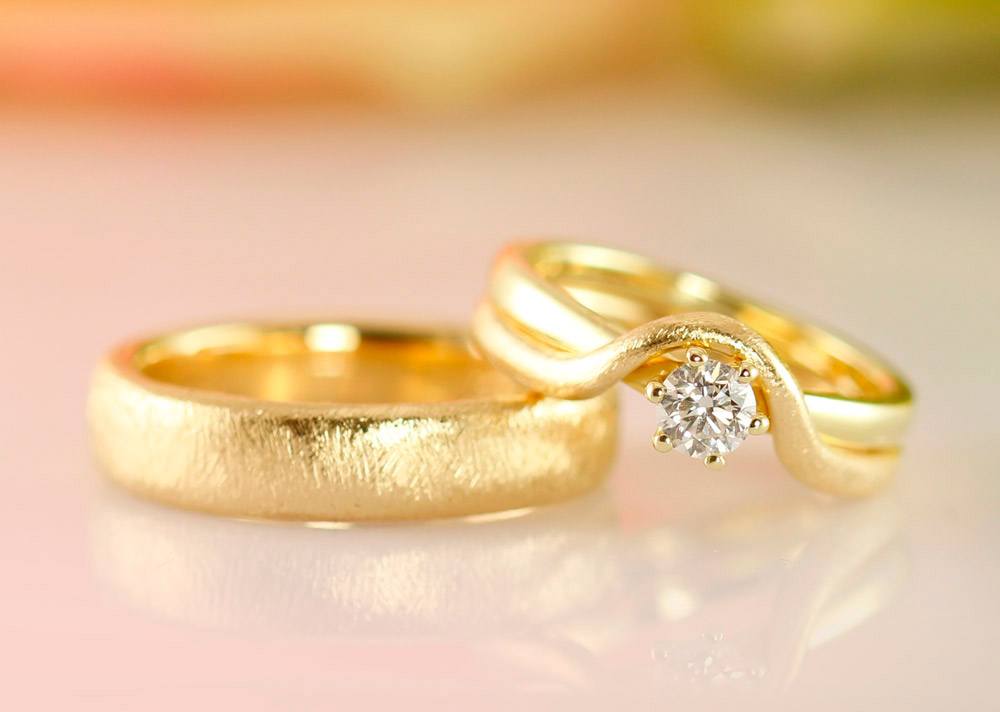 Hooked on you with a contemporary structured surface fitted to the customers own claw set solitaire.
We also have created a maching band for the husband to be.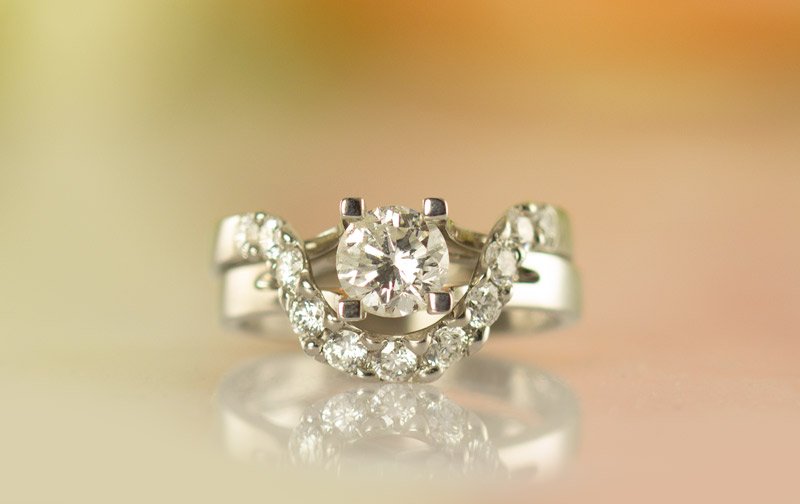 Broad Hooked on You with a total of 0,55ct diamonds created for the solitaire of our customer
The Hooked on You fits with our two designs Solo and Hiding Heart.
"Solo" created of 18k gold with a 0,17 ct green diamond
The Hooked on You design is part of the wedding set "Two Forever" (HidingHeart + Hooked onYou), which was awarded with a gold medal at the prestigious A'Design Award.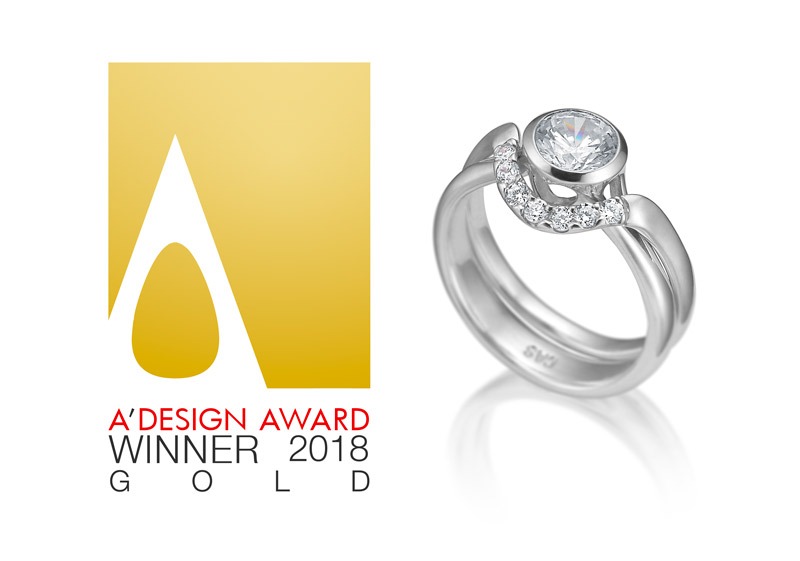 Here are your choices:

Metal
Want the same as the solitaire or perhaps a contrast?
Choose between silver, yellow, white or rose gold

Surface
Again: Uniformness or contras?
Choose between a polished, filed or textured look

Gems
Do you want to add extra sparkle with gems?
Choose between diamonds or sapphires, which come in all the colors of the rainbow!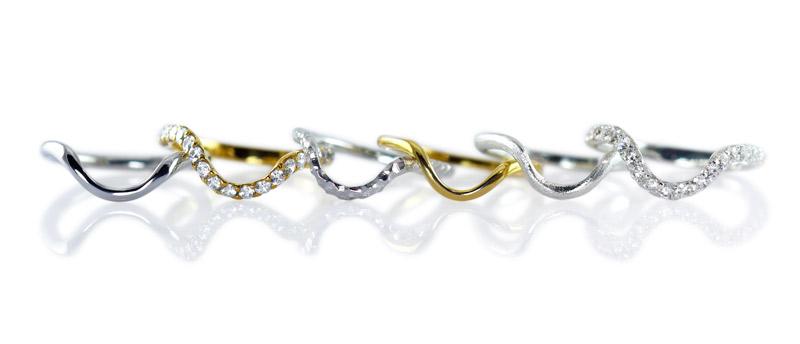 Slender, soft version:
Silver - 1.500
14k yellow gold - 3.000
14k white gold - 3.500
18k yellow gold - 4.500
With 15 0,03ct TW/VVS diamonds:
14k white goldf 14.100
18k yellow gold - 15.100
OBS! If our Hooked on You designs don't fit your ring, we adjust it for a fee of 1.000 DKK. If we have to build a new ring from scratch for you, the added fee is 1.500 DKK. And if you want it made of your own recyckled gold, the fee is 2.000 DKK.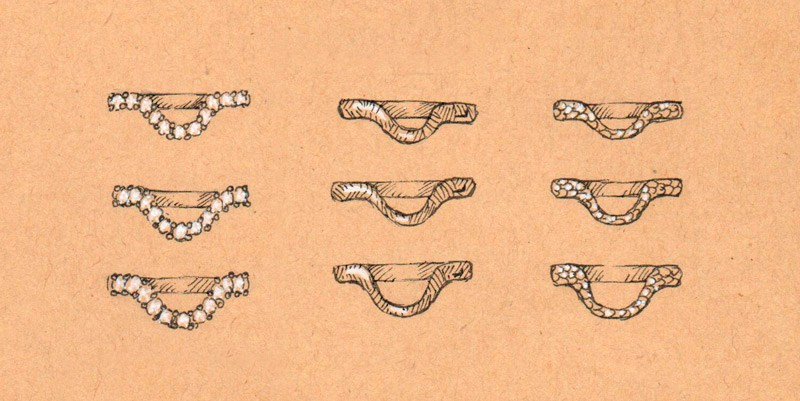 If you want a version created which fits your own solitaire, we will need your ring in our workshop for fitting.
Order a design meeting in order to have your very own version made: