10. June 2021
World Art Nouveau Day – in contemporary jewelry
Art Nouveau is loved by many. The soft and fluid shapes of especially French Art Nouveau seems to appeal to us humans, probably because the look reminds us of nature – our original home and habitat. Jewelry created in this style thus tends to work more WITH the body than against it: No sharp edges or angular, architectonic lines in stark contrast to our soft flesh.
Art Nouveau, also (but not only) known as Jugendstil or Stile Liberty, was a wildly popular design style from approximately 1890 to 1900 – the end of the "Victorian Age". The style was originally inspired by Japanese woodblock prints (ukiyo-e) which had just been brought to Europe.
The 2-dimensional fluid lines of the artwork stirred the imagination of artists, architects and designers immensely, but was interpreted differently throughout the western world: In Germany, Austria, Finland and the UK for instance, the style often presented itself as rather stringent, often symmetrical but interrupted and accented by decorative elements of human figures, flowers and patterns.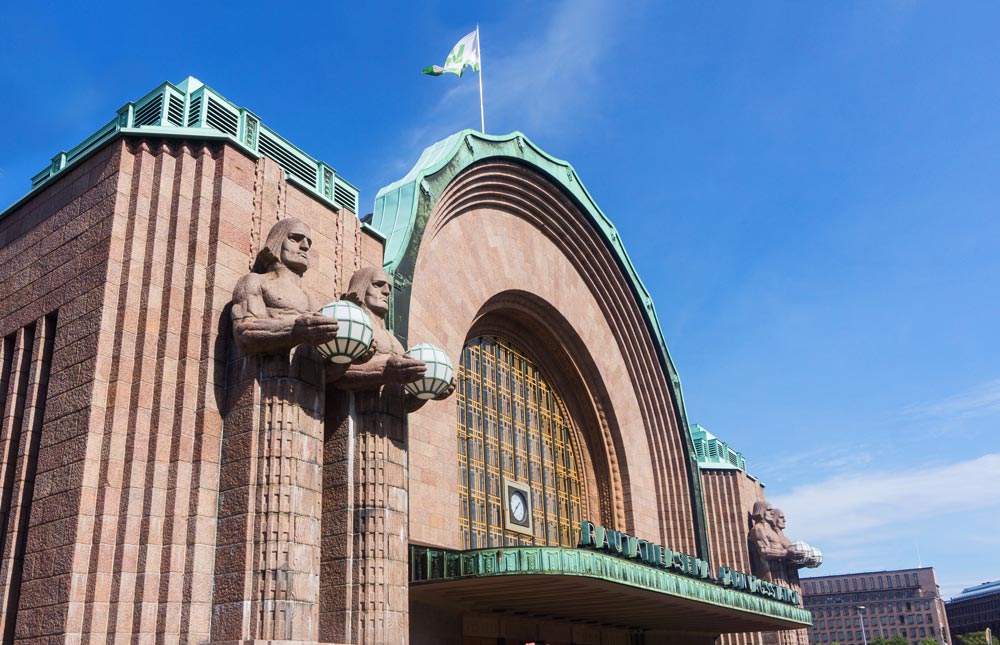 Main train station in Helsinki by architect Eliel Saarinen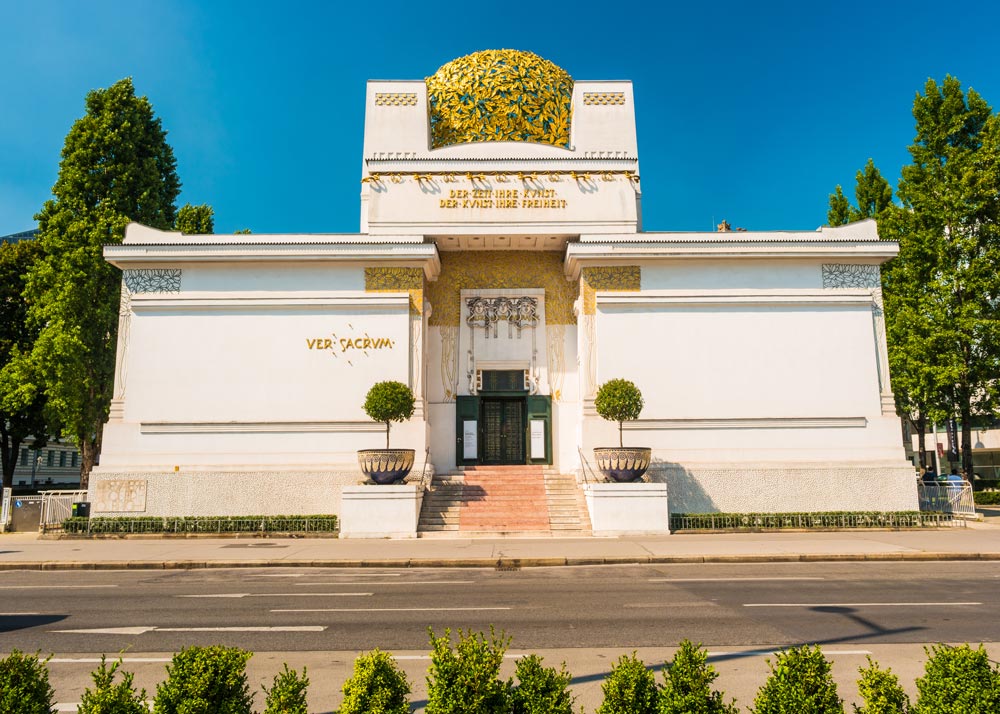 Exhibition builting for the art-collectif Vienna Secession by Joseph Maria Olbrich

Latin and French based language areas (plus many Eastern European countries) treated the inspiration with much less restraint. The buildings (including furniture) of the Belgian Horta were elegant and delicate: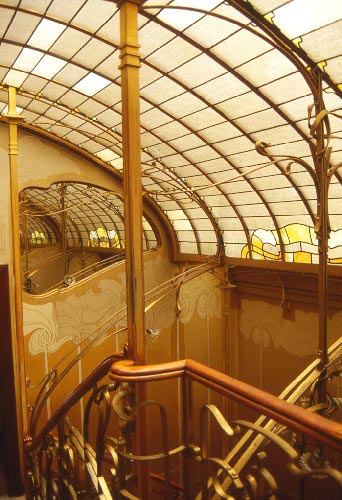 Maison Horta in Bruxelles
While the Spanish architect Gaudi created powerfull buildings which seemed equally childish and alien: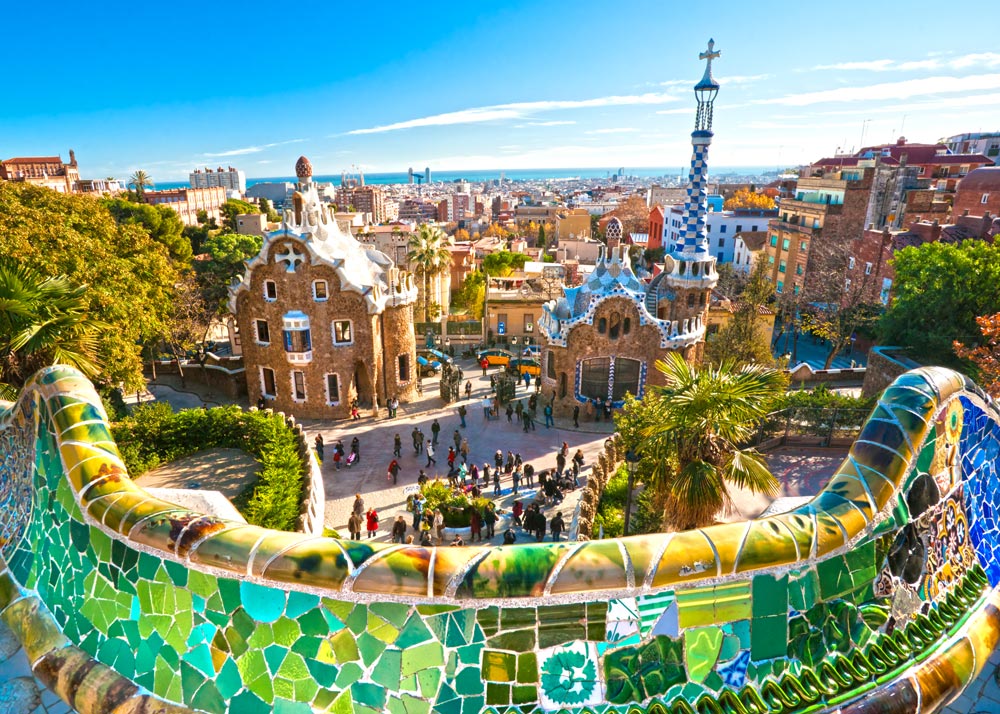 Park Güell in Barcelona
And only if your address since birth has been "Under a Rock" you will never have come across the Czech artist Mucha's prints.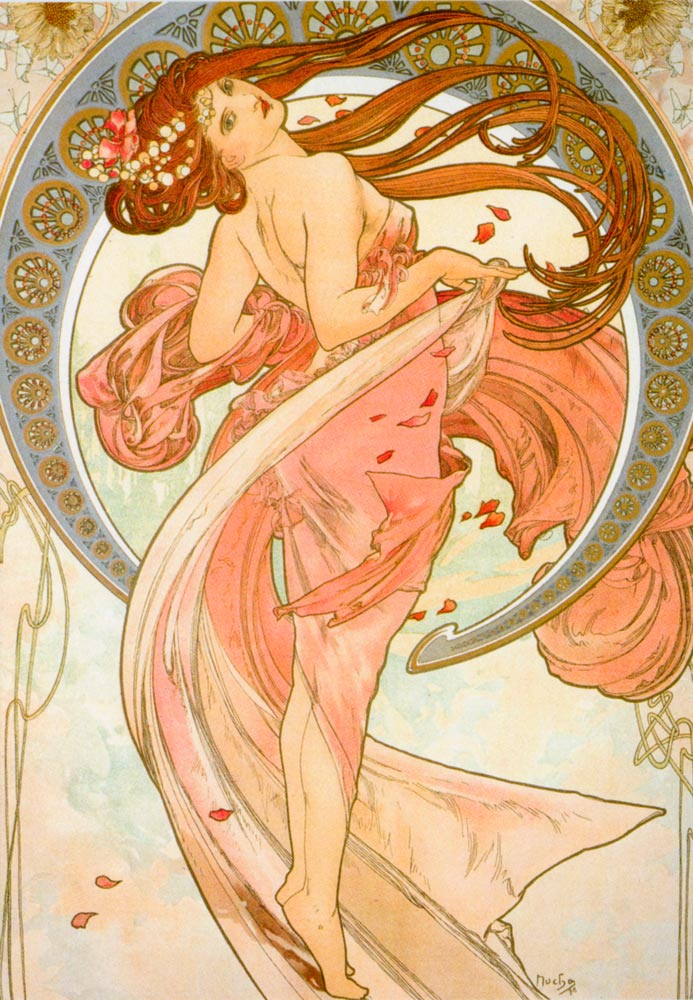 Alphonse Mucha - Dance

Art Nouveau Jewelry
Many fabulous pieces of jewelry were created during this area, but the Frenchman René Lalique is considered the undisputed Grand Master of precious wearable beauty (and later glassware). Being somewhat of a rebellious artist, he dared to break the convention by combining gold and diamonds with less expensive materials, swiftly copied by other jewelers. Something, which now is common place amongst modern jewelers, but was unheard of by the creators of high end jewelry at the time.
The new style used old motifs in new ways and new motifs altogether. Nature was the biggest source of inspiration, but unlike previous times, less charming elements were suddenly fashionable: Insects, barbed fishes and bats for instance. A great example of this is a hairpin by Lalique featuring wasps, which you can admire in the Danish Design Museum in Copenhagen. What a message to send to interested gentlemen circling the wearer: "Don't come too close or you might get stung!" As it happens, the alluring woman – the femme fatale – had become a widespread motif within Art Nouveau as well. The female body has been used as a decorative element throughout the former centuries, but suddenly she had turned strong and dangerous, most likely (also) inspired by the suffragette movement, which at that time worked hard to ensure the voting rights for women which we enjoy today.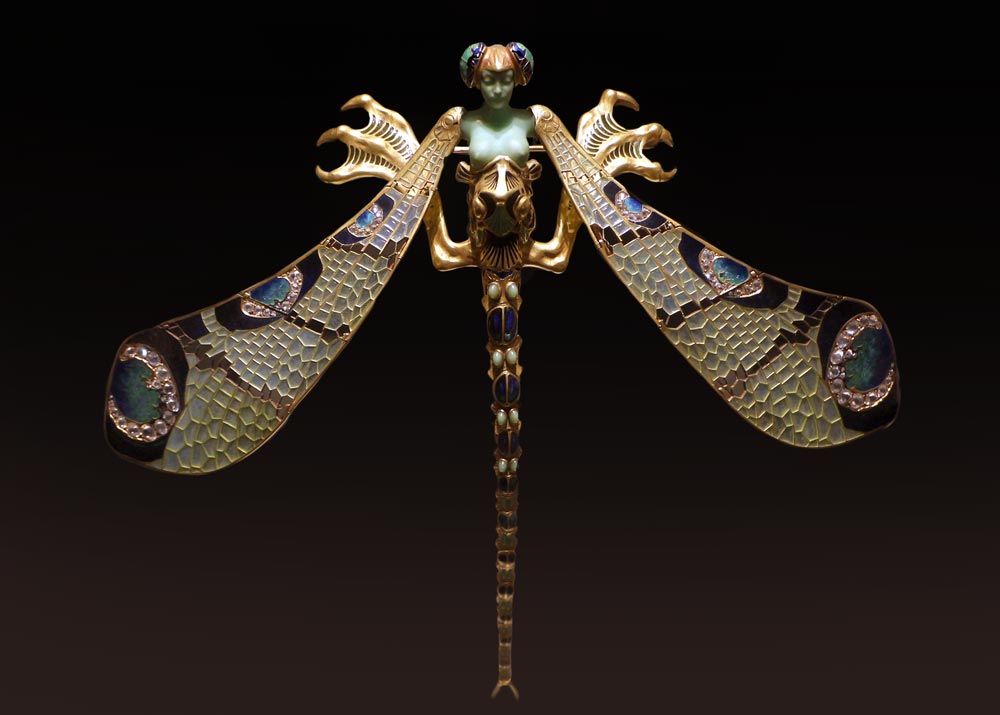 The Dragonfly Woman by Lalique (which can be admired at the Calouste Gulbenkian Museum in Lissabon) combines several Art Nouveau motifs into one: A torso of a gently smiling female figuere with the body and wings of a glittering dragonfly – but halfway hiding the powerful claws of a reptilian or bird of prey behind her back. This piece of jewelry is both fascinating as an object of beauty and symbolism, but also because it is worn in a very particular way: It's a brooch – or rather a "corsage", meaning a very large brooch meant to be worn centrally on the bosom of the woman. Worn like that, the hinged wings and tail of the dragonfly will droop over the sides and between her breasts – an extremely sensual piece of jewelry for sure and very much in tune with the outfits and jewelry worn by many of the women depicted in Mucha's artwork.
Many years ago I of cause also experimented with figures and faces cut out of wood, horn, mother of pearl etc. – just (well not quite) as Lalique. These days I rarely find time for such excessive experiments, but when looking at these pictures, some two decades old, I know, that I will work with wood and mother of pearl again!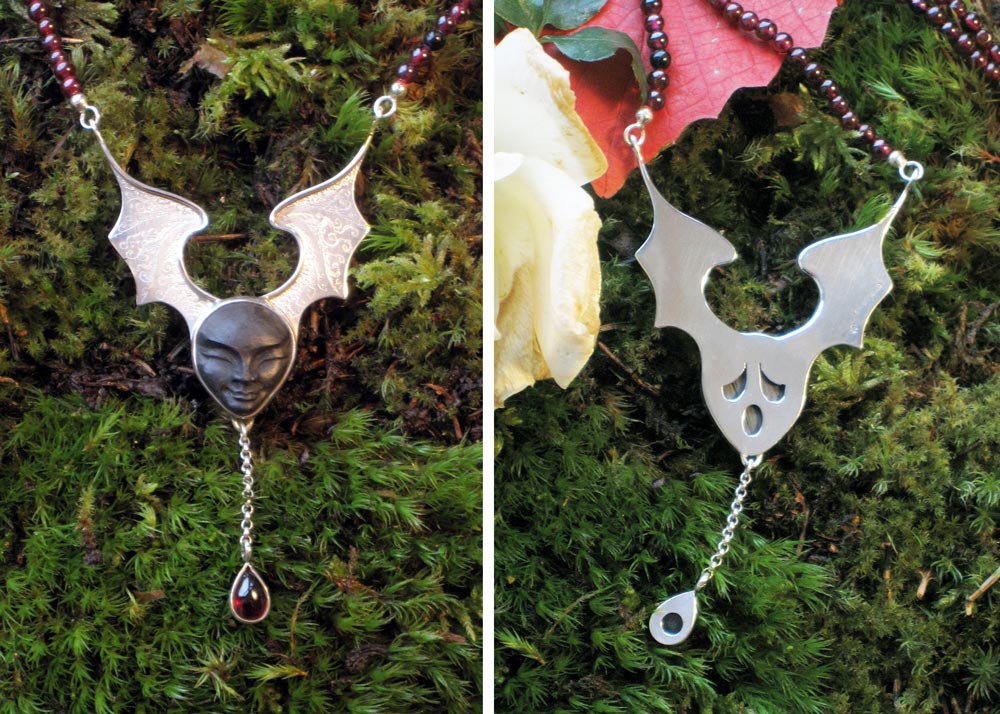 Necklace featuring the dangerous and alluring bat-winged woman: A serene face cut out of ebony set between wings of silver and accented with a garnet drop and –beads.
When Art Nouveau became extremely popular at the end of the 19th century - almost overnight - it meant that everybody and their grandmother suddenly threw themselves into this new and exciting way of designing and decorating things. The industrial revolution had just made it possible to mass-produce items which hence could be sold much cheaper than previously. Therefore "modern" items of a certain design were suddenly available to most - instead of only to the wealthy elite. Inevitably this lead to an equally fast fatigue of Art Nouveau, because said wealthy elite disliked being copied by the masses and hence hurried on to the next en vogue style. Because a fashion fad often results in a counter-style, Art Nouveau was and so, after only 10 years, replaced with the highly architectural, symmetric and (at least compared to the previous tastes) almost minimalistic style of Art Deco.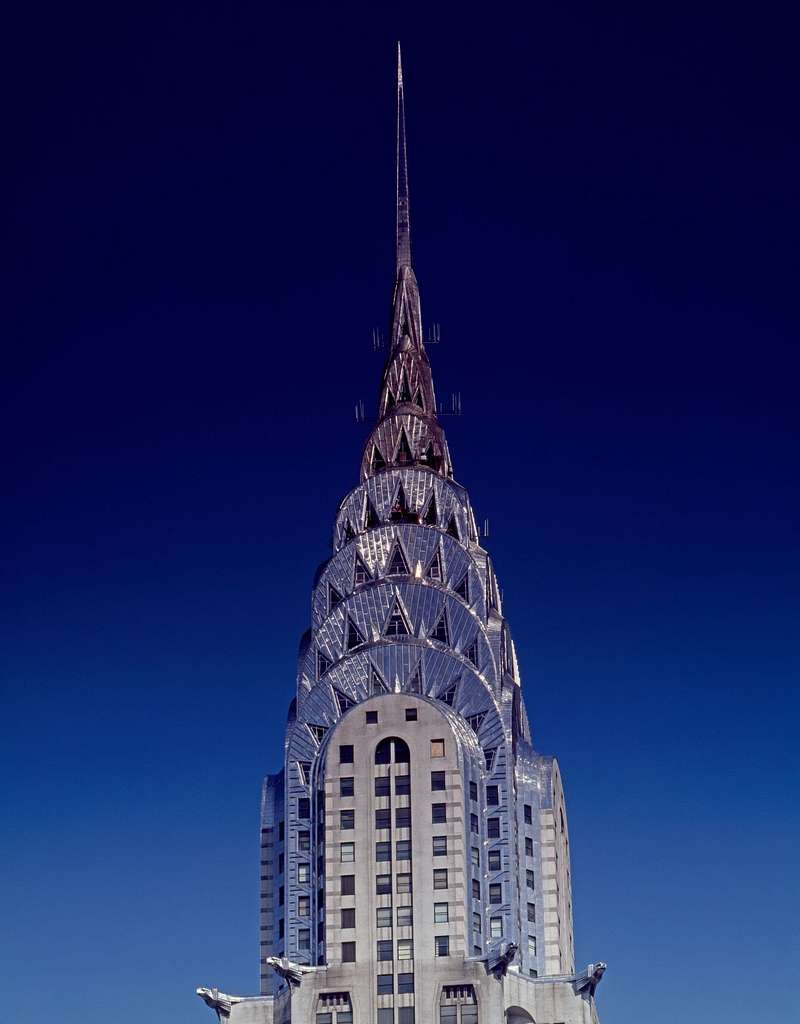 Chrysler Building by William Van Alen in New York
Photographs in the Carol M. Highsmith Archive, Library of Congress, Prints and Photographs Division
Because the Art Nouveau style is very distinct, it has ever since both had lovers and haters. Unfortunately many of those haters seem to have been placed in city councils and board rooms, where they decided to tear down many over-the-top and old-fashioned (to them) art nouveau buildings, which is why precious few are still found in the streetscapes of Europe and America. However, a few gems are still left here and there. If in search for more than the occasional pretty building, you can for instance take a trip to Prague, where whole areas still sport these highly decorative wonders. In Copenhagen, the architect Anton Rosen drew several buildings, amongst others the Palace Hotel at the Town Hall Square, which can still be admired.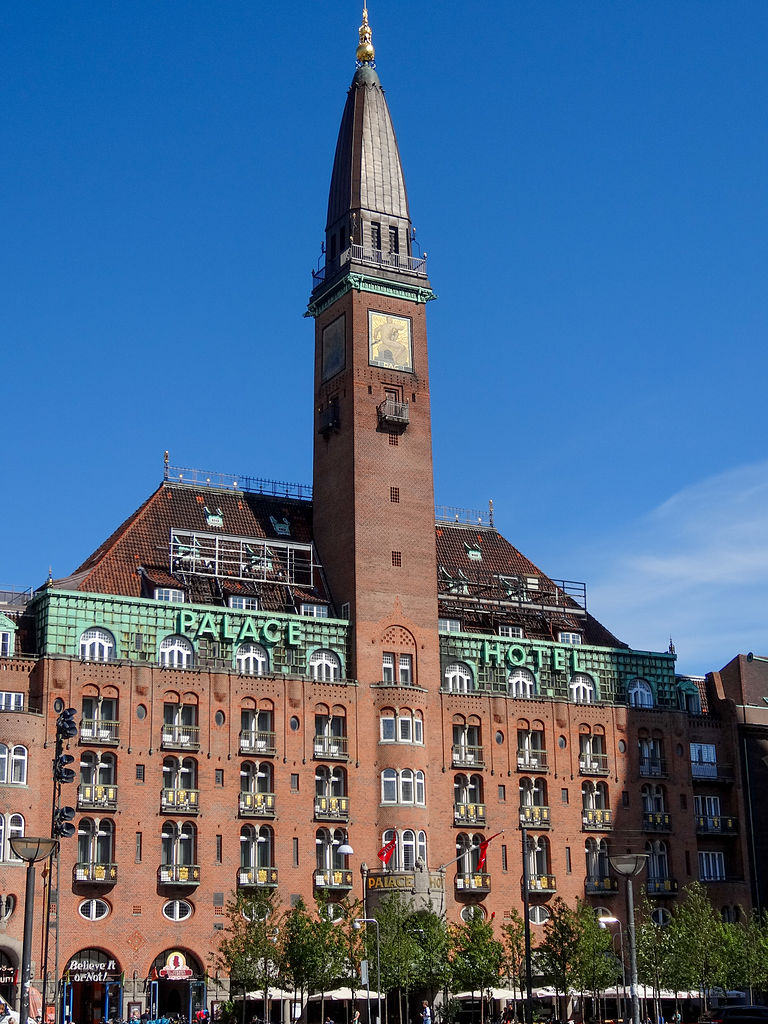 In the 60's Art Nouveau saw a brief but passionate resurgence amongst the flower power youth: A defined, relatively small group of people who for the better part weren't the wealthiest of patrons. Therefore, this rekindled love has left far fewer and less durable marks. The few buildings created by them were often built somewhat hidden away in "alternative living areas" such as Christiania here in Copenhagen. Instead most of the Art Nouveau version 0.2 love was expressed in less durable print: on T-shirts, record covers and posters and therefore only the die-hard collectors now own a flower-power-art-nouveau item. However, you do find exceptions to that rule, amongst others the Danish-Israeli artist Arje Griegst, who created Lalique inspired jewelry with faces carved out of precious gems as well as impractical, but stunningly beautiful tableware. A retrospective exhibition of his jewelry almost three decades ago made me fall in love with that particular medium for expressing Art Nouveau inspired designs and thus laid the inspirational foundation of my later jewelry career.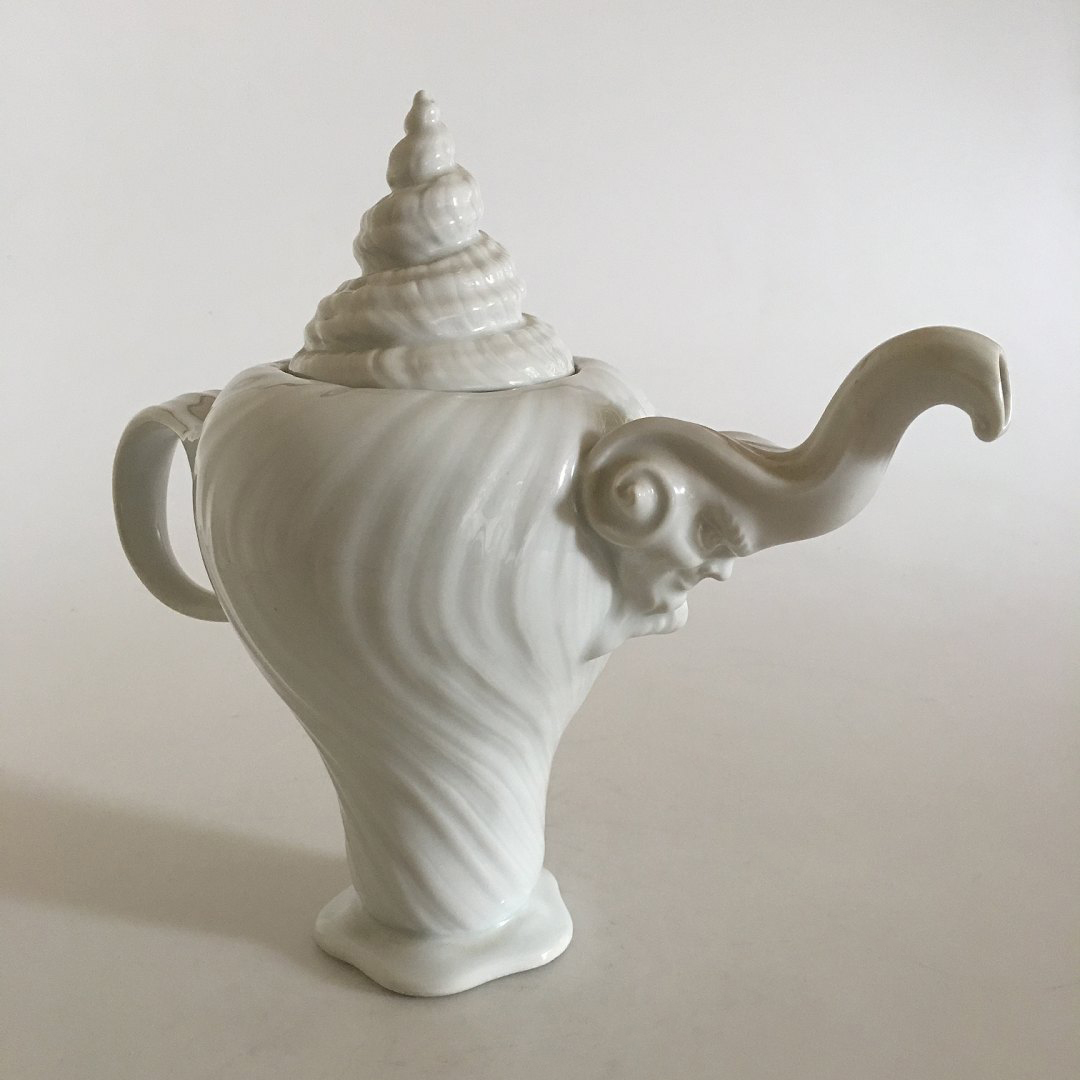 Contemporary Art Nouveau jewelry by Castens
When meandering through the garden of my creations today, you can definitely detect an Art Nouveau vibe, though obviously in a contemporary interpretation: The (in-)famous whiplash lines appear in piece after piece along with illustrative elements such as leaves, dragons and flowers. However, you rarely find full-on Art Nouveau showpieces in my workshop because wearing large and expressive jewelry can feel a tad over the top to many. Instead I have made it my goal to create everyday jewelry with a solid hint of the Art Nouveau organic softness which doesn't conflict with wearability or comes off as downright eccentric.
Though, to be fair, in my book "eccentric" is a mark of nobility. I have always admired and respected those, who brazenly and with great conviction dare to meander off the beaten path. Therefore, for you wonderful eccentrics, here is a grand Art Nouveau inspired bracelet, consisting of whiplash curls of silver, gold flowers and bubbles plus blue topazes accented with diamonds. There is nothing dainty about this piece and I adore it! It was created on commission for a customer, but before adorning the bracelet itself with all the pretties I made a mould of it. This means, that you can have your very own version made – just as it is or with your choice of decoration.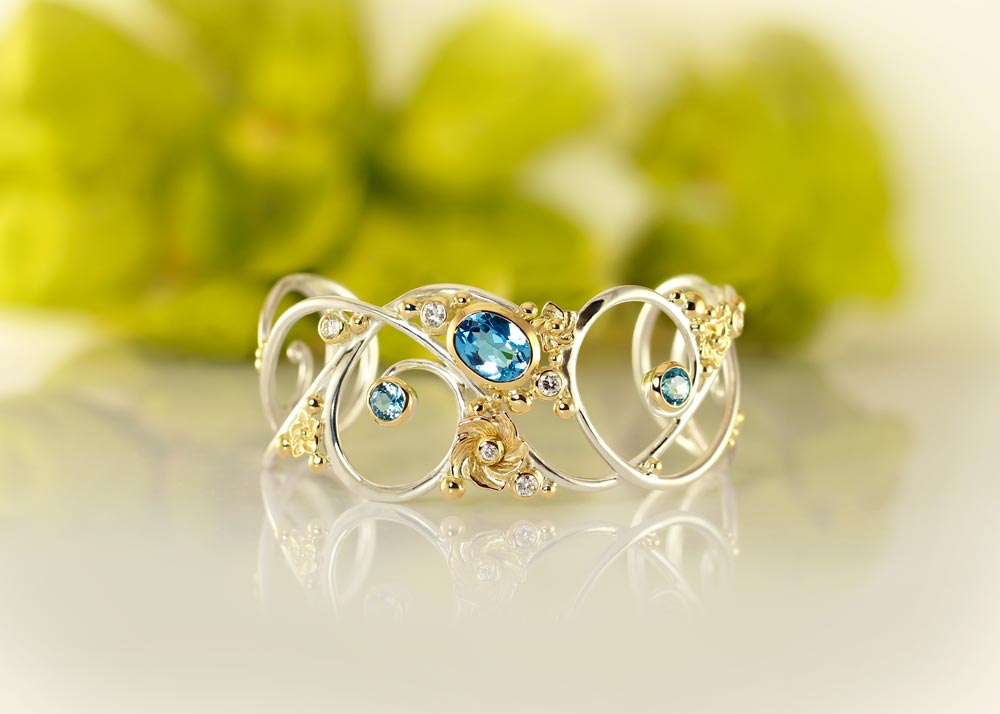 My everyday jewelry is aforementioned somewhat smaller, has a low profile and therefore doesn't get stuck in narrow pockets, destroys pantyhoses or scratch baby cheeks. To me "modern everyday art nouveau jewelry" is practical, comfortable to wear and radiates that special, playful vibe, belonging to the style. All pieces below come in silver, yellow or white gold with your choice of surfaces, addons and gems: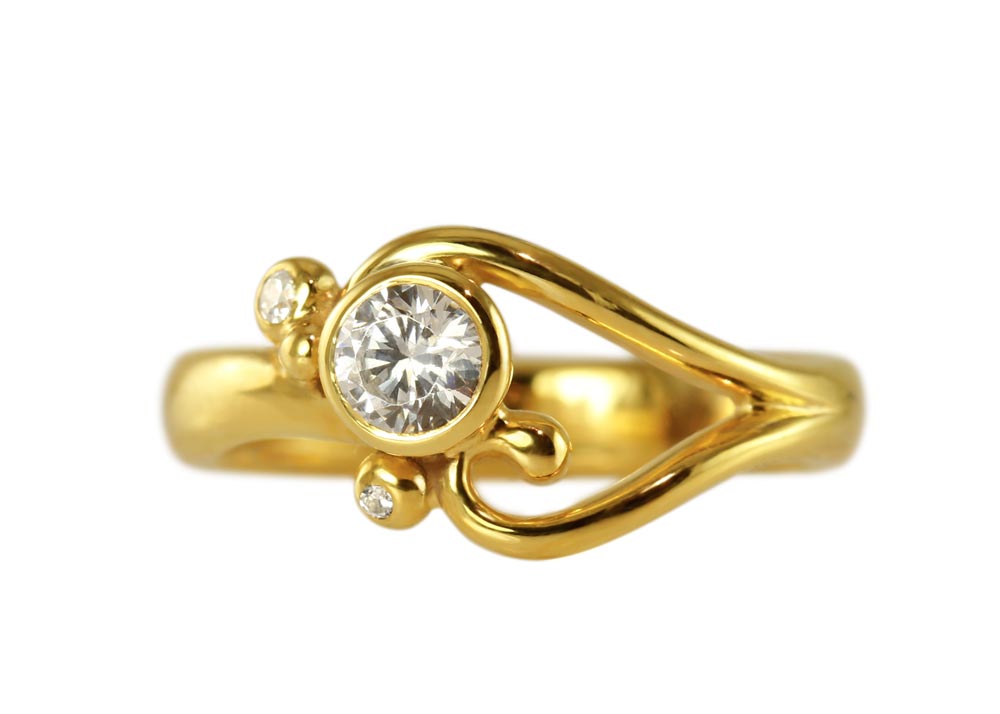 Nanaya – hiding a heart and with the possibility to add a narrow companion ring, turning it into a bridal set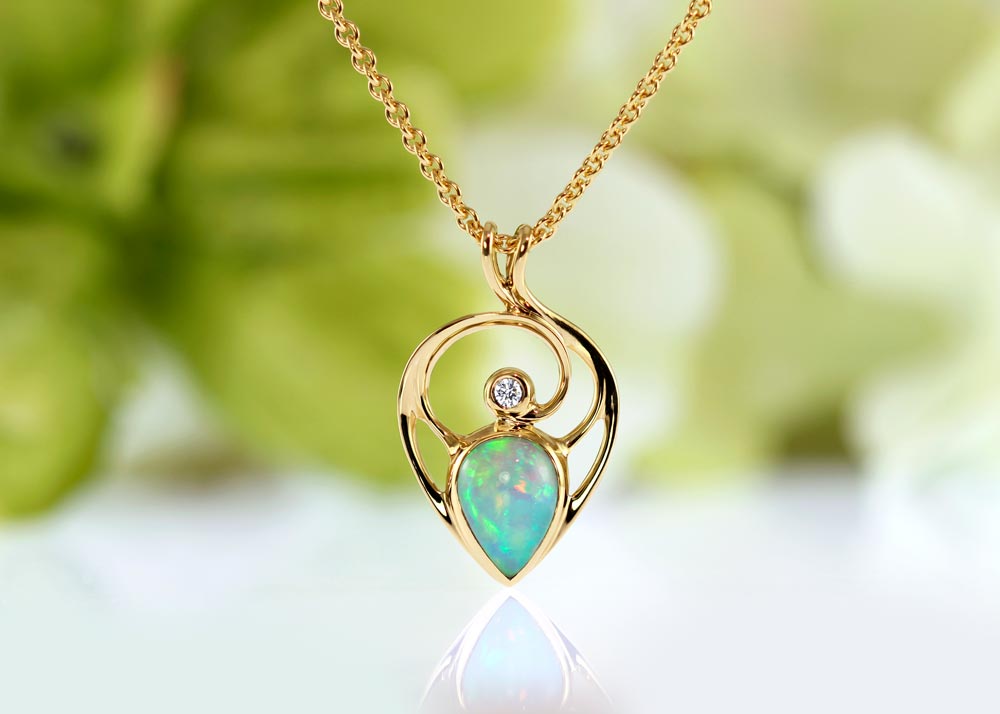 Ilyana – Gold pendant displaying an upside-down cabochon cut gem – in this case an opal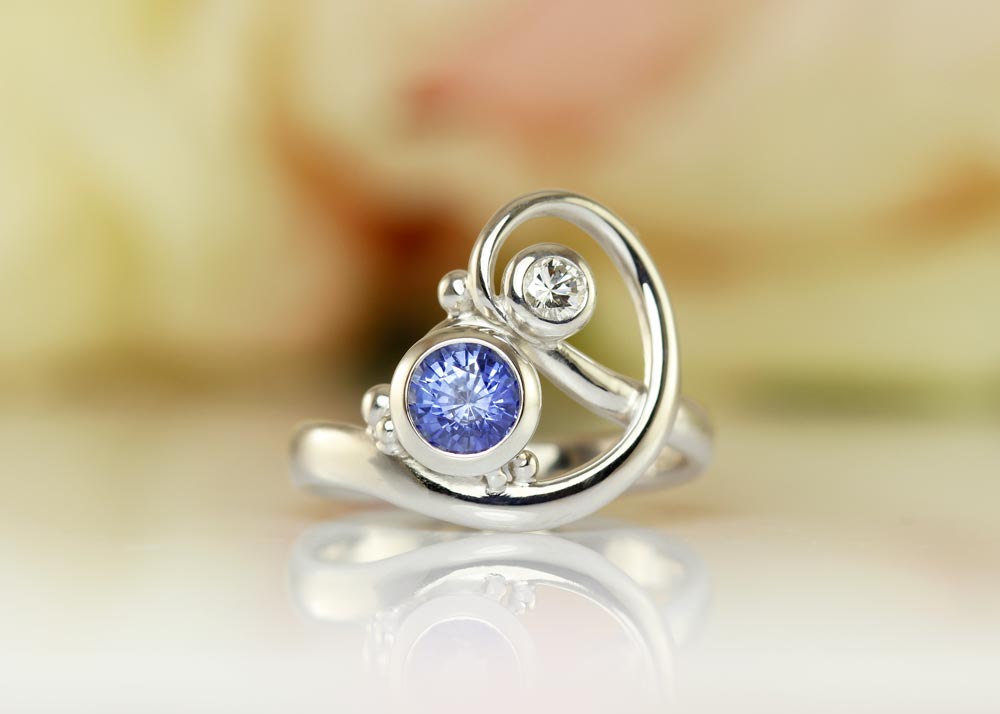 Avarelle – Boldly asymmetrical and featuring a strong statement curl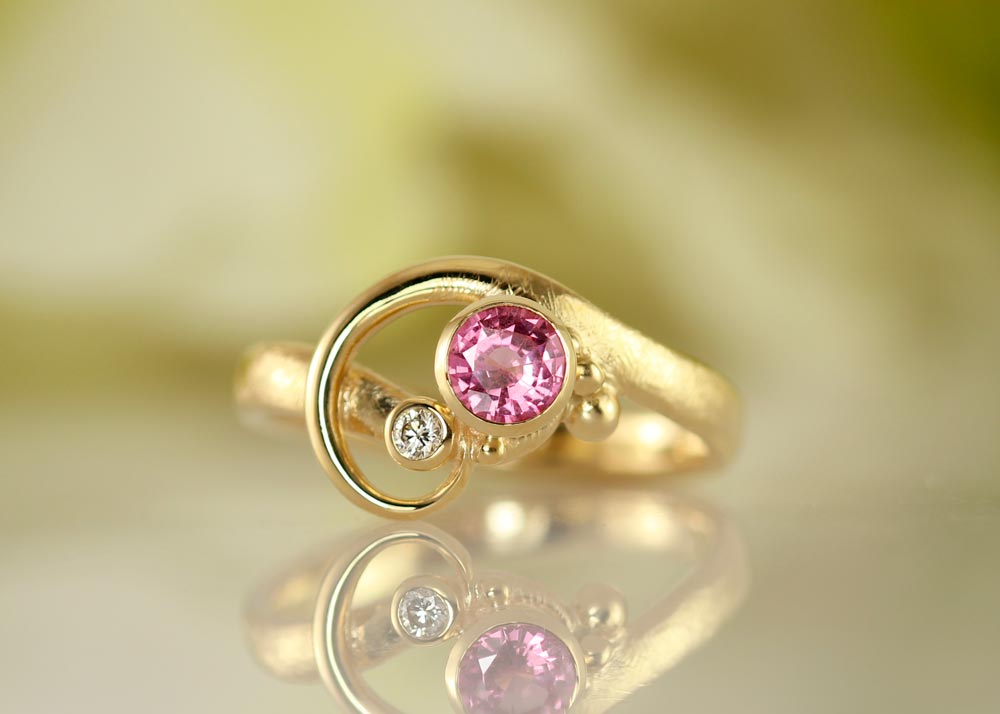 Alva – the little sister of Avarelle – for those who love the look, but want it a tad toned down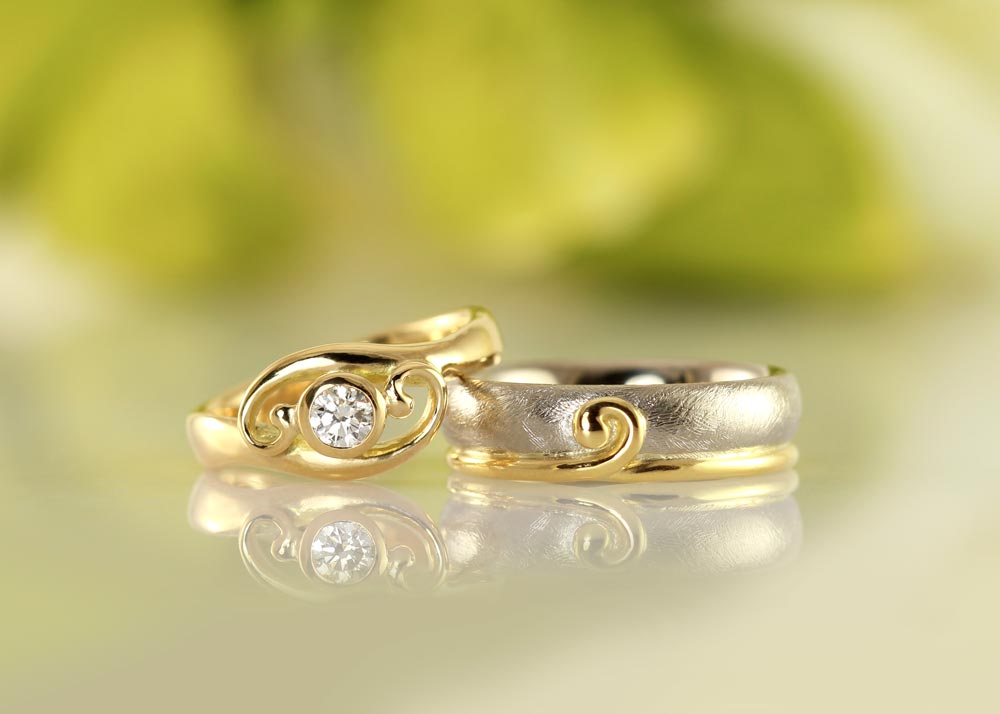 Curly Embrace wedding rings – One of the many versions of the Embrace design, which lets the two ends of the ring shank come in and curl up around the center gem. His ring bravely features a curl as well!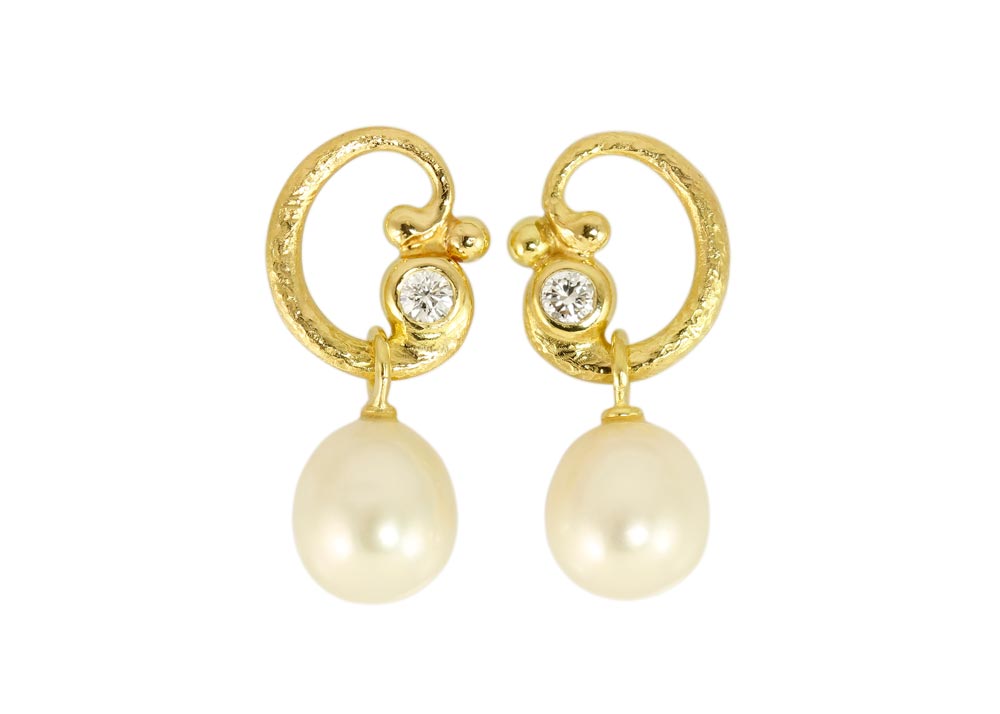 Rocaille – Earrings both inspired by Art Nouveau as well as the Rococo period

A few of my designs are a bit cheeky and deviate from my stark credo of practicality: Anything with a curl which isn't attached in both ends tends to catch on things. You can still wear it for everyday use for sure, just get used to paying a bit of attention when for instance putting on a knitted jumper. Here are some charming and very popular examples (in spite of their cheeky tendencies):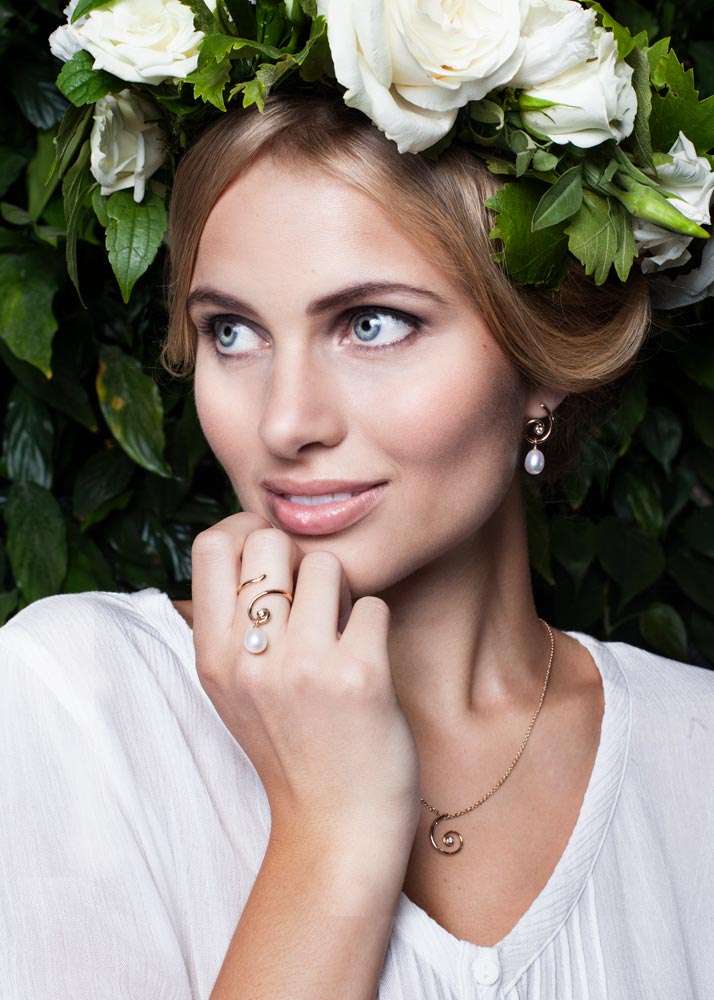 Faun – earrings, pendant and ring with diamonds – all with the possibility to add pendants according to your choice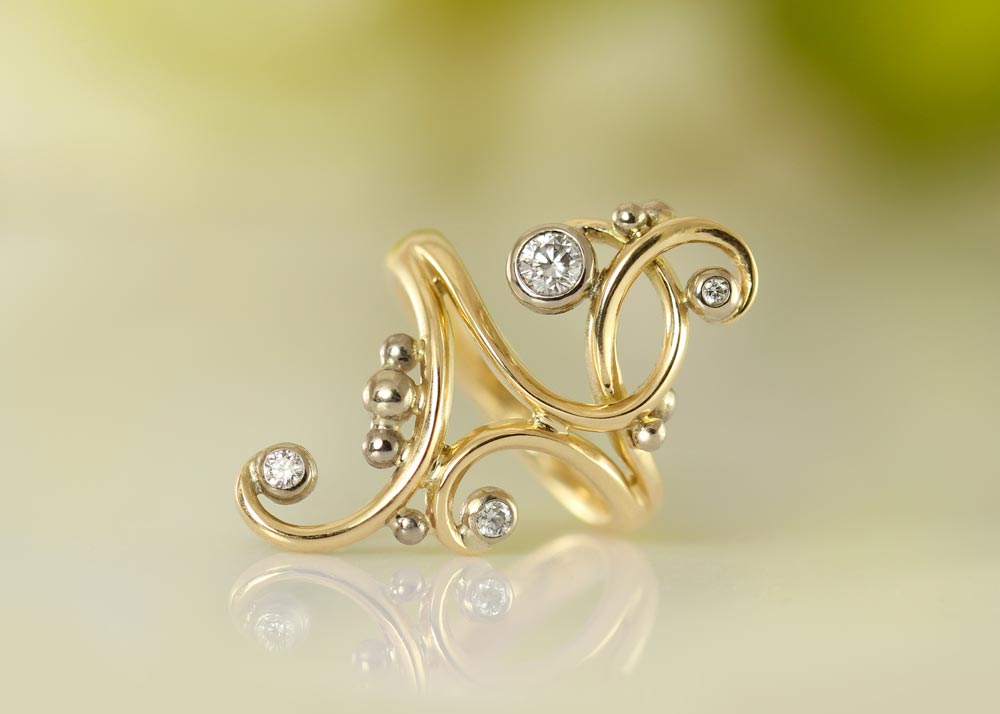 Lady of the Lake ring – here a version of 18k yellow gold and 14k white gold with diamonds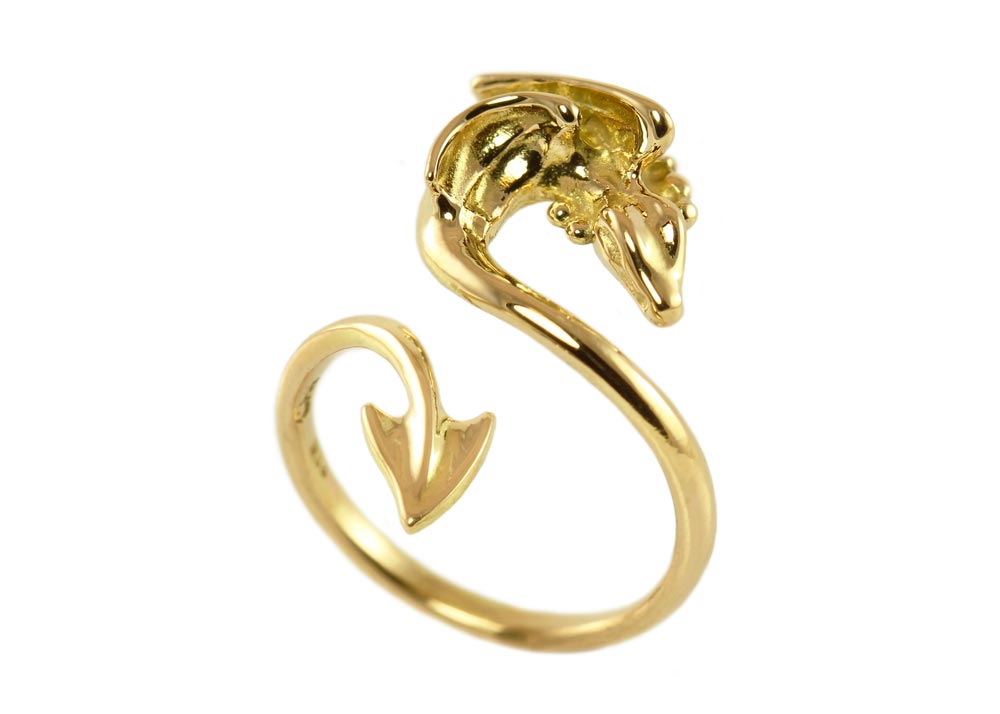 Dragonling ring – When shaped into a ring, my small signature dragon twines its tail around your finger. Sometimes we have soldered the end of the tail onto itself, thus eliminating the I-want-to-get-stuck-in-this-sweater-tendency.


Whereas the CURL is an iconic art nouveau shape, other elements from nature such as leaves and flowers, are common within the Art Nouveau style. The Adorabella collection, which combines the curl with the leaf motif is a prime example of this, crowned (pun intended) by one of my few grand showpieces: The convertible tiara made of 14k white gold, Tahiti pearls and diamonds: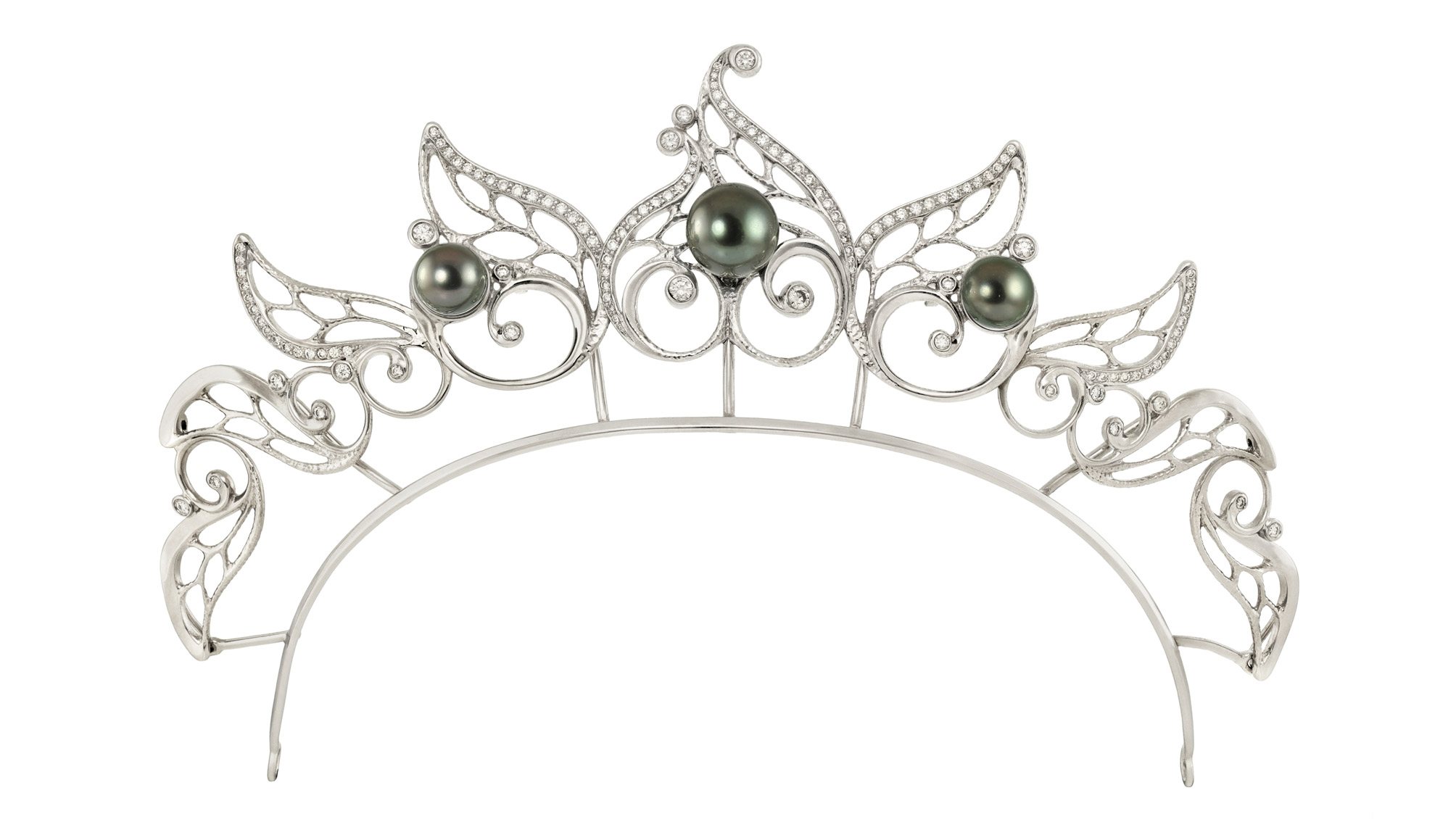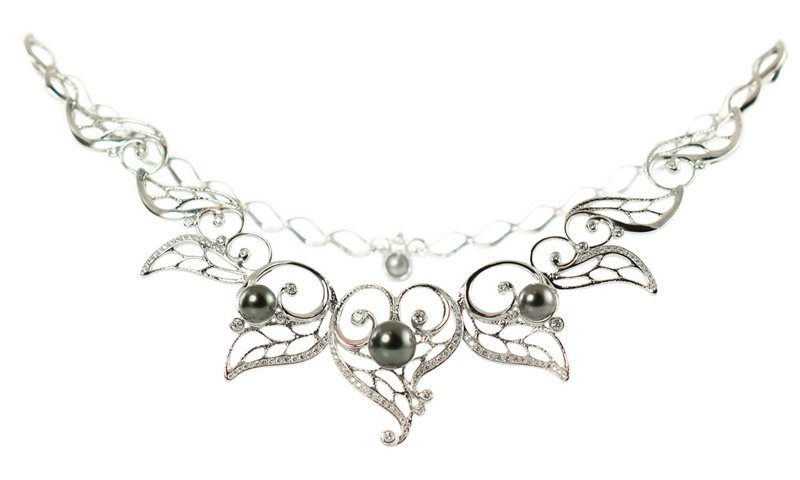 Less grand but still leafy-lovely is the Lovely Leaves collection, unsurprisingly featuring soft leaves as the main motif: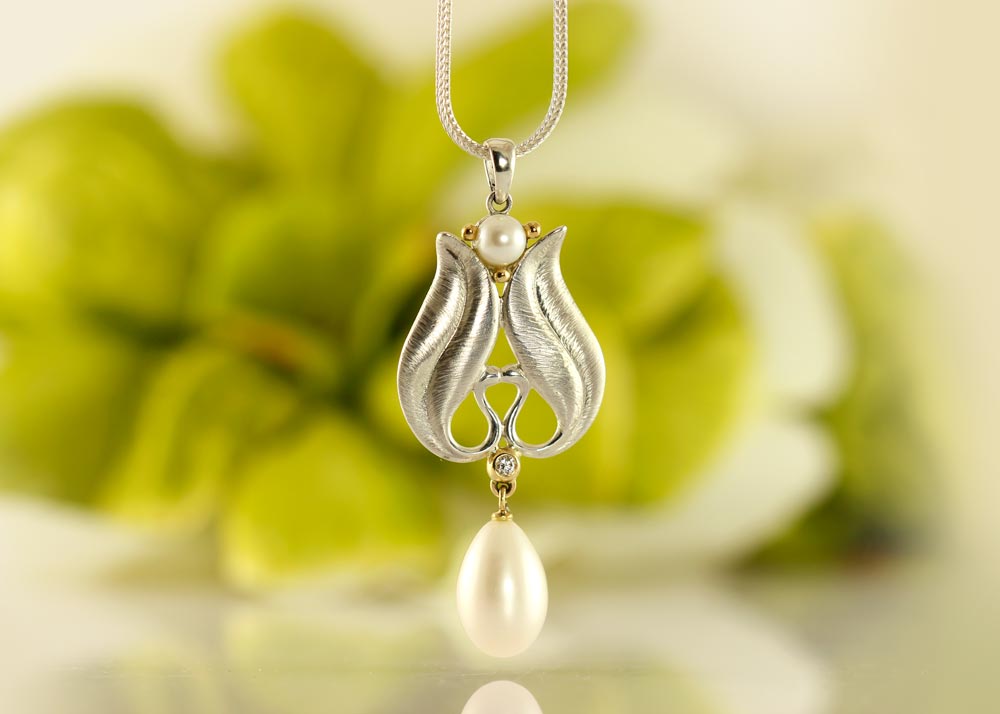 Lovely Leaves one of a kind pendant made of silver with 18k gold, freshwater pearls and diamonds.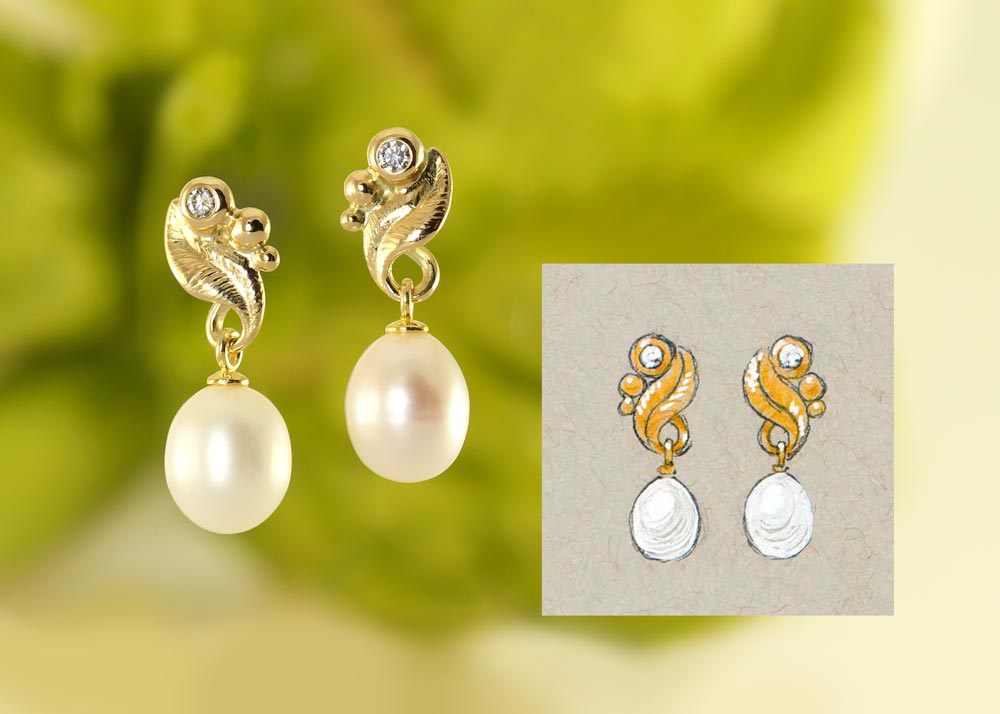 Lovely Leaves convertible earrings. Can be worn just as studs or adorned with interchangeable drops of your choice.

The academic jeweler on a mission
"Where does your fascination of the Art Nouveau come from?" you might ask, when reading the above and looking at the cover photo, which displays a selection of my books on the topic – photographed in my living room. Well, I have been drawing since I was able to hold a pencil and I early on gravitated towards art nouveau shapes, probably inspired by my father's love of the period. My childhood home held several Art Nouveau books and items and we have seen quite a few art exhibitions together.
Later, I studied history of art at university and wrote a thesis on the British Pre-Raphaelites and how they influenced the color palette of the Arts and Crafts movement, which sedgewayed into Art Nouveau. As you can guess, if you have read this far, my academic knowledge and interest in Art Nouveau is therefore… not small. Luckily I have been able to combine my fascination for this, my most beloved style period with my "Raison d'être": Creating wearable tiny fairytales in the shape of jewelry. If I am allowed to put a small piece of what others might deem "unnecessary and frivolous" beauty on humans walking this earth, thus enable you to carry a little bit of fairy dust into the world, my life hasn't been in vain.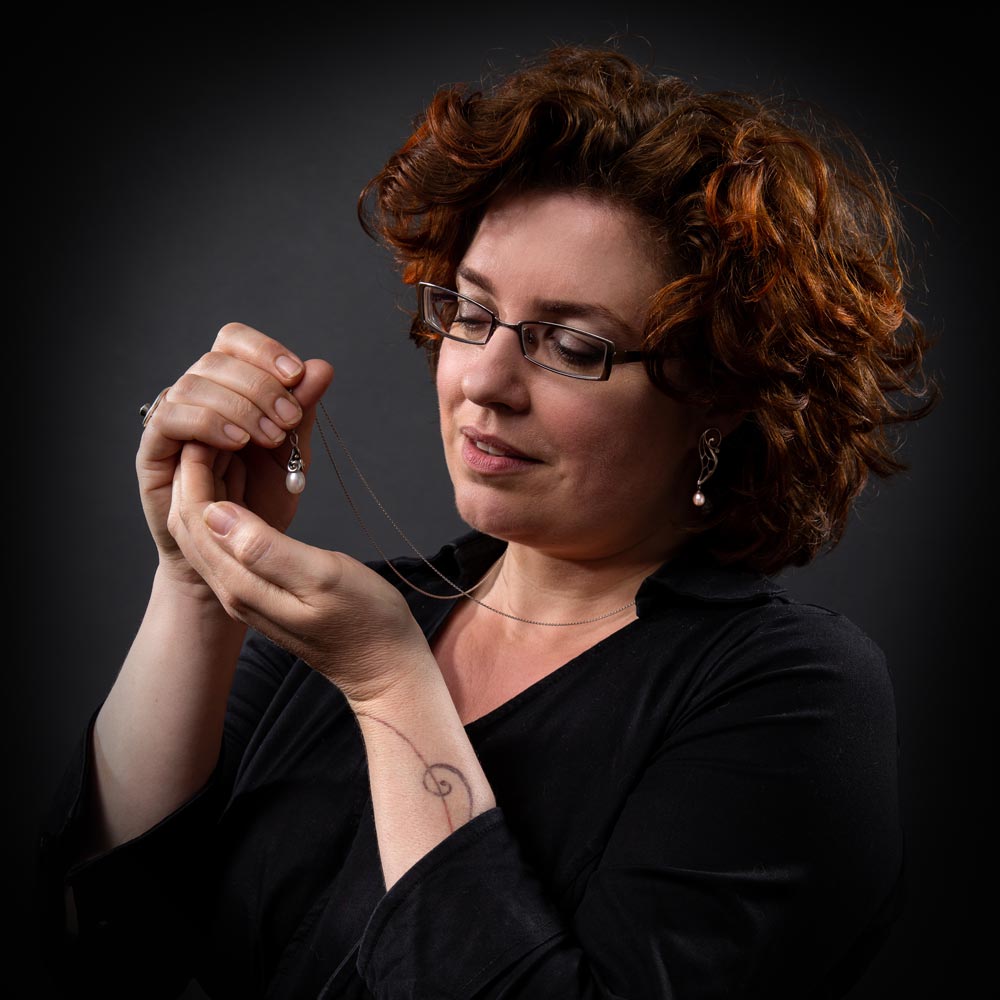 I am not alone in my love: Today we celebrate the World Art Nouveau Day – because in spite of not having been THE popular style for over a century, the designs of that particular period still has many fans and keeps popping up. I hope we, the admirers of the style, will multiply further - thereby turning the love for soft and organic while still childishly playful into "come il faut" instead of "it's just a phase".
Do you feel inspired to have your very own custom made piece of modern art nouveau jewelry created? Get in touch!


Tags:
Art Nouveau
---
---