28. February 2019
What is the price of handcrafted jewellery?
Are you considering having a piece of jewellery custom made for you because you can't find what you dream of in regular jewellery shops? Or perhaps because you dream of e.g. wedding rings which no one else owns? Then the question is absolutely relevant! The short answer is: More than mass produced jewellery from suppliers who have specialized in budget-friendly jewellery and often cheaper than (also) mass produced jewellery by a renowned brand.

Here is the explanation and we start with Adam & Eve / how a piece of jewellery is made. A piece of jewellery can be made in several different ways:
Created of gold wire and –sheet which is shaped, filed, soldered and adjusted until the piece is perfect. This is the classic version and in many cases a good strategy – especially if you want to reuse your old gold because it has emotional value.




Wax-carving. Here the finished wax model (which has been cut for many hours with tiny specialty knives) isencased in plaster, melted out, and then the cavity in the plaster is filled with molten metal. Once the plaster has been dissolved, a 1:1 version of the wax model emerges – now in gold, which, however, still requires some finishing in order to create the desired finish. This is a very good solution if the design of the jewellery is very 3-dimentional and therefore can't be constructed from sheet or wire.




3D-design. The obvious choice if the design holds many tiny details or has to be 100% symmetrical. We are working with a very talented designer, who can transform my drawings into a beautiful design on the PC. Like with wax carving, the process takes quite a few hours and once the design is approved by me (often after several rounds of corrections and test-prints) it is printed in wax and cast in the same way as the hand carved wax model.



Once the piece itself is finished, we will set the gems which of cause also takes some time. No matter what sort of jewellery you want made for you, creating a piece of custom made jewellery will always include the following steps: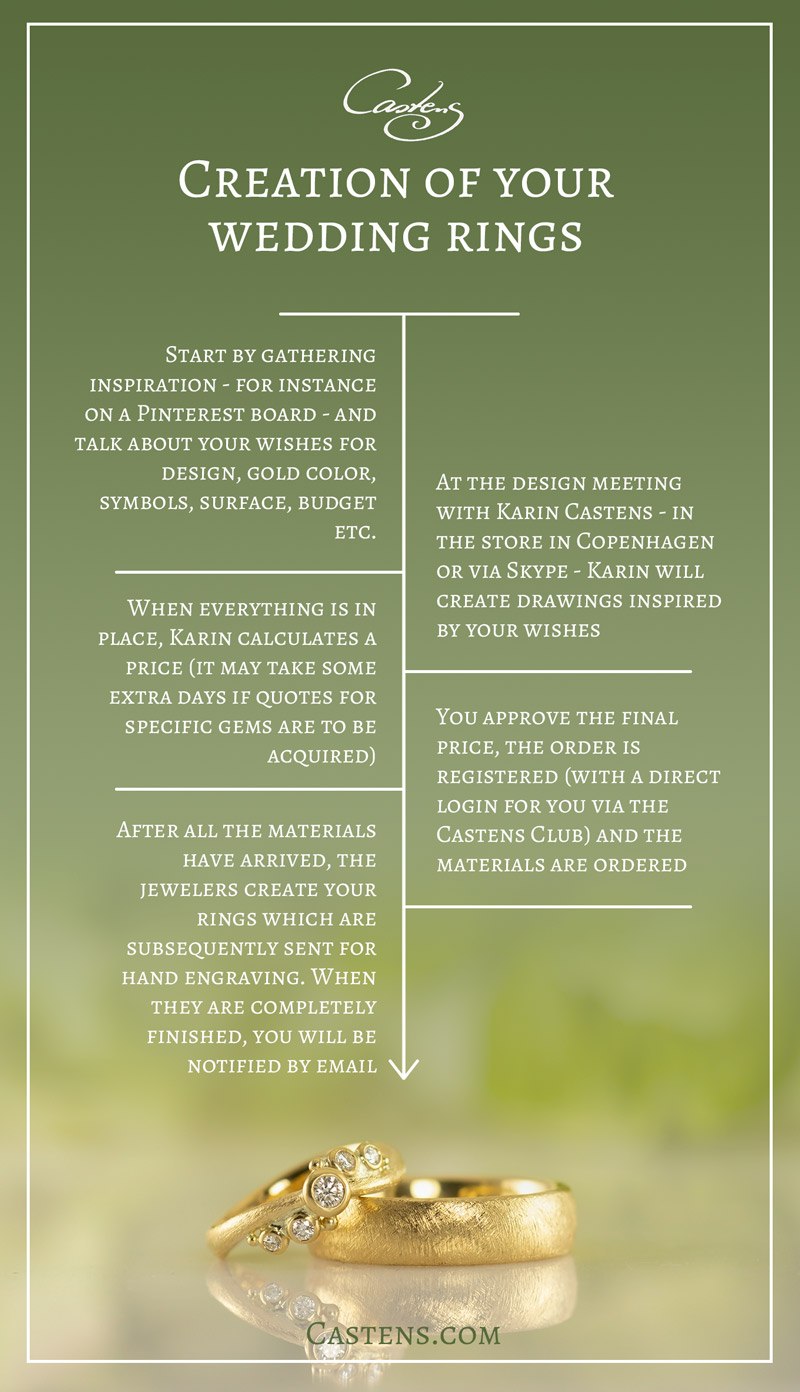 How is mass produced jewellery made?

While one-of-a-kind jewellery is created by using one of the 3 above methods, you can create multiple identical copies of it. If you want a particular piece replicated, a rubber mold is made of it before the gems are set. This rubber mold can then be filled with wax, creating many identical wax models, which are cast into plaster and subsequently in gold like version 2 and 3 described above.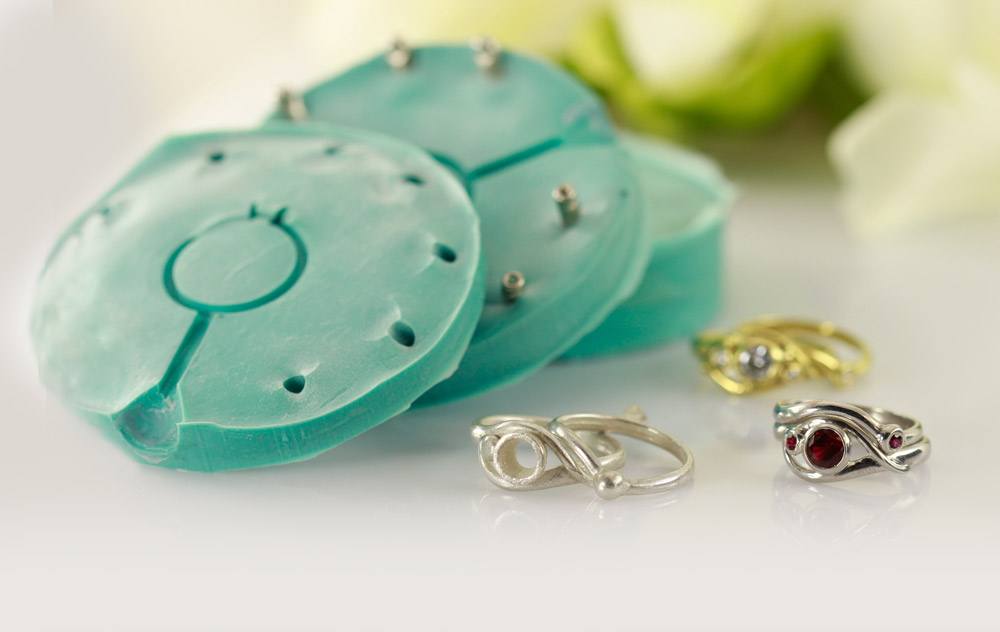 It goes without saying that the most expensive process of mass-production is the initial one - that is, to build the first piece of jewellery, regardless of which technique you use. Because the creation of a piece of jewellery often represents quite a few hours of work, this part of the process is therefore usually the most expensive part of creating a custom designed piece of jewellery - at least in Denmark. If you set a large, beautiful diamond in such a piece, these proportions will of course change, making the gem the most precious part of the jewellery.

However, once the initial model has been created - and a mold has been made of it - it will be somewhat cheaper because from this stage on you only pay for the production itself and the materials. At large factories where jewellery is mass-produced by the thousands (these are often situated in the far East), the process is extremely efficient which is why such pieces can be sold at a significantly lower price than if you have something similar custom-made by your local jeweller.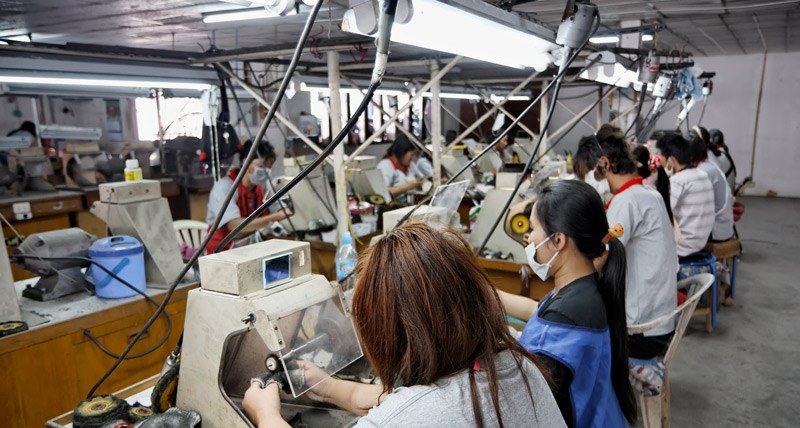 The mass produced process is the same for cheap as well as for expensive jewelry. The big difference lies in the branding and thus the perceived value of a piece of jewelery. But mass-produced luxury jewelery is of course generally of a higher quality than their cheaper counterparts: They will be made of 18k instead of 8k gold, the cubic zirconias have been replaced with diamonds of a high quality and the pieces are generally heavier because more gold has been used. In addition, the finish will be better and flaws will be extremely rare because the quality control is (and should be) high.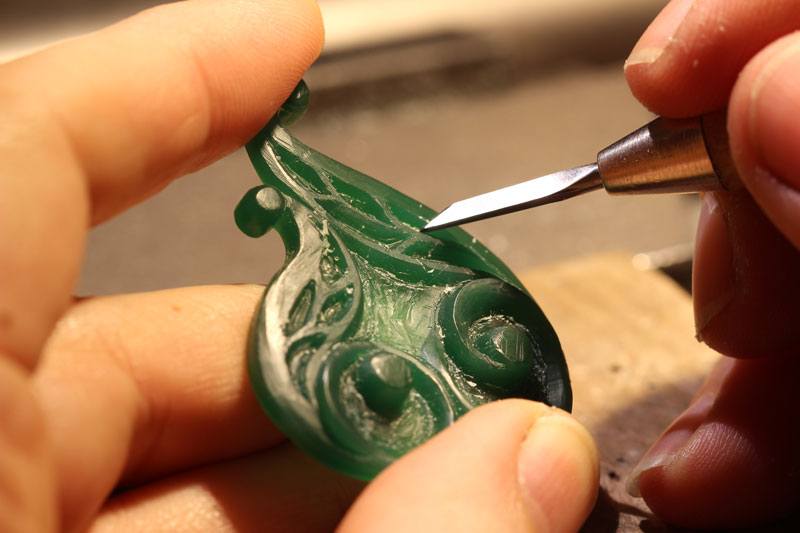 At Castens we also create mass-produced jewellery, though that term seems a bit grandiose when we in reality create relatively few pieces (compared to the aforementioned large factories). We have therefore settled for just referring to this production method as "serial production". The fact that we can use techniques which reproduces the same piece provides some freedom to us, which is the great advantage in a small workshop like ours: I may have decided that the Adorabella series, for example, is being created of either silver or white gold with diamonds and Tahitian pearls. But what if you love the shape, but want it in yellow gold, with rubies instead of diamonds and a white pearl? Well, then yes – that is of cause possible because it is MY workshop and we can therefore do what we want. Getting your favourite version is in other words not a question of whether or not you can find a piece of jewellery made of certain materials is in a catalogue.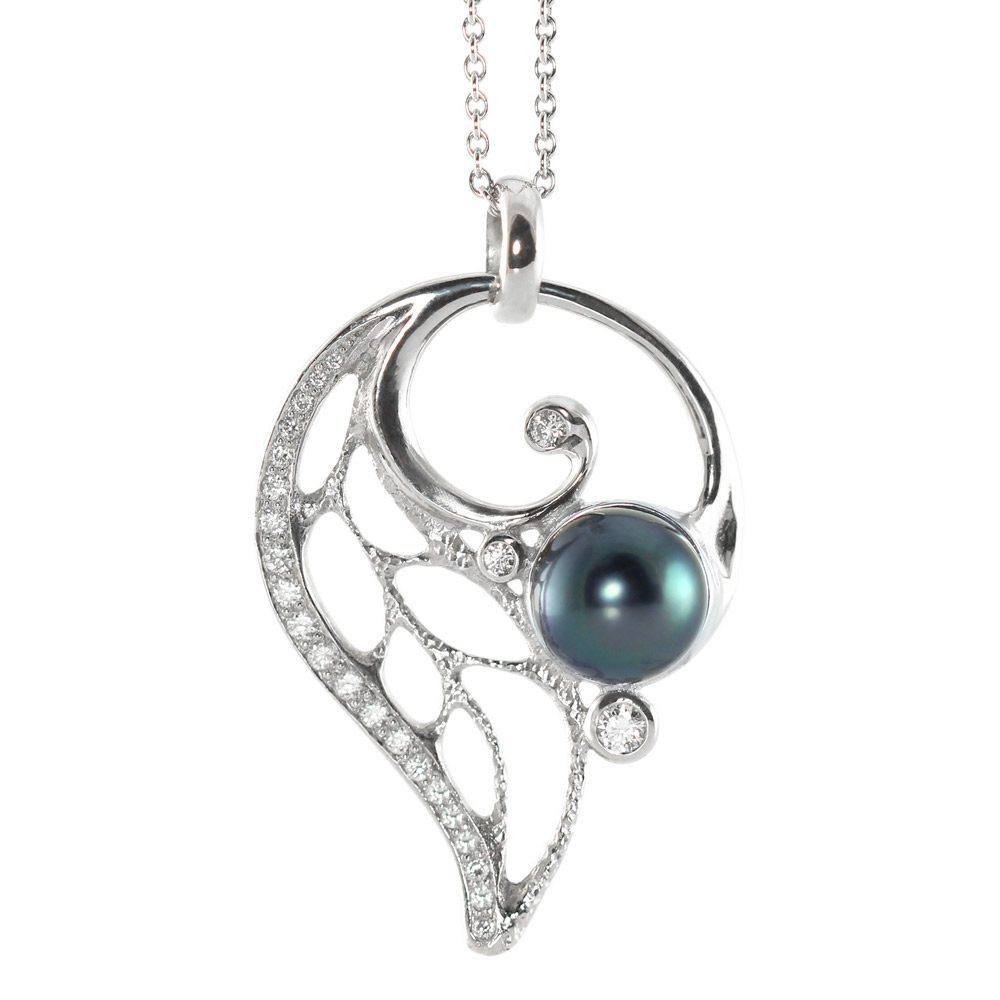 In fact, we will soon systematize these possibilities through the concept "Customized": If you fall in love with the shape of a particular piece of jewellery – which we happen to have a rubber mold of - we will be giving you complete freedom to choose between different metals, surfaces, gems and extra details which can be soldered on. In this way, you will co-design YOUR unique version of a given piece of jewellery.
You will of course still be able to purchase both ready-made versions in the store or have a custom made piece of jewellery designed for you - completely from scratch and only for you.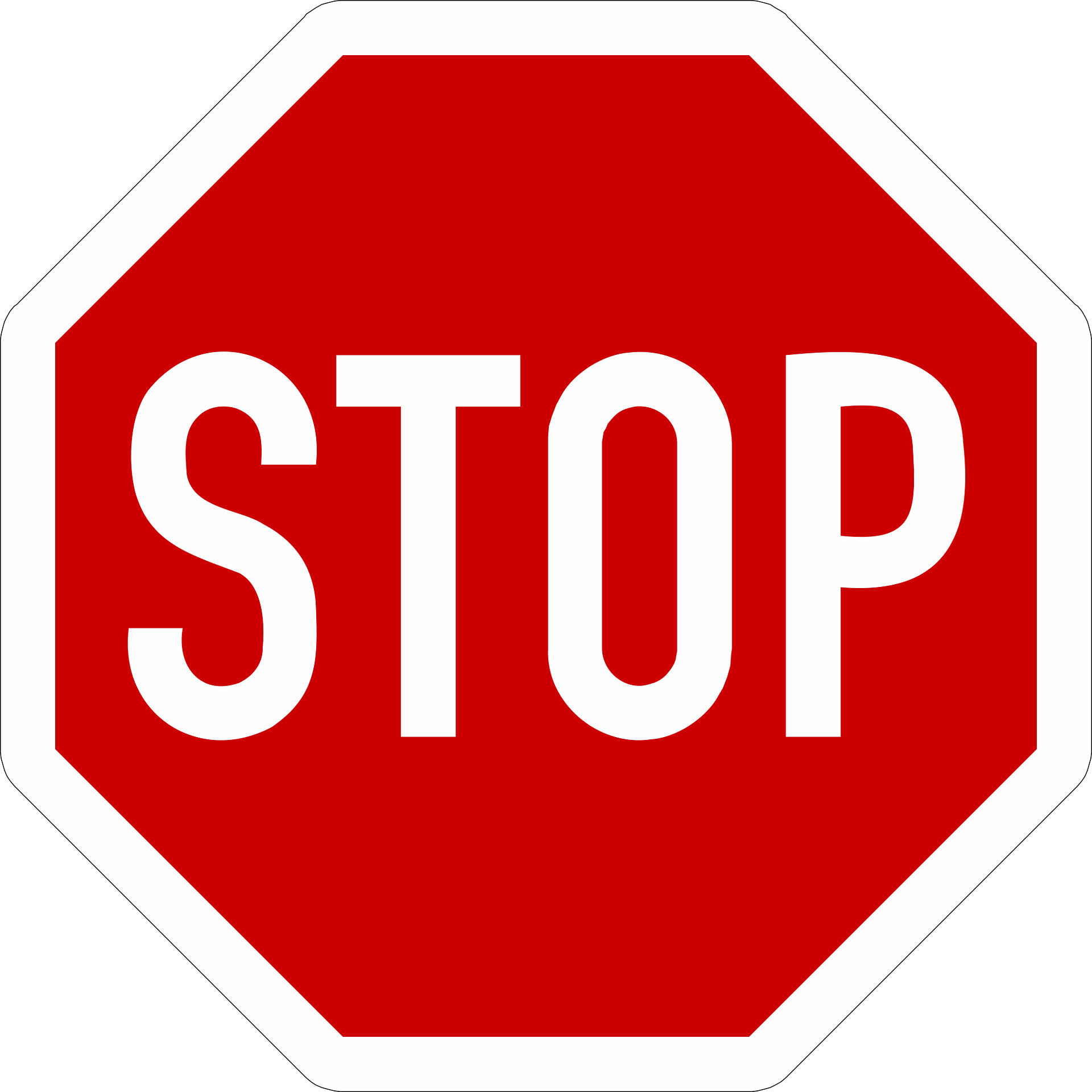 We never copy

By the way: For obvious reasons, we do not copy the jewellery of other designers. I always strive to create unique designs unlike anything you can purchase anywhere else and therefore I would of course be sad if I saw a copy of my pieces made by another jeweller. And so, if you approach us with a picture of a piece made by somebody else and want us to create an exact copy, the answer will always be "we can create something similar with a Castens twist, but NOT a copy".
I get the difference but am still on a budget!

Having said all of the above, we can usually build e.g. wedding rings within any budget because many factors can be tweaked:


How complicated is the design? Can we cut down on time and hence the price by simplifying it?
Can we go from e.g. 18k to 14k gold? Or maybe even silver?
What about a slightly smaller diamond?
Or maybe a somewhat lower quality diamond e.g . go from TW/VVS to W/SI2?

There is absolutely nothing wrong with cheap, mass-produced jewelry. All jewelry has their justification and it is an honest matter having to work within a budget! However, for the reasons described above, one cannot expect to get a handmade piece of jewellery, which "just has to be similar to the one from Glamira, but with a small change" at a price point which matches the original mass produced one.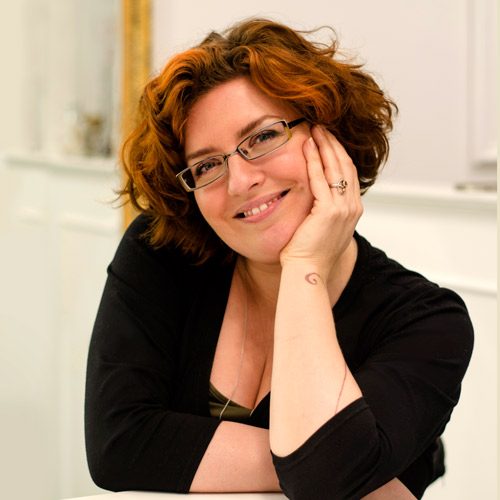 At Castens I make a virtue of creating jewelry which suits the exact person who is going to wear it. A design meeting is always focused on what will make this particular person most happy, what is best suited to her lifestyle, and how the piece of jewellery can best reflect her individuality. At such a meeting (physical or online) will draw, until you are satisfied whereupon your piece of jewellery is being built in our workshop here in Copenhagen - which you can look into when you visit us. In this way, we ensure that you get a good experience and a piece of jewellery which you will cherish for the rest of your life. Do you feel inspired?
Tags:
OOAK
,
Design
,
handcrafted jewelry
---
---