4. July 2018
Boho-wedding on a Greek Beach
Love crosses borders and conquers culture differences. This is the story of an international couple who got united on a beach in Greece with a custom made wedding set from Castens.
Norea and Michael met in Athens on a hot summer day a few years ago. He was Canadian, but lived in Athens where he was teaching acting and instructed theatre plays. She was on vacation and on the verge of beginning her studies to become a midwife back in Denmark. It was a truly enchanting night and just one week later, on a beach in the tiny village Sougia on the south side of Crete, the relationship was a reality.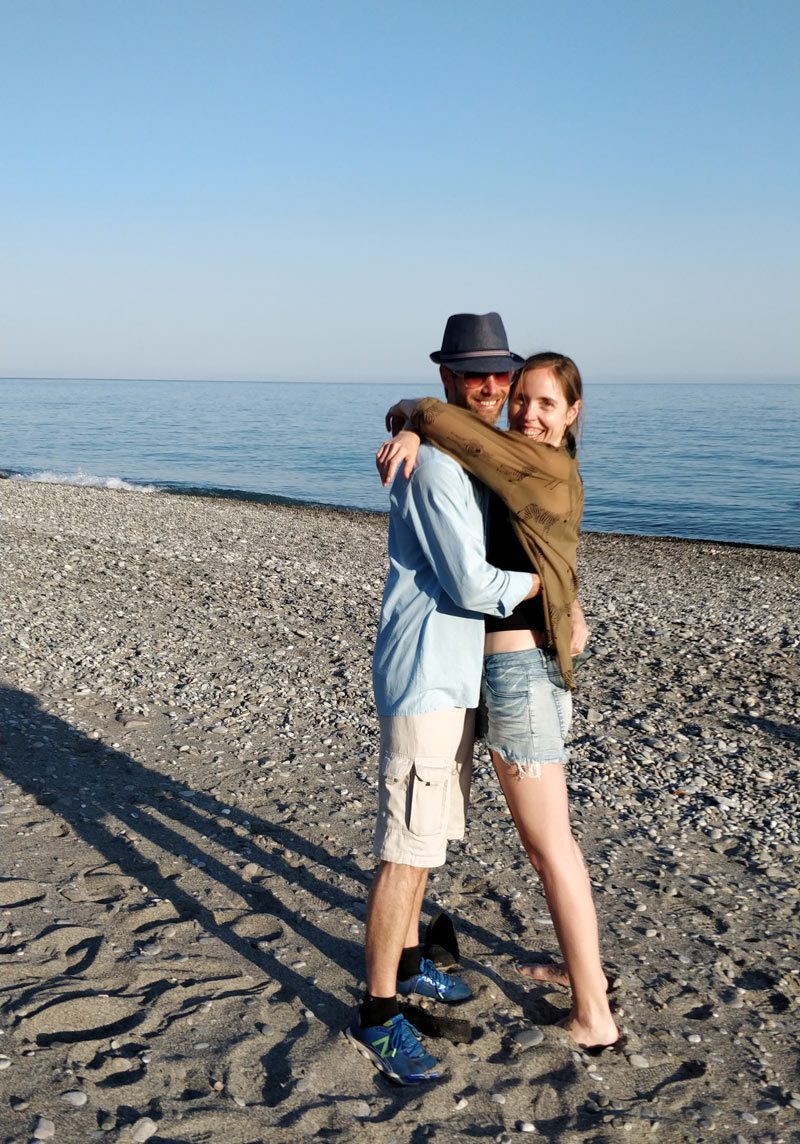 I heard this story from Michael, when he contacted me by mail, asking if I could create an engagement ring for Norea. They had had the initial "conversation" and she had looked at engagement rings, but found all rings on the market glaringly boring – with a few exceptions from Castens. And so here he was – the Canadian, writing to me from Greece in order to help him ask for his beloved's hand in marriage in Denmark. We had a lengthy conversation by mail, including numerous sketches and he ended up ordering the ring for her "cutest fingers in the world" without us never having met. None the less, it already felt like I had known him for quite a while and so, when he came to pick up the ring in order to propose to Norea in Copenhagen, it felt like meeting an old friend again.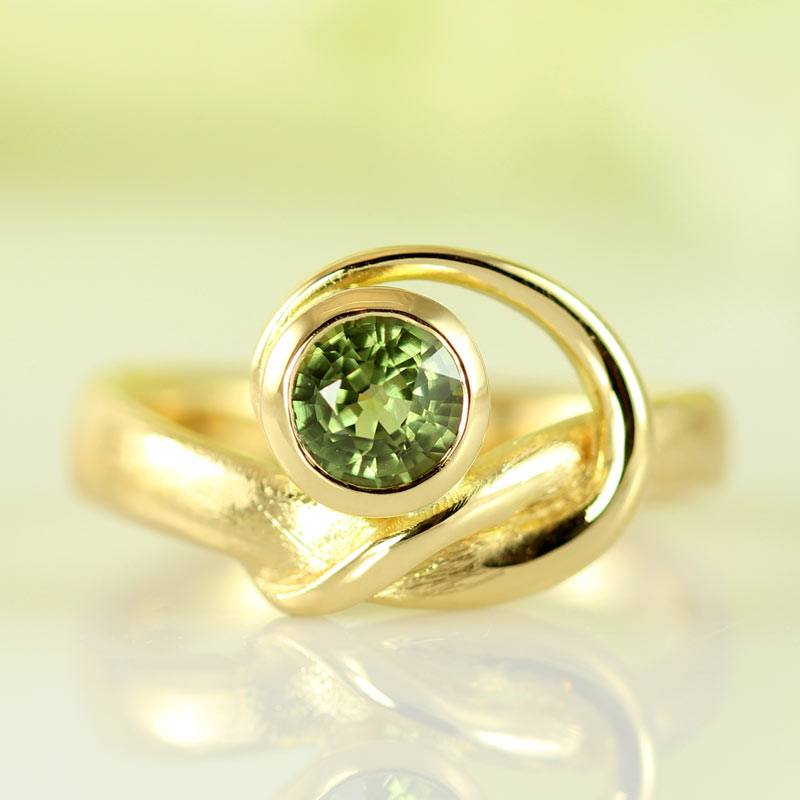 The ring I had created for him was made of warm 18k yellow gold and featured a beautiful green sapphire held within a curl. It was deliciously soft and comfortable and I was reluctant to let go of the wonderful gem, which I had fallen in love with, but this couple and their great love surely deserved it!
Not so surprisingly, Norea gave the right answer and so I got to meet this woman whom Michael was so clearly in love with. "No wonder" I thought to myself, when she entered the shop, all smiles and eager at getting to design the matching wedding band for her engagement ring, thereby creating a wedding set. This time Michael too was going to design for himself.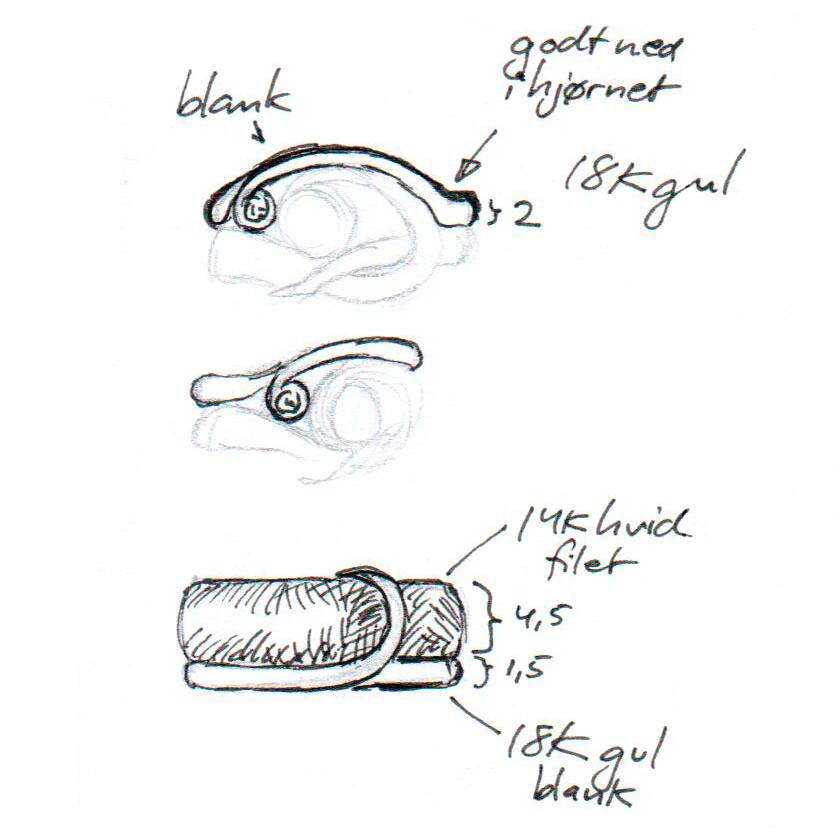 We decided on a design for her, which hugged the main curve of her engagement ring while coming down in a small curl terminating in a green diamond. His ring was going to be created mainly of white gold with a narrow band of yellow gold which would come up over the ring shank in the shape of a small "tail", mimicking a detail on her ring.
No fairytale without hardship and so this one has some too in the classic shape of figuring out how they could be together for good – and in which country? Because depending on the politics of the country in question, uniting a loving couple can be quite a challenge! Knowing that they wanted a family, they decided to be together in Denmark, close to her relatives and a welfare system which was very helpful when bearing and having small children. The easiest way for Norea to get Michael to Denmark permanently was to just marry him right away, even though they had romantic dreams of a beach wedding on Crete in April. Instead they had a small, informal wedding on a March day in a church in Copenhagen with no one else than the necessary officials around. "It was so private, perfect and romantic" Norea afterwards told me, when she sent me the picture of the two of them after the wedding.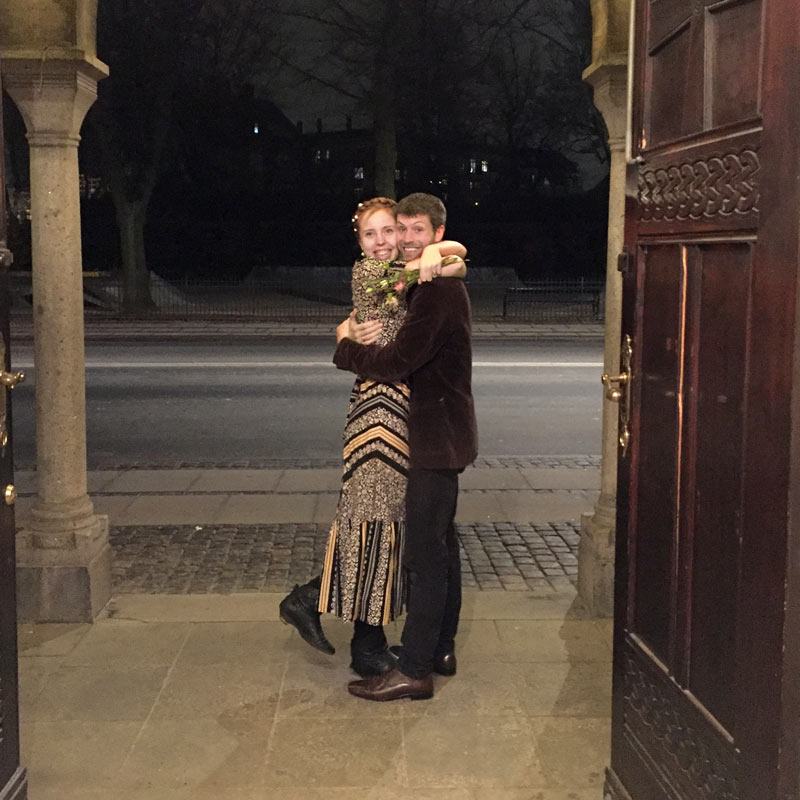 The two of them had no idea just how fertile a young couple can be when living and traveling together. It took a good number of months before they surprised themselves, discovering little Marlie while on a hitch hiking trip across Europe in July, sleeping out under the stars and climbing mountains. The double surprise there, was that having spent the last few months planning an April wedding celebration for the next year, Marlie's due date was now spot on perfect for arriving at the ceremony. Hence, the couple decided to delay the family-and-friends-celebration of their union yet another year, and instead blend the wedding party with her one-year old birthday.


And then we went to Greece!
On Marlies 1-year birthday, Norea and Michael finally found themselves again on the very beach, which marked the beginning of their relationship. This time surrounded by family and friends (yours truly included) to at last speak their vows again in the way they had dreamed about from the very beginning. It was a truly enchanted week, which the couple had carefully planned for us! We all met for an informal share-what-is-on-the-table-lunch (the prevalent way of eating in Greece) in Chania, talking and having fun before doing an escape room (what a way to throw people who don't know each other together). At the end of the day we all ended up at the Venetian lighthouse to celebrate the beginning of the adventure with admiring the sunset.
The following days were a blur of good chats, beach visits and a truly stunning drive through the mountains to the other side of the Ireland in order to reach Sougia – a tiny village with some hotels and tavernas at the waterline and not much else but mountains in the back and the stunning view of the sea.So beautiful it was hard not to get inspired!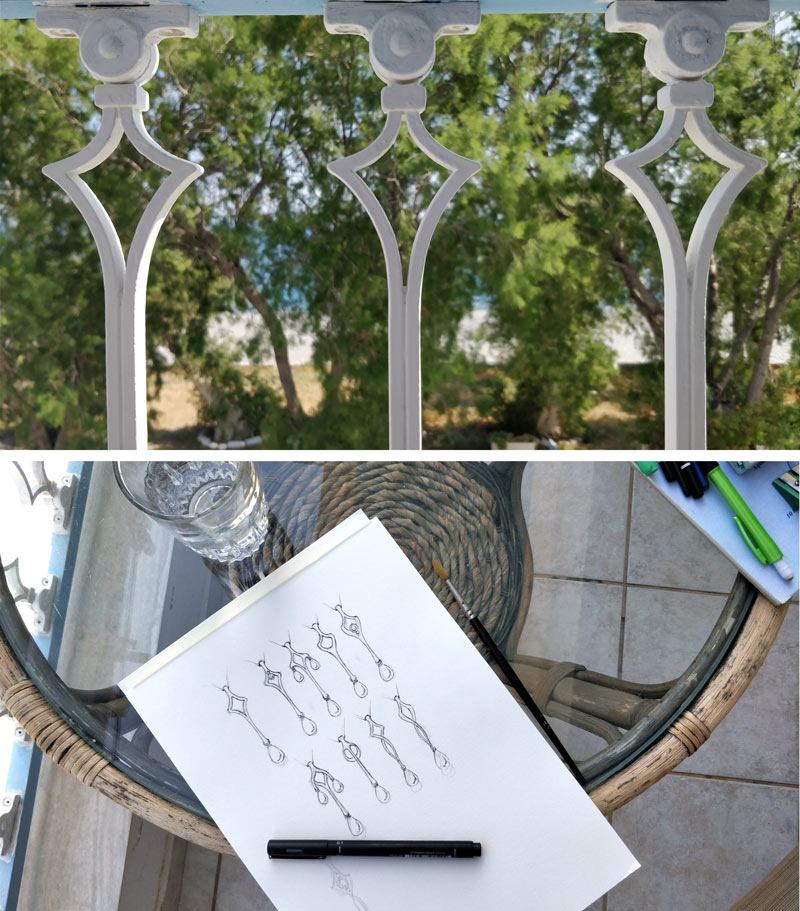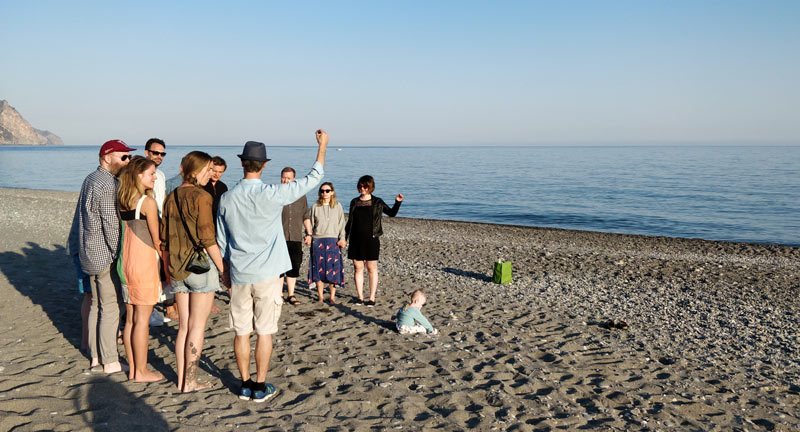 Here we practiced Greek line dancing, swam in the sea and explored the surroundings (where a few roman ruins were left) before we finally convened on the beach for their very informal ceremony of their wedding.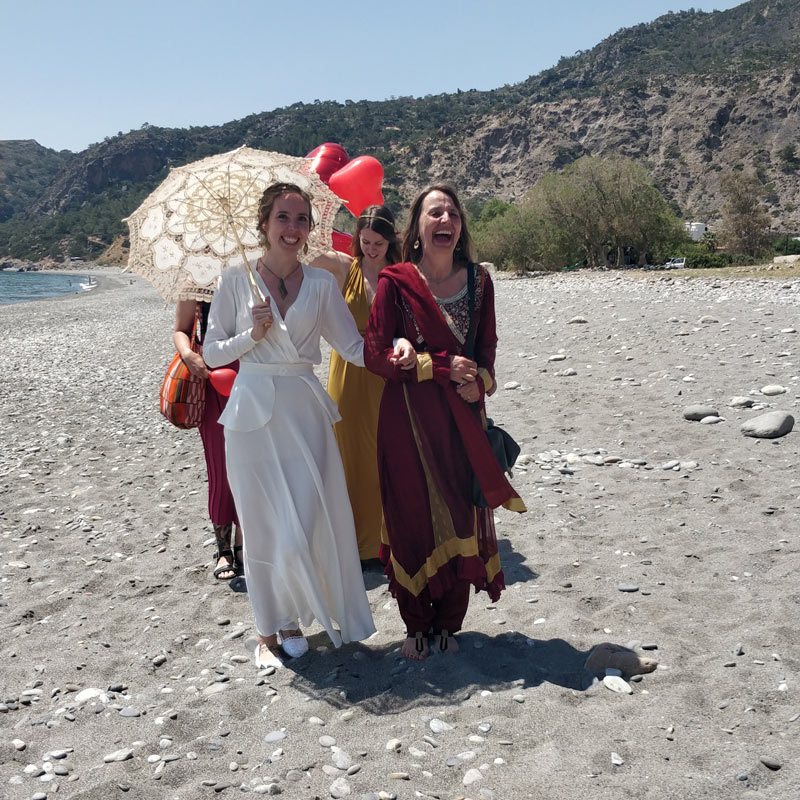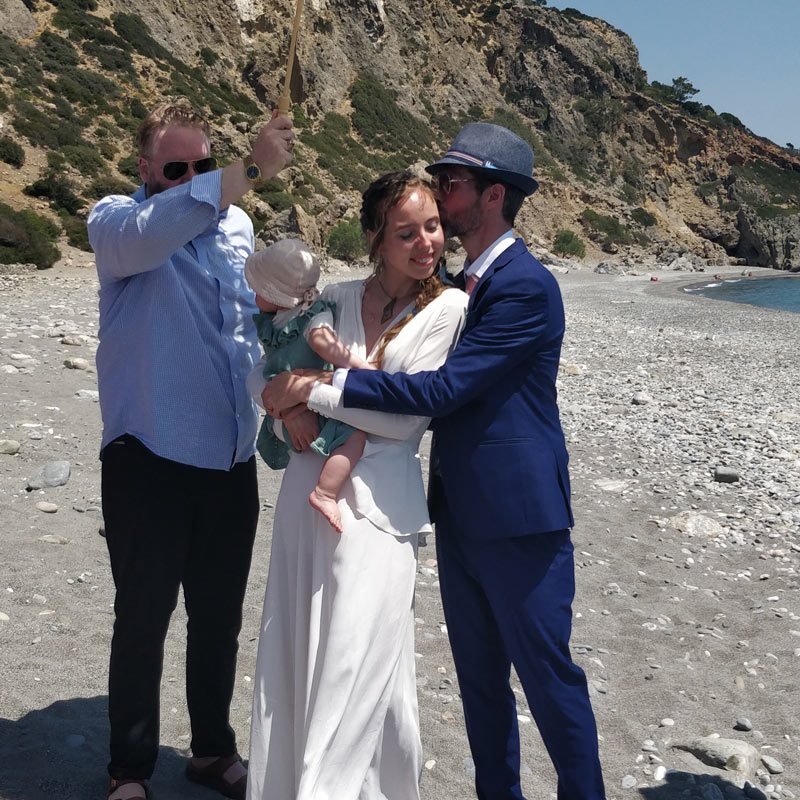 We all started out with a beautiful little ceremony of all guests pledging to take care of her and see that she grew up to be the best possible version of herself. We also had gifts for her – I had of cause brought her a little protective Dragonling with her name engraved on it, the perfect companion for any girl! We then were asked to write her some encouraging words for a specific event which we envisioned she would encounter in her future life, put into a blue envelope together with a small item from the trip. At the end of the vacation, Norea and Michael collected the envelopes and they will store them safely, handing them over to Marlie as she hits these points in her future. I wrote a few tips for her first job interview, but I won't tell what the item was – she is to find out herself ;-)
Then the couple spoke their vows in a –true to form- informal and very charming, romantic way.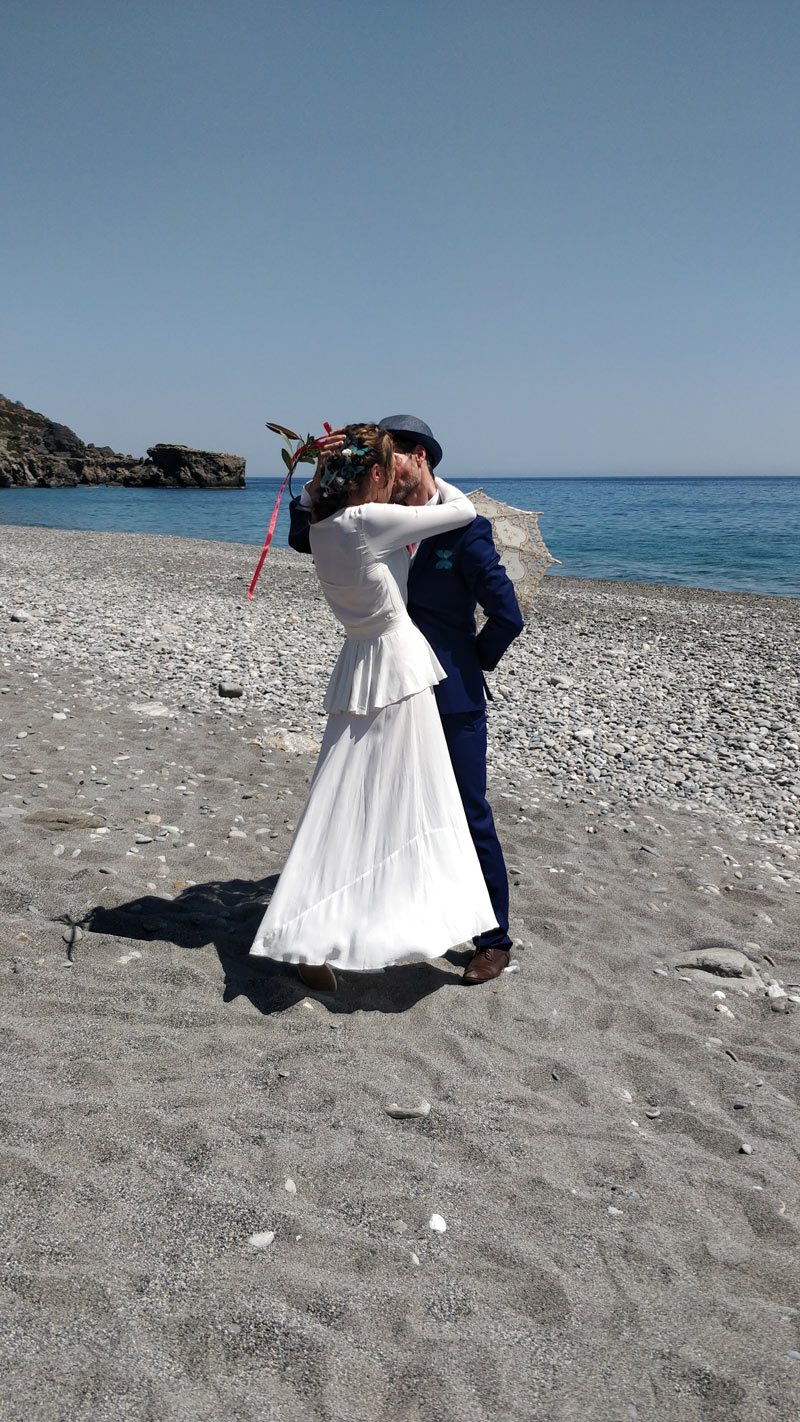 Ahhhh… what is not to like about love?!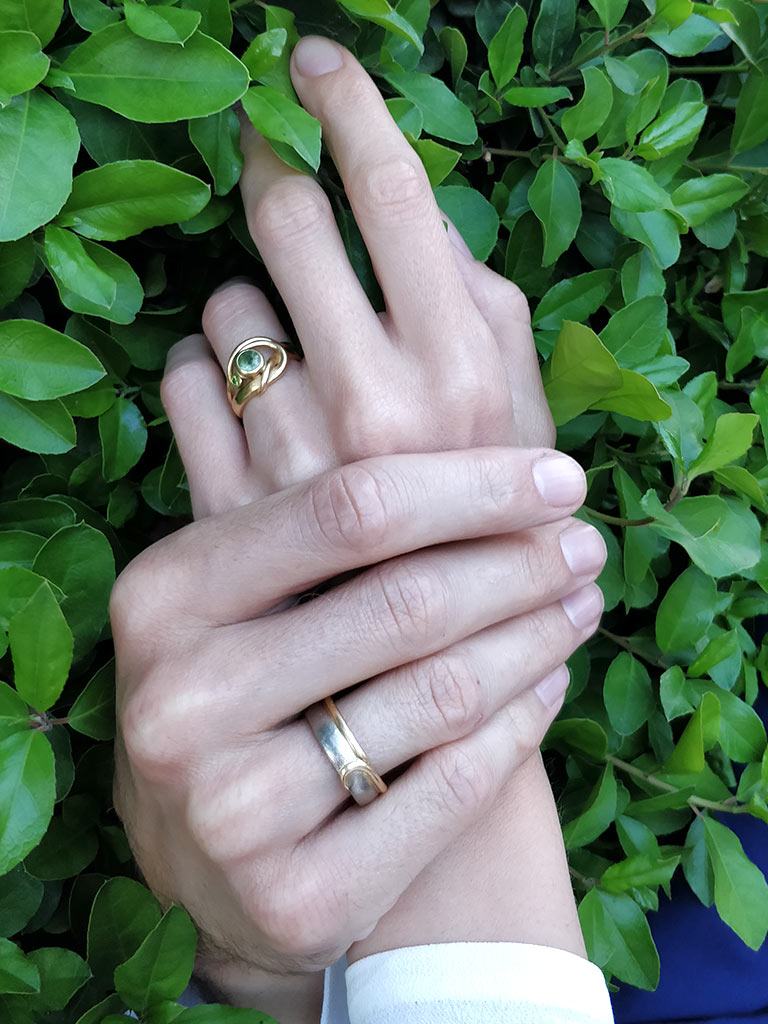 The evening of cause carried on with fabulous food, lots of wine and raki plus a number of wedding traditions, which the different nationalities brought together at this event provided, contributed with.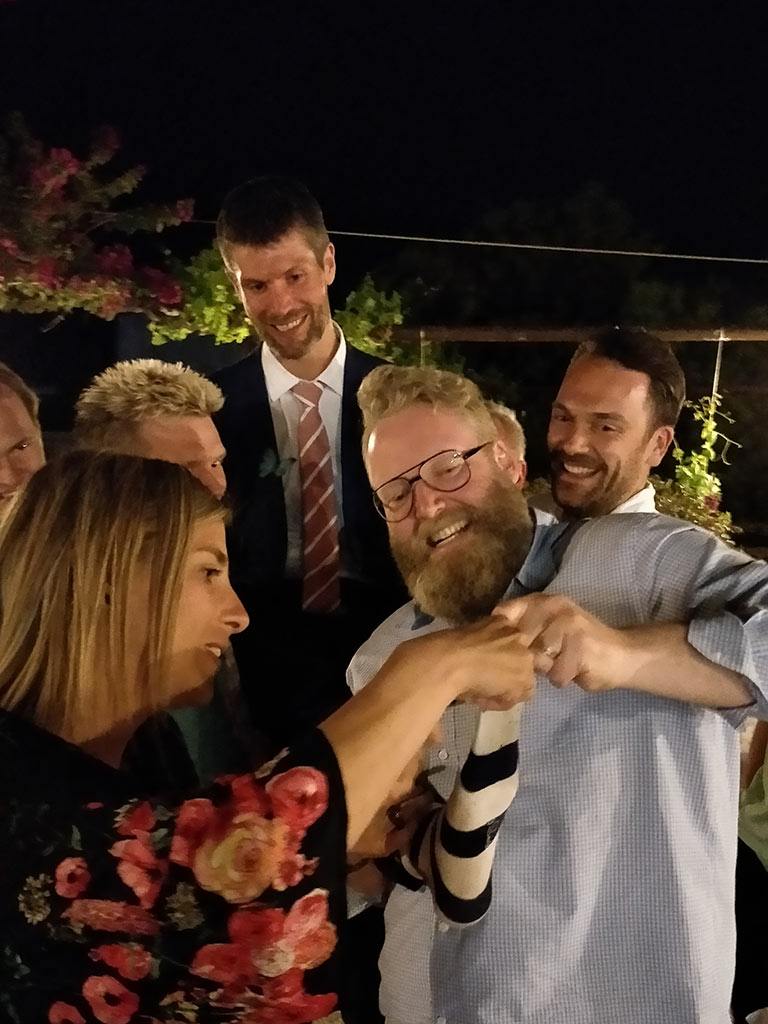 In the end, we all found ourselves on the beach again – surrounded by paper lanterns and sharing some more dance, raki and music. What a truly enchanting event!!!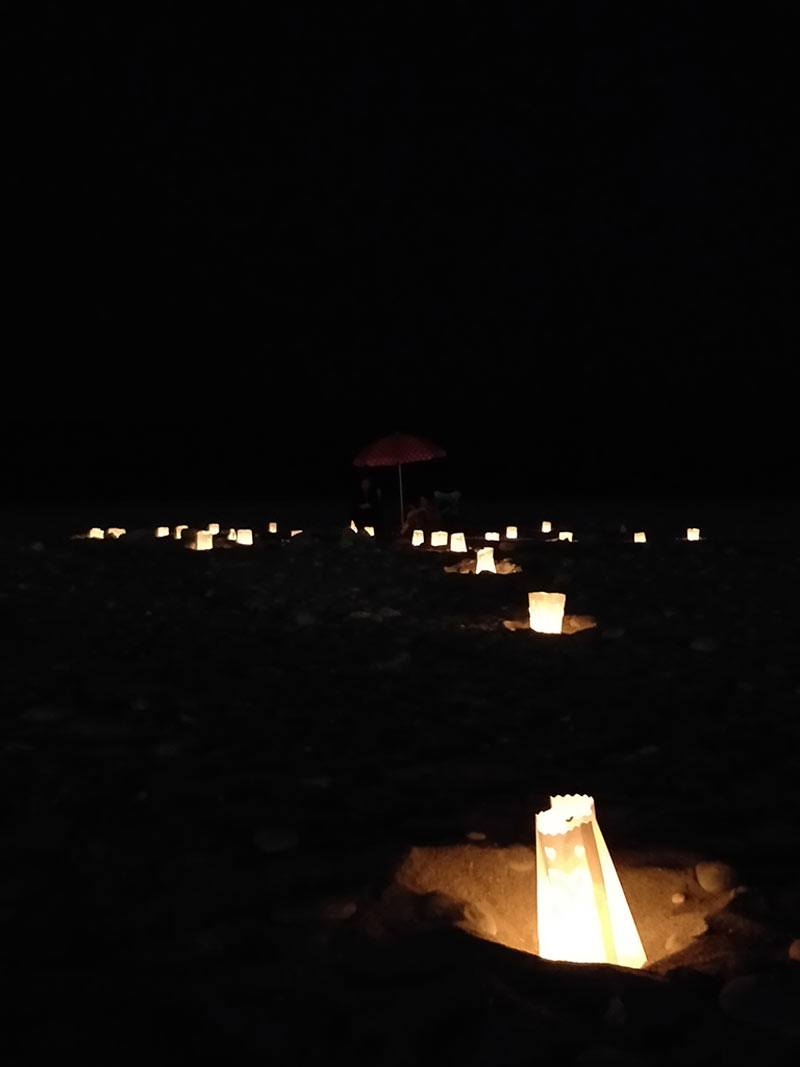 This is not the first time I have attended the wedding of customers-come-friends, but it is still a rare treat, which humbles me and makes me very glad! I like all my customers and I usually have fun with them, but once in a while, I make new friends and that is a double blessing!


Want to read more about our wedding sets?
If you would like us to create your very special wedding rings, don't hesitate to contact us at design@castens.com or book a design meeting via phone or Skype.


Tags:
OOAK
,
wedding
,
engagement ring
,
wedding set
---
---